How Much Is Ninja's Deal With Adidas Really Worth?
Adidas signed a sponsorship deal with Blevins in August 2019, according to The Verge. That sponsorship deal may be worth some big bucks.
Ninja, whose real name is Tyler Blevins, is perhaps one of the most successful internet gamers out there.
Blevins has made millions from streaming himself playing video games, and he's even been on The Masked Singer. And now he's even getting sponsorships from athletic wear companies.
Adidas signed a sponsorship deal with Blevins in August 2019, according to The Verge. That sponsorship deal may be worth some big bucks.
Ninja moved from Twitch to Mixer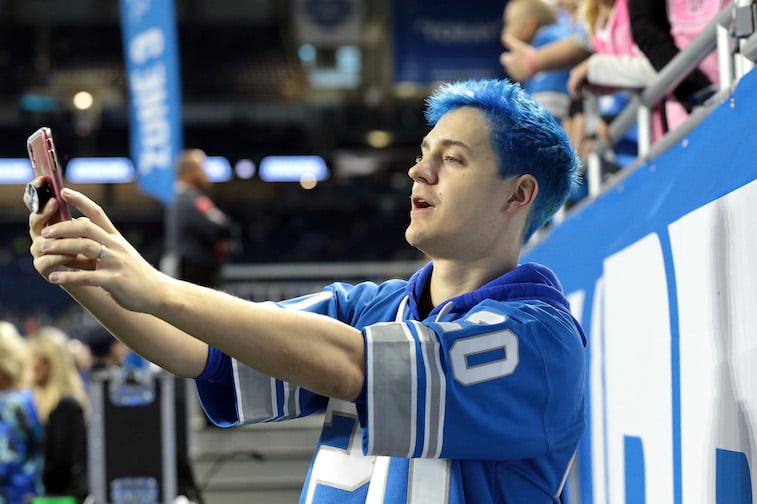 Most of Blevins' fans likely know him from watching him play Fortnite on Twitch, which is Amazon's video game streaming platform. His play style and personality led to more and more people following him on Twitch. Eventually, Fortnite's growing popularity, mixed with Blevins' growing popularity, led him to play Fortnite with celebrities such as Drake and Travis Scott.
But all good things must come to an end. And, as The Verge reported, Blevins' manager and wife, Jessica Blevins, said that Twitch offered a new contract with Tyler Blevins which would put a limit on what he can and can't do outside of Twitch in terms of his own brand. They didn't want to be limited like that, and so they decided to move to Mixer, which is Microsoft's video game streaming platform. 
But, they weren't going to move platforms for free. Microsoft broke out the checkbook and signed Blevins onto an exclusive streaming contract. This contract is estimated to be worth anywhere between $20 million to $30 million.
New sponsorships for Ninja 
As Business Insider reported, Blevins has been able to secure many sponsorships, both before his move over to Mixer and afterwards. For example, Business Insider says that Red Bull, one of Blevins' sponsors, installed equipment valued at about $20,000 in his home to help him stream. 
Uber Eats is another one of Blevins' sponsors, and it's not uncommon for him to hand out discount codes to his fans. Engadget says that Blevins also has a toy line with Wicked Cool Toys. It's not known how much that deal is worth, but it's likely lucrative. Other ways that companies have sponsored Blevins has been simply paying him money to stream himself playing their games. 
For example, Engadget also reports that Apex Legends paid Blevins $1 million to stream himself playing the game for a few days. This introduced many of Blevins' viewers to Apex Legends, which quickly became a competitor to Fortnite.
That's the influencer power that companies are trying to get from Blevins, so it's not surprising that Adidas has jumped in on the action and sponsored him. 
What we know about Ninja's deal with Adidas
Like The Verge mentioned, while Adidas has sponsored Esports teams before, this is the first time that Adidas has sponsored an individual gaming personality. However, with that said, most details about this deal has been kept secret from the media. As such, it's unknown how much money this deal between Blevins and Adidas is worth. 
But, the deals that Adidas has signed with major sports teams are very lucrative in their own right. The amount varies based on the team, but those multiyear deals range from being worth about $400 million to over $1 billion. That said, those deals are for major sports teams, not for individual athletes like Blevins.
Additionally, while Blevins is a big name for a gaming personality, he's not as big of a name as the likes of Cristiano Ronaldo or Conor McGregor. 
That said, as The Verge reported, Adidas and Blevins' deal has already bear fruit. Ninja's own shoe line from Adidas is now available for purchase. It costs $150 for adult sizes and $120 for child sizes. If they're successful, Blevins may make even more money from the Adidas deal.