People Call Kylie Jenner 'Plastic' — But What Work Has She Really Had Done?
Kylie Jenner comes from one of the most famous families in the world. She's the youngest of six siblings in the Kardashian-Jenner family, and she's also the wealthiest, having a $1 billion net worth. Needless to say, the money and fame has changed Jenner's appearance quite a bit through the years. She went from looking like the girl next door to a total, uh, bombshell, as some might say. But all that work has led to criticism (in the form of words, memes, gifs — you name it) calling the beauty mogul plastic. How much work has Jenner actually had done?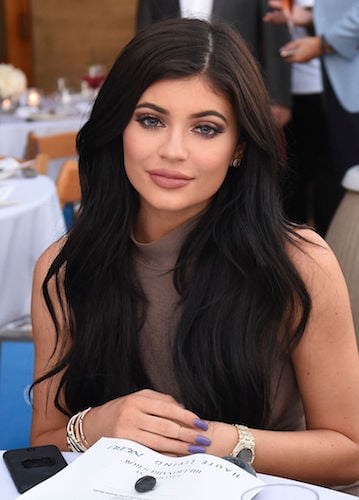 Jenner has shot to fame since her family's reality show premiered
Jenner was only nine years old when her family's reality show, Keeping Up With the Kardashians, premiered in 2009. Her age ended up benefitting her though, as it meant she had a great head start on her career. As Jenner grew older, she gained a separate fan base and a large social media presence. Jenner and her sister Kendall decided not to go to college and instead wanted to pursue careers in modeling and makeup. Since the family had become so well-known by the time the two youngest were in their later teen years, they were able to build careers without an education.
She's worth more than $1 billion thanks to her cosmetics business
When Jenner got her lips done at 17, it ended up playing a major role in her current wealth. She eventually launched Kylie lip kits, which would give other young women the same appearance (minus the Botox, of course). Jenner launched the lip kits in 2015, her massive fan base instantly bought up everything — they sold out in a matter of minutes. In 2017, Kylie Cosmetics was formed, and from there, she expanded the brand to other forms of makeup. In spring 2019, Forbes named Jenner the world's youngest self-made billionaire. In fall 2019, Jenner sold 51% of her company for a staggering $600 million, valuing the brand at around $1.2 billion.
Jenner has always denied ever going under the knife
With Jenner's immense wealth has also come a lot more fame. And although her appearance has changed greatly through the years, she has always denied ever having true plastic surgery, despite speculation. "I haven't had plastic surgery. I've never been under the knife," she said in an interview in 2015. In an episode of KUWTK that same year, Jenner admitted to having lip fillers, such as Botox, because her lips were something that always made her feel self-conscious.
Though Jenner hasn't had any actual surgery, she has had facial fillers, which are essentially injections that plump up different parts of the face. They can add more contour, lessen wrinkles, etc. to make the face look fuller. These fillers are essentially the reason so many people think Jenner has had surgery.
There have been various memes poking fun at the beauty mogul
Jenner might have millions of fans, but it hasn't stopped some from poking fun at Jenner's face alterations. There have been various memes comparing Jenner to plastic. At the end of the day, though, Jenner is definitely laughing all the way to the bank. The Kylie Cosmetics creator is still worth more than $1 billion, so people can make all the memes they want.