How Often Does Teresa Giudice Visit Her Husband In Prison?
Teresa Giudice and her husband, Joe Giudice, were both caught up in a nasty fraud scandal that sent each of them to jail. Now, Joe Giudice is serving a 41-month prison sentence while Teresa takes care of the girls at home. But how often do Teresa and her daughters actually visit Joe while he's away?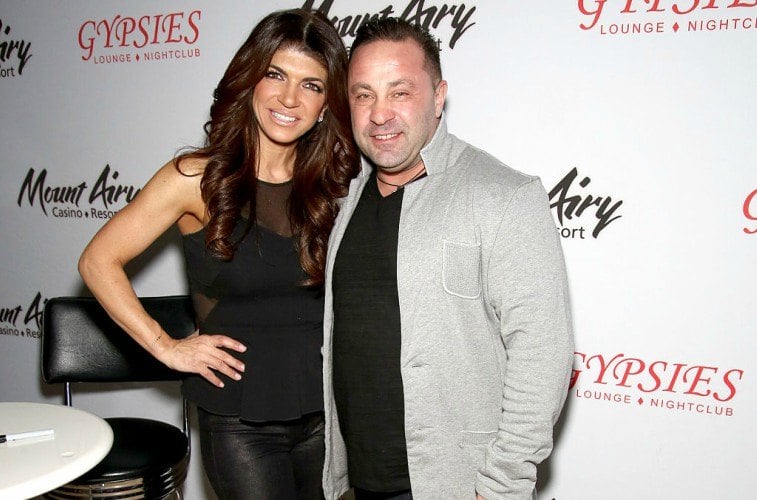 The Giudices committed federal fraud for years in the early 2000s
On The Real Housewives of New Jersey's first season, Teresa and Joe were building a massive, 6,500-square-foot mansion. But behind closed doors, the couple was going bankrupt. They filed for bankruptcy in 2009, but then rescinded their filing. Eventually, the government noticed that things weren't adding up with the couple's finances. The Giudices had reportedly not paid taxes on more than $1 million in income, plus had lied about their income to obtain loans. Reports said they also committed mail and wire fraud. Eventually, their trial date came, and both Teresa and her husband were found guilty of various charges.
Teresa only served 11 months of her sentence and was released before her husband began his time
Teresa was sentenced to 15 months in prison for her involvement in the fraud, and Joe was sentenced to 41 months. The couple served staggered sentences so that one parent could be home with the children. Teresa began her sentence in January 2015 and was released in time for the holidays that same year (she got out in 11 months due to good behavior). The following March, Joe began his sentence, and he's been in prison ever since. Teresa has been home taking care of the girls and trying to get her life back on track. And finding time to visit Joe in prison isn't always easy.
Teresa said she visits her husband as much as she can
When it comes to Teresa's priority list, Joe is not the first in line. Giudice told People that she tries to visit her husband as much as she can, but she doesn't put him before herself or her daughters. "Work comes first," she said. "Then all the kids' activities come second. Then he comes third … And he's totally fine with that." Teresa has tried to maintain normalcy in the Giudice household, which explains why she puts her job and her children first. She needs to continue making money while Joe is in prison, plus things with the girls need to run as smoothly as possible. She didn't specify whether she only sees him once per week, twice per month, or less. Joe is serving time in a facility just outside Penn State University, and Teresa said the ride out to see him is relaxing.
But she did not see her husband this past Christmas
Despite Giudice making time for her husband when she can, she did not spend Christmas Day visiting him. Instead, she whisked the girls off to the Caribbean; they all spent the holiday in Jamaica. However, it doesn't mean that things with Joe aren't going well. Holidays must be hard as a single parent, especially knowing it will be a while before Joe comes home. Teresa likely just wanted the girls to escape the thought of not seeing their father, so she planned a trip elsewhere for something different. Joe won't be released from prison until August 2019.
Check out The Cheat Sheet on Facebook!