How Old Are Kourtney Kardashian's Kids?
Kourtney Kardashian is the oldest child in the Kardashian family, and she was the first member of the family to have a baby. At the time, she was with longtime boyfriend Scott Disick, but the two never ended up getting married. Now, she has three children with Disick, and the kids have grown up on the reality show. But how old are they now?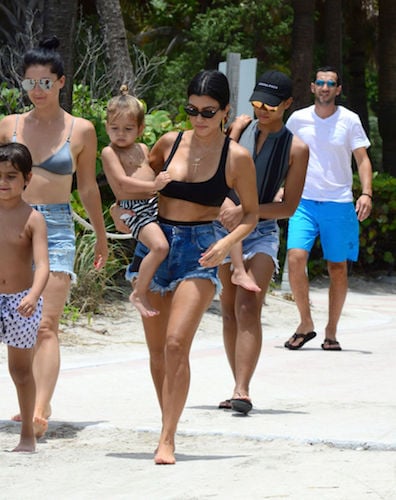 Kardashian got pregnant with her first child, Mason, in 2009
When Kardashian first learned she was pregnant, she and then-boyfriend Disick were actually on a break. They'd had a fling as exes, and that's how the baby came about. Kardashian recalls being extremely nervous to tell her family because they were not big fans of Disick at the time. However, she was 30 and capable of making her own decisions. Her family ended up being excited for her, and she and Disick welcomed their first son in December 2009. Mason Disick will celebrate his 10th birthday this year.
In 2012, she gave birth to the couple's second child, a daughter
About two years later, the couple learned they were expecting again. At this point, they had been back together since before Mason was born, but things weren't always smooth. However, the couple felt that they were in a good place to care for a second child, but they chose not to get married, since things were going so well between them by the time their second baby, a daughter named Penelope, was born. Penelope will celebrate her seventh birthday in July. At this point, Kourtney is still the only Kardashian with any children.
In 2014, Kardashian and Disick welcomed their third child, Reign
The couple didn't wait too long before having a third child. Things were still going well between them, and Disick reportedly even bought a ring to propose. However, when he asked Kardashian what she thought about getting married, she took a step back. Since they'd had a rocky relationship, and things were finally in a good place, she still didn't want to change that. The couple welcomed their third child, a son named Reign, in December 2014 — he actually shares a birthday with his older brother, Mason. In December of this year, while Mason celebrates his 10th birthday, Reign will celebrate his fifth.
Today, the two are not together but co-parent well
Kardashian and Disick didn't stay together much longer after Reign was born. The couple had an up and down relationship for most of the time they were together, and things fell apart for good in February 2017; the couple had tried to work things out after another breakup, but Disick was spotted with two models, and the couple never got off the ground again after that. However, the two do appear to co-parent well. Disick still makes appearances on the reality show and has attended several family holidays with the Kardashian/Jenner crew. It appears he and Kourtney are on good terms, and it seems the other members of the family are still fond of him as well.
Check out The Cheat Sheet on Facebook!