How Old Are Bill Gates and Melinda Gates' Children?
Microsoft co-founder Bill Gates and his wife Melinda Gates have announced that they are divorcing after more than two decades of marriage.
The billionaire couple shared the news in a statement via social media that read: "After a great deal of thought and a lot of work on our relationship, we have made the decision to end our marriage. Over the last 27 years we have raised three incredible children and built a foundation that works all over the world to enable all people to lead healthy, productive lives. We continue to share a belief in that mission and will continue our work together at the foundation, but we no longer believe we can grow together as a couple in this next phase of our lives. We ask for space and privacy for our family as we begin to navigate this new life."
After mentioning their children many were curious about them since they aren't in the spotlight all that much. Here's more on the Gates kids including their ages and a few other things you didn't know about them.
How old is Jennifer Gates?
Jennifer Gates is Bill and Melinda's eldest daughter. She was born on April 26, 1996.
Despite her father's net worth the former Microsoft CEO and his wife tried to keep their firstborn somewhat grounded and not spoiled so they didn't allow her to have her own phone until she was 14.
Jennifer went to her father's alma mater Lakeside High School in Seattle. She then enrolled in Stanford University where she graduated from in 2018 with a degree in human biology. Jennifer took a year off to focus on her other passion as an equestrian before going to Mount Sinai's Icahn School of Medicine.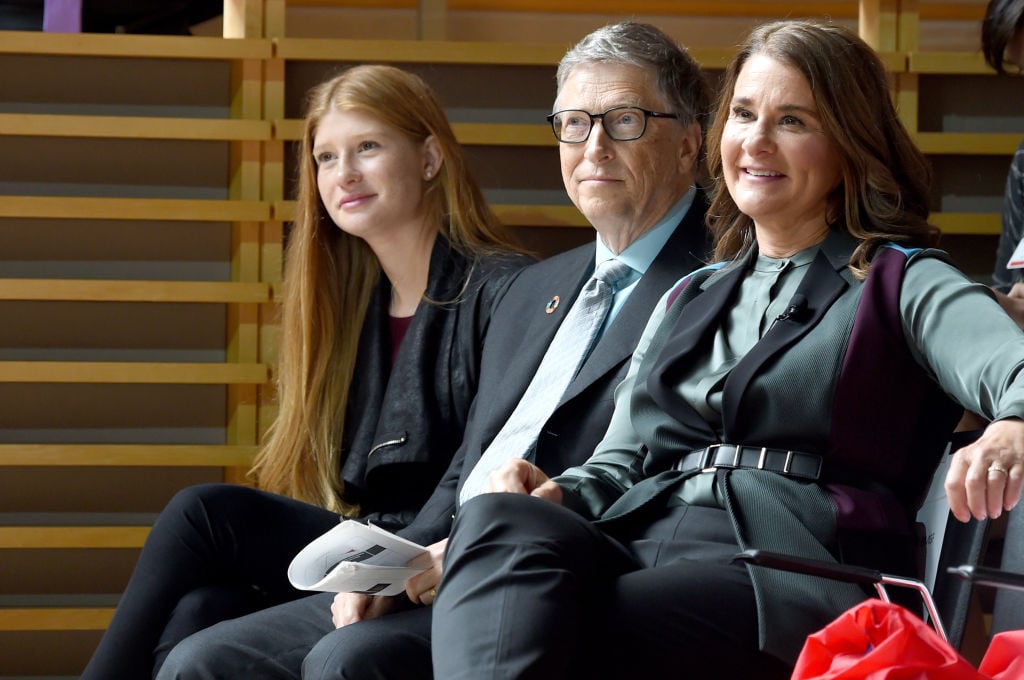 In 2020, Jennifer got engaged to her longtime boyfriend, Nayel Nassar.
How old is Rory Gates?
After Jennifer, Bill and Melinda had one son together. Rory Gates was born on May 23, 1999.
Like his father and sister, Rory also went to Seattle's private Lakeside School before he reportedly attended the University of Chicago.
Rory is passionate about gender equality. In an essay for Time, Melinda wrote about her son's perspectives on feminism.
"Rory is compassionate and curious. He's intelligent and well-read and deeply informed about the wide range of issues that interest him," Melinda explained. "He's a great son and a great brother. He's inherited his parents' obsessive love of puzzles. But one of the things that makes me proudest is that Rory is a feminist."
How old is Phoebe Gates?
The youngest of the Gates children is Phoebe. She was born on Sept. 14, 2002.
Not much is known about Phoebe except that she was an aspiring ballerina, who was educated at the Professional Children's School in New York City. She also studied at The School of American Ballet at the Lincoln Center for the Performing Arts, as well as The Juilliard School.
Phoebe and her siblings will not inherit their father's billions. They each have a trust fund set up for them to the tune of $10 million but the bulk of his money will be left to charity.
RELATED: How Many Children Do Jeff Bezos and MacKenzie Bezos Have?