How Old is Beyoncé and What's the Age Gap With Her Husband Jay-Z??
Sixteen years ago, Beyoncé and rapper Jay-Z met. Beyoncé started her R&B girl group Destiny's Child, but Jay-Z had already made his mark in the entertainment field beginning in 1989. The couple did not rush into things, relationship-wise, and dated for six years before they tied the knot.
In 2008, the two became one and have somehow dodged the traditional celebrity missteps that seem inevitable in most cases. Bey came into the world on September 4, 1981, which makes her currently 37-years-old. Jay-Z is 12 years older at 49-years-old.
After the marriage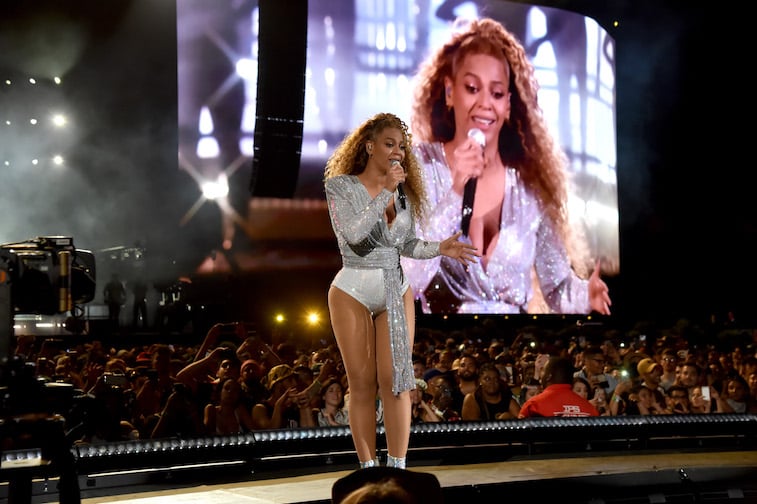 Beyoncé Giselle Knowles-Carter and Jay-Z did, unfortunately, hit a few bumps after they married. Jay-Z, according to the rumor-mill, had an affair. Some say the incident was the reason Solange Knowles, Beyoncé's sister, fought with Jay-Z in an elevator. The event, captured on a video camera, was highly shared by the media. The world assumed the marriage was on shaky ground. Queen Bey was said to have alluded to the affair in a song from her album Lemonade. Turns out, "Becky with the good hair" was only a symbolic representation.
Beyoncé and Jay-Z's children 
Jay-Z and Beyoncé have a daughter, Blue Ivy Carter, who was born January 7, 2012. In February 2017, Bey announced that she was pregnant with twins. Rumi is the girl, and Sir is the boy, and they were born on June 13, 2017. The Carters seem to be crazy about their kids. The couple stays busy with concerts, writing music, and making lots of money, but take their three children with them to practically everything they do. They seem to want their kids to know they are loved and safe, and the two are devoted parents, who enjoy being with their children. The superstars can have and do anything they want, but still, their family comes first.
The money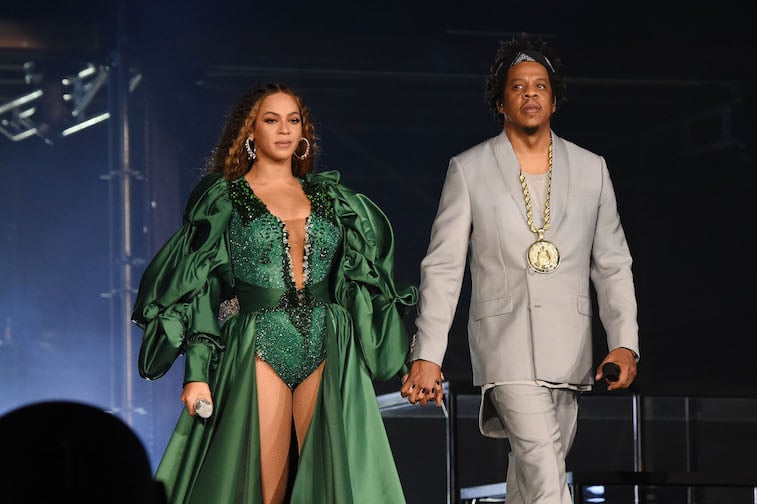 Beyoncé and Jay-Z have a net worth of approximately $1.4 billion which they achieved through work, fans who love them, and talent in its purest form. Bey, on her own, has a net worth of $335 million, which will continue to grow. Both Beyoncé and Jay Z have invested in a variety of startups, and both are raking in more wealth by the day. Between the two, investments include:
WYRMLN WTR – cold-pressed juiced watermelon
JetSmarter – on-demand private jet flights
Uber
Tidal – a global music and entertainment platform
The couple earns money from:
Album sales
Public appearances
Real estate
Concerts
Founding Roc-A-Fella records
Co-founding clothing retailer Rocawear (sold in 2007 for $204 million)
Alcohol brands
Several entertainment labels
A top-notch sports club
The two are altruistic, as well.
Jay-Z donated tens of thousands of dollars to bail out Baltimore protestors.
Beyoncé's BeyGood foundation raises money for countries affected by natural disasters; gender equality; school supplies for US students, and food drives in Houston.
Jay-Z established an educational trust fund for Sean Bell's two children. Bell was the unarmed black man fatally shot on the day of his wedding, November 2006. Policemen who shot Bell were acquitted.
Bey's parents and sister Kelly and Solange joined her in founding The Survivor Foundation in 2005, for those displaced by Hurricane Katrina. She also held food drives during her 2006 tour for Katrina survivors.
Gloria Carter and her son "Jay-Z Carter, founded the Shawn Carter Foundation as a public charity in 2003 to support initiatives to empower youth and communities.
Beyoncé has a partnership with Goodwill, the Phoenix House, a rehabilitation for recovering addicts, a homeless center in her hometown in Houston, Texas.
Jay-Z continues his push for criminal justice reform.
One well-rounded couple
No matter the age difference, Jay-Z and Beyoncé made an effort to support one another; are raising their children to be well-adjusted and balanced, and are giving back to a world that has made them super-celebs.