How Old Is Hilary Duff, and What Is She Doing Now?
It's probably been a while since you checked in with this early 2000s star. Here's what she's been up to since the peak of her fame.
In the early 2000s, it was hard to turn on the TV without hearing the name, Lizzie McGuire. The popular Disney show followed the adventures of a 13-year-old girl as she rode the roller coaster of middle school life alongside her best friends Miranda and Gordo. While McGuire may have kept some comments to herself her animated alter ego wasn't so coy, leading to plenty of silly scenarios. The sitcom was a fan favorite back in the day and the star of the show, Hilary Duff, became a household name that garnered tons of attention and loyal fans worldwide. The proof — fans are pushing for a reboot to this day!
Where did Hilary Duff get her start?
Just ran into the wonderful casting director who cast me in Lizzie McGuire at the dog park. Funny how one person can change your whole life!

— Hilary Duff (@HilaryDuff) November 25, 2012
The Disney Channel is responsible for raising several stars, including Duff. Prior to her mainstream debut as Lizzie McGuire, Duff only held minor roles on television. Duff was cast in a comedy series, Daddio, but she was dropped before the show aired. Not long after the bad news Duff found out, she would be the star on an upcoming Disney series. Some might argue things panned out as they should because the show put talented 14-year-old Duff in the spotlight.
Although the show only lasted from 2001 to 2004 Duff made the most of the run. She began popping up on soundtracks as well as co-starring in other Disney flicks.
After 'Lizzie McGuire'
We cannot believe today marks #6YearsOfElixir! Exactly 6 years ago today, Hilary released her NYT bestselling novel Elixir! pic.twitter.com/KxeNVYp4xG

— The Elixir Series (@ElixirSeries) October 12, 2016
Duff didn't stop after Lizzie McGuire's finale. She had roles in several movies including as Sam in A Cinderella Story, Holly Hamilton in The Perfect Man, Lorraine Baker in Cheaper by the Dozen 2, and Tanzie Marchetta in Material Girls. Duff also appeared in several shorts, picked up a few voice-over roles and had minor parts in TV series such as George Lopez and Gossip Girl.
The talented Disney star even tried her hand at writing a young adult novel in 2011. Considering her experience on screen it isn't all that surprising that the result was a best-selling book.
How old is Hilary Duff?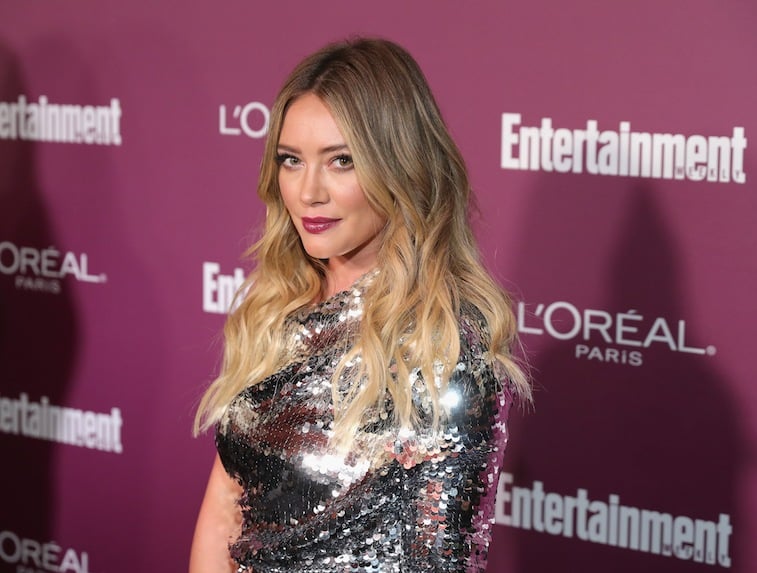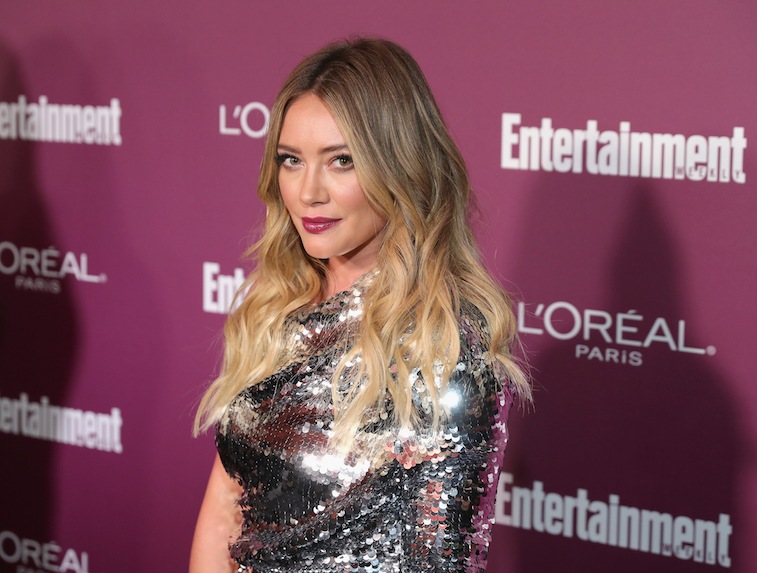 Duff has certainly come a long way since her teen years on the Disney channel. The Lizzie McGuire alum has been through several boyfriends including Good Charlotte's Joel Madden, Agent Cody Bank's co-star Frankie Muniz, and "hip-pop" singer Aaron Carter. She also married hockey player Mike Comrie back in 2007. The two had a beautiful baby boy in 2012. While they aren't together anymore, they are still good friends and continue to raise their son together.
Duff's most recent beau is musician Matthew Koma. Duff and Koma just welcomed their first child into the world on October 29th last year. They named the long-awaited baby girl Banks Violet Blair. With such an extensive home life Duff has gotten some years under her belt. The former Disney star is now 31 years old, but her glow up is undeniable. She's maintained her youthful appearance throughout the years despite battling heartbreak, learning love and life lessons, tackling career goals, and of course being a fantastic mom to two beautiful children.
What is Hilary Duff up to now?
Time to shine ✨ So excited to kick off this holiday season with @GlassesUSA and my new #musexhilaryduff holiday collection! https://t.co/9qZyiIRn5M pic.twitter.com/Obzzptx1sj

— Hilary Duff (@HilaryDuff) November 5, 2018
While you may not hear her name as much as you did back in her Lizzie McGuire days, don't let the radio silence fool you. The beautiful blonde has a lot on her plate as well as big plans for the new year. The Disney Channel alum's Twitter and Instagram feeds clue fans into everything going on in Duff's life. She's recently put out her own line of branded eyewear, Muse x Hilary Duff, thanks to a partnership with GlassesUSA. She also partnered with popular peanut butter company Jif and allergy savior Claritin late last year as an ambassador for projects that would benefit from her flair. In November Duff even did a bit of maternity modeling for Little Moon Society while she was pregnant with baby-to-be Banks!
Her most recent well-known endeavor is her role on the American televisions series, Younger, which has been on the air for over three years. Duff plays the unforgettable Kelsey Peters, a party hard, work harder type of woman. She is reprising the role in season 6 which will begin airing sometime this year. Duff will also be bringing actress Sharon Tate's sad story to life in April in the controversial film — The Haunting of Sharon Tate.