How Old Is 'This Is Us' Star Malik (Asante Blackk) in Real Life? Fans Think He Looks Too Young
Fans cannot stop talking about the relationship between Deja (Lyric Ross) and Malik (Asante Blackk) on This Is Us. Although her adoptive parents, Beth (Susan Kelechi Watson) and Randall (Sterling K. Brown), were not too happy about her dating an older boy, he is already growing on them.
Some fans are complaining that the actor looks too young. Let's take a look at what they are saying and how old Blackk is in real life.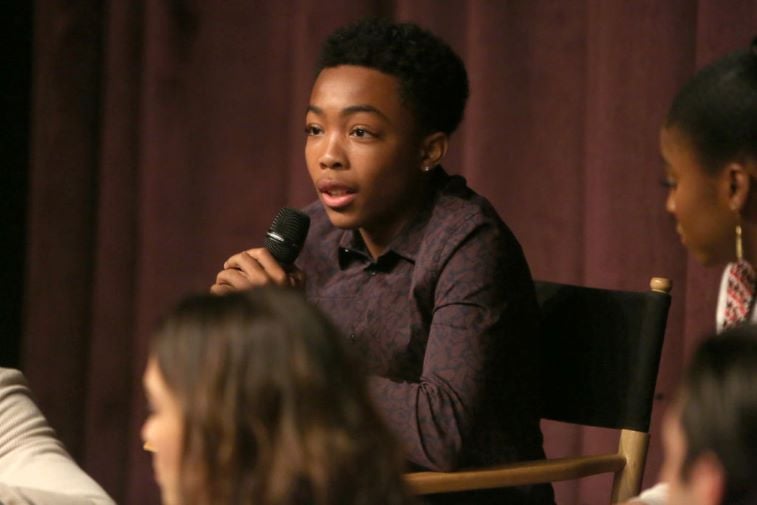 How old is Malik on the show, 'This Is Us'?
When we first saw Malik in season 4 of This Is Us, we assumed that he was about the same age as Deja. She met him at a friend's BBQ, where he was working the outdoor grill. The two made eyes at each other, and we could tell that sparks were flying.
Deja and Malik began texting back and forth. Then, one day, he shows up on her front porch to break some serious news.
"The thing is I– I have a daughter," Malik tells her. "She's 6 months old. I knew you might hear about it at school, and I didn't want to tell you over text."
Deja is shocked at first and doesn't know what to say, but she continues to see Malik. Things take a more serious turn after the two cut school together and are forced into an awkward dinner with both of their parents.
Not only are the Pearson's concerned about Malik's age—he's 16, 2 years older than Deja—but the fact that he has a daughter is a deal-breaker for Randall. In the end, Beth and Randall agree that they can date as long as it is supervised.
How old do fans think Asante Blackk is in real life?
On a recent This Is Us Instagram post, fans began debating Blackk's age in real life. A few viewers think he looks too young to play Malik.
"I don't know why they chose this boy to play this part," wrote one Instagram user, "he looks 12! Not a good fit."
"YES!" agreed another fan. "He looks WAY too young for this role."
"Oh, I so disagree," commented someone else. "He is perfect in every way!! I love his character."
"He looks 13," wrote another fan of the show.
"I am not talking about his performance at all," clarified the original commenter. "All I said was he looks SO young."
Fans came to the agreement that he is a talented actor, but they will have to agree to disagree about how old he looks. Some fans think he looks about 12 or 13, while others think he looks like the 16-year-old character he plays on the show.
How old is 'This Is Us' star, Asante Blackk in real life?
Asante Blackk turned 18 on October 20, 2019. The star is from Maryland is best known for his role in the miniseries When They See Us. He received a Primetime Emmy Award nomination for Outstanding Supporting actor playing the role of Kevin Richardson. He was the youngest actor nominated for an Emmy in 2019.
Blackk began acting at age five when he was cast as Mowgli in the production of The Jungle Book. He acted often as a student at Waldorf's North Point High School and was the Theater Club President. He graduated from North Point in May.
The young star got an agent when he was in the ninth grade. He then pursued his role in When They See Us and was ecstatic when he got it.
We will be seeing more of him throughout season 4 of This Is Us, Tuesday evenings at 9 p.m. on NBC.