How One-Time 'Rivals' Whitney Houston and Mariah Carey's Multi-Million Dollar Record Deals Failed
Whitney Houston admitted to once feeling snubbed by Mariah Carey. Despite such, they became close friends and even collaborated together. Houston and Carey's career post their collaboration was still in high enough demand for their labels to give them mega contracts.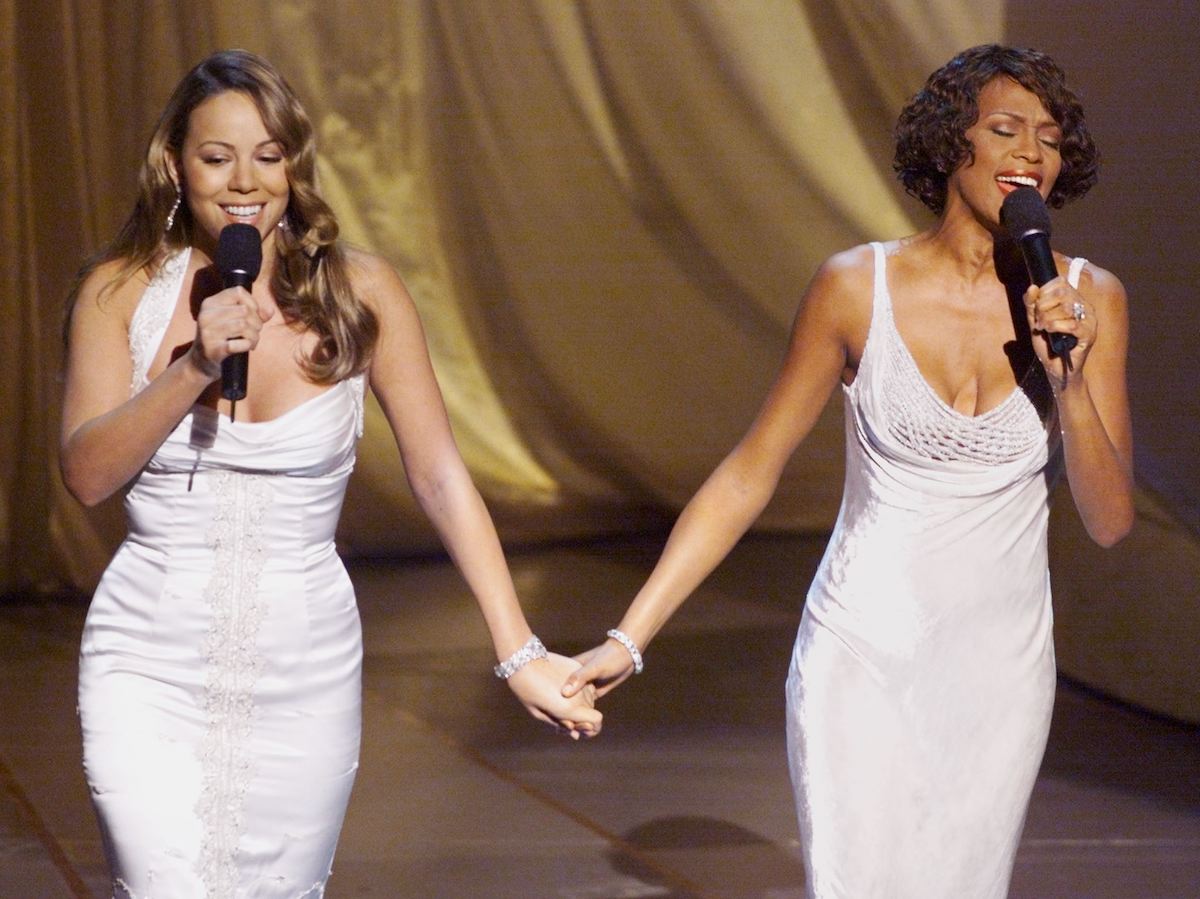 Unfortunately, both contracts didn't hold much weight due to the women's personal struggles – as well unexpected changes in the music industry. 
Both singers signed two of the highest record contracts in history
By 2001, Houston and Carey achieved icon status. Both had a string of chart-topping singles and studio albums.
Per Billboard, Houston's longtime record label Arista saw her as their greatest act. With the absence of Houston's mentor Clive Davis, the new label head LA Reid knew he had to persuade Houston to stay. He did so with a contract worth $100 million, making it the largest record contract in history at that time. The new contract for Houston meant a $25 million advance and six albums. 
Related: Mariah Carey Finally Sets the Record Straight on Those Whitney Houston Feud Rumors
For Carey, she was at the end of her contract with her ex-husband Tommy Matolla. She was being vetted by other labels. Carey brought herself out of her contract with Matolla and SONY for $7 million.
Virgin Records nabbed Carey with an $80 million deal. With Virgin, Carey was granted full creative control, reimbursement for her SONY buyout, a $21 million advance, and four albums. 
Mariah Carey's deal ended prematurely due to an emotional breakdown
At the time of signing with Virgin, Carey was in the final stages of her first major motion picture Glitter. With a new movie and soundtrack, the record label banked on huge numbers due to the excitement of Carey's fans. But the reverse happened.
Related: Mariah Carey Finally Explains Her Infamous 2001 Appearance on 'TRL': 'It Was a Stunt Gone Awry, As We Say'
Carey began acting oddly, even popping up at MTV's TRL with an ice cream truck and a rant about therapy during promotion for the film. She then checked into rehab, with her therapist citing exhausting causing an emotional breakdown. Her rehab stint caused a delay in the release of the film and soundtrack.
The album's release coincided with the events of 9/11, leaving sales low. Reviews for the film were also horrible. There were also rumors that Matolla blacklisted his ex-wife out of spite. A new label head emerged and terminated Carey's contract, paying her an additional $28 million to do so.
Whitney Houston's personal struggles severely impacted her deal
Like Carey, Houston also dealt with a mixture of personal and professional challenges, including the boom of illegal digital downloads. But Houston's own struggles would prevent her from making the most of her new deal.
Houston began canceling shows, not showing up to appearances, and delaying recording sessions. Rumors of her drug use and erratic behavior began to tarnish her reputation. Despite such, she released Just Whitney in 2002. The album sold well in the beginning but overall was modest in comparison to her previous works.
Related: Whitney Houston Broke a Longstanding Beatles Record for No. 1 Hits in 1988
Appearing on the Bravo reality series Being Bobby Brown also didn't help. Houston filed for divorce from Brown in 2006 and worked to rebuild her life and career but her image took a hit. Her voice also suffered, with fans and critics noting she could no longer hit the high notes she became famous for. Houston admitted later to not taking the proper care of her voice.
Both Carey and Houston made successful comebacks. Carey's 2005 release The Emancipation of Mimi went diamond, selling over 10 million copies. Houston's 2009 release I Look to You reached number one. It was Houston's final album before her death in 2012.