How Patrick Mahomes Spends His Millions
Patrick Mahomes is one of the highest paid players in the NFL – so just how does the super star QB and his wife Brittany spend their millions?
Patrick Mahomes signed the biggest contract in sports history — a 10-year extension worth $450 million — in the summer of 2020. If he reaches the built-in incentives, that number will go up to a whopping $503 million.
With a current worth of $30 million at the age of 26 — plus millions of guaranteed income over the next decade — the Kansas City Chiefs quarterback can buy anything he wants. So, what exactly does Mahomes spend his millions on? Here's what we know.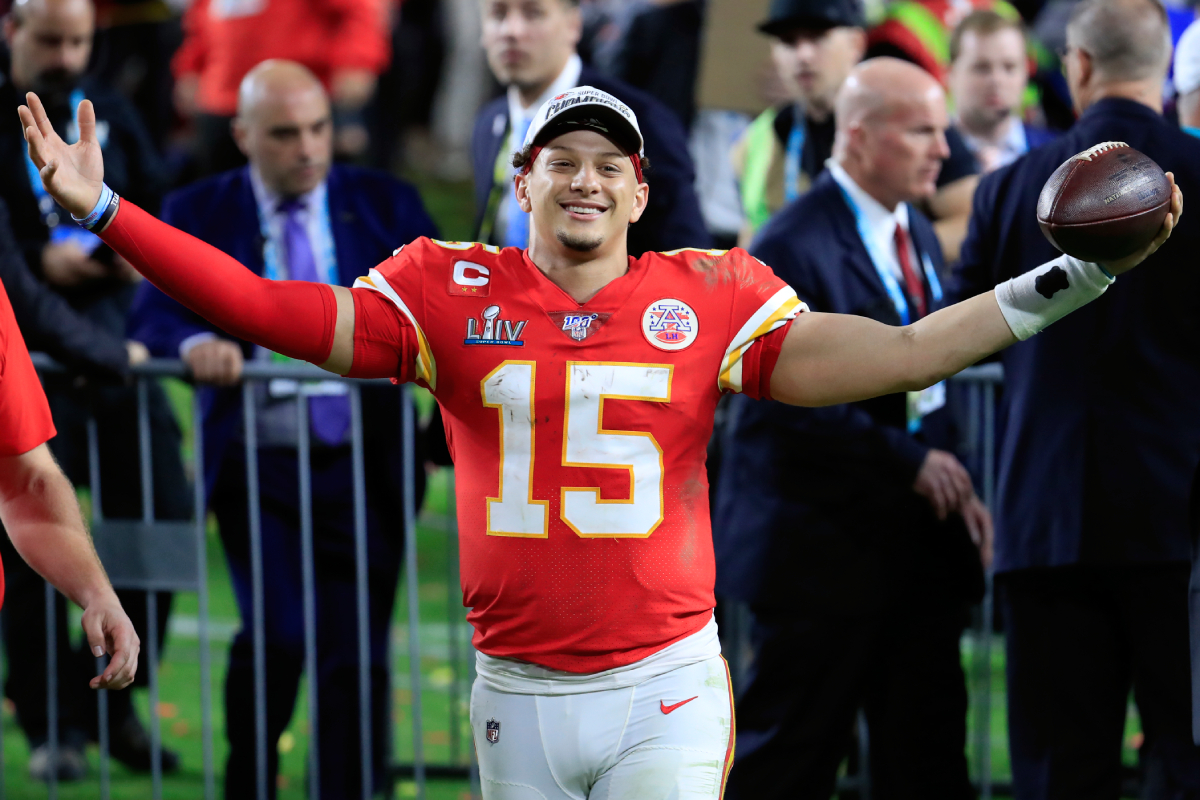 Patrick Mahomes bought a home in Kansas City
Mahomes and his wife, Brittany Matthews, are natives of Whitehouse, Texas. But after the Chiefs drafted the QB, the couple adopted Kansas City, Missouri as their new hometown. Mahomes and Matthews purchased a ranch home built in 1953 for $1.8 million.
Located just 20 minutes from Arrowhead Stadium, the 4,343 square-foot home sits on 1.4 acres and features three bedrooms, two-and-a-half bathrooms, a pool, a state-of-the-art gym, and a 500-bottle wine room.
Since moving in, Mahomes and his bride have done extensive renovations and increased the property value. Mahomes built a custom closet to hold his 180-pair sneaker collection.
This stunning Kansas City home is Mahomes' main residence during football season. But according to Matthews, they've also purchased a home in the Dallas metroplex, too, because that's where the QB trains during the summer.
The Texas property is described as a "stunning modern estate" that's part of a gated community. The home measures 7,844 square feet and was listed for $4.259 million.
The Chiefs quarterback bought a plot of land to build a new home
According to Realtor.com, the ranch house won't be Mahomes' "forever home" because the QB has purchased an eight-acre plot of land in the private country club community of Loch Lloyd for $400,000.
He told radio host Dan Patrick that he plans to build a custom home with many amenities, including a half-football field. Mahomes also loves to play golf, and the Tom Watson-designed golf course in the community has a club membership fee of $150,000 — plus $17,000 in annual dues.
Patrick Mahomes has a pricey car collection
In addition to spending money on property, Mahomes also likes to spend money on cars. He purchased his wife a gorgeous new Lamborghini Urus SUV with a Twin-turbo V8 for an estimated $220,000 just weeks after signing his contract extension.
For himself, Mahomes bought a 2020 Ferrari 812 superfast for a cool $338,000, according to Essentially Sports. This supercar features 788-hp and a 6.5-liter V12 engine that's capable of going from zero to 60 in just 2.8 seconds. This was the first car Mahomes purchased after signing his contract, but it's not the only car he has.
Mahomes was gifted a Genesis G70 sedan with a turbocharged four-cylinder or twin-turbo V6 when he won the Super Bowl MVP title in 2020. That car is valued at approximately $35K. He also owns a 2021 Rolls Royce Cullinan with unique 26-inch white wheels and a 6.7-liter V12 engine.
The Kansas City Chiefs quarterback and his wife are partial owners of two sports franchises
Putting down some roots in Kansas City means more than just buying homes for the new husband and wife. Mahomes purchased an ownership stake in the Kansas City Royals, which made him the youngest owner in Major League Baseball history.
"I love this city and the people of this great town. This opportunity allows me to deepen my roots in this community, which is something I'm excited to do." Mahomes said in a statement.
Meanwhile, Matthews — a former pro soccer player in Iceland — was part of the group that brought women's professional soccer to KC. The NWSL's Utah Royals relocated to the midwestern city in 2021, and now Matthews is part owner of the team.
The couple also gives back to their community with their philanthropic efforts. In 2019, Mahomes founded the charitable organization "15 and the Mahomies." They are dedicated to supporting "initiatives that focus on health, wellness, communities in need of resources, and other charitable causes."
Since its founding, the charity has donated over $500,000 to various organizations working toward its mission statement.
"I think the thing for me, and Brittany … we want to invest in this community as much as they have invested in us," Mahomes told KMBC-TV.
Patrick Mahomes dropped big bucks on Brittany Matthews' engagement ring and their destination wedding
Just weeks after signing his massive contract extension, Mahomes proposed to Matthews with an engagement ring estimated to be worth somewhere between $350K and $800K. The ring features an estimated 8 to 10-carat emerald cut diamond, set on a white gold or platinum diamond-adorned double band.
In March 2022, Matthews and Mahomes tied the knot at a spectacular destination wedding in Hawaii with their closest family and friends. Before their big day, Mahomes and his friends partied in Las Vegas for his bachelor weekend. While Matthews had a girls getaway in Miami.
According to Mahomes and Matthews' Instagram pages, though, the one thing it looks like they spend their money on the most is their daughter Sterling Skye, who was born in February 2021.