How Pete Davidson and Machine Gun Kelly Got In Trouble For Jumping Into a Koi Pond While Filming 'Big Time Adolescence'
Pete Davidson and Colson Baker — aka Machine Gun Kelly — star in 'Big Time Adolescence'. Here's how the two got in trouble while filming.
The ongoing bromance between Colson Baker — aka Machine Gun Kelly — and SNL star, Pete Davidson, continues. The two celebrities star in the new coming-of-age film Big Time Adolescence, available to stream on Hulu now. Kelly recently explained what happened on set while filming with his best friend and yes — it's as wild as you might think.
Pete Davidson and Machine Gun Kelly have a unique friendship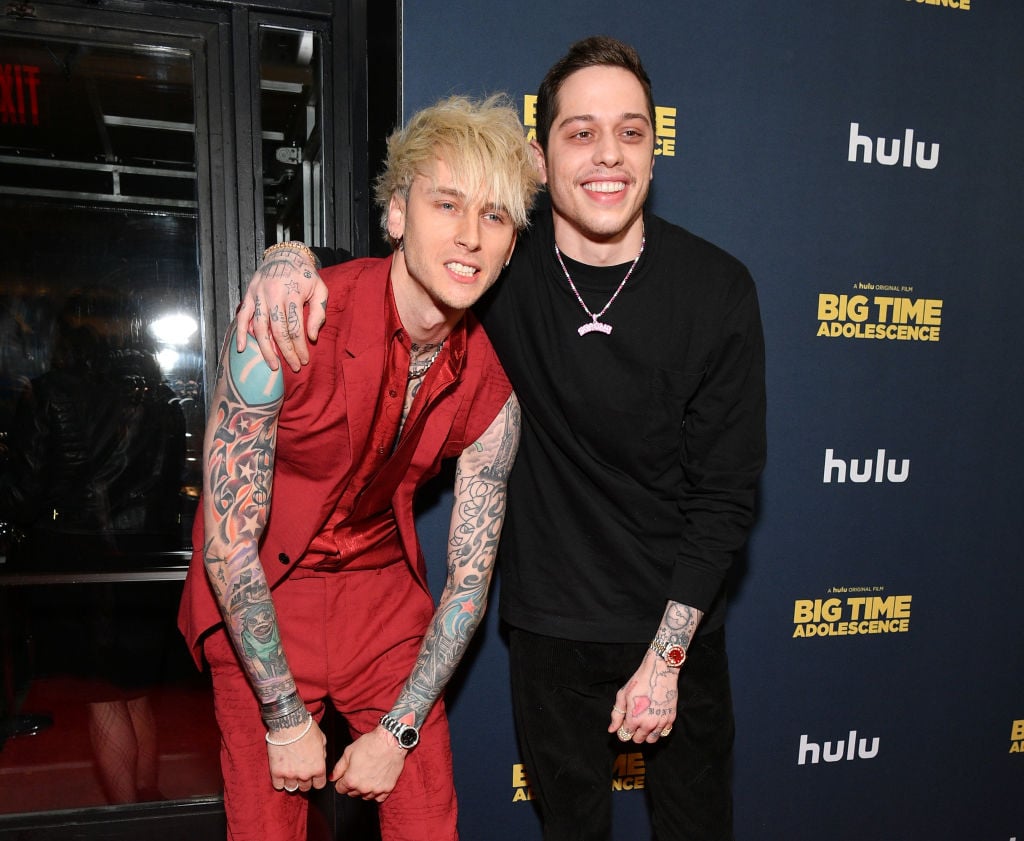 Sometime between 2013 and 2017, SNL alum, Pete Davidson, and rapper, Machine Gun Kelly (Baker) met on the set of MTV's Wild 'N Out. The show, hosted by Nick Cannon, puts celebrities and comedians against each other.
After their first interactions on MTV, Kelly told Billboard Magazine they "met each other years later when I was filming that Mötley Crüe movie, 'cause he's in that Mötley Crüe movie. And then we were just stuck down there in New Orleans, and we were both just like super stoners… listened to the same music… So that's my boy.'"
Their friendship is a favorite among fans, especially because they don't try to hide or diminish their affinity for one another via social media. Both have made headlines, often, but have been by each other's side through it all.
In Dec. 2018, Davidson posted a concerning message on Twitter that rattled fans. Kelly immediately hopped on a plane to go check on Davidson tweeting, "I can't have my boy in the darkness like that."
The two friends star in 'Big Time Adolescence' and it's getting rave reviews
Davidson and Kelly may have bonded over the public drama over singer, Halsey, but Kelly previously told New York Post, it wasn't easy.
"It was a rough ending of that year, but the way that we started off 2019 … we were focused and determined and not gonna let the narrative continue to be decided by the public," he said.
"You ever meet somebody and you're like, 'Were we separated at birth?' It was one of those things. I probably credit some of how tight we became to how much weed we both smoke."
Big Time Adolescence, which is available on Hulu now, debuted at the Sundance Film Festival in 2018. The story follows 16-year-old Monroe "Mo" Harris (Griffin Gluck) who idolizes his older sister's college drop-out ex-boyfriend, Zeke (Davidson). Their unlikely friendship comes with dire consequences.
Kelly doesn't have a big role in the film as Davidson's on-screen best friend, Nick, but the chemistry is palpable. The film also stars Jon Cryer, Sydney Sweeney, and Emily Arlook.
Machine Gun Kelly says he and Davidson got in trouble doing these things while filming
Because the two stars are so close in real life, their shenanigans continued when the cameras stopped rolling. In a recent sit-down interview with Elle's Thirst Trap, Kelly revealed some of what went on and it's wild.
The rapper went on to talk about he and Davidson "ate a bunch of mushrooms, had a lightsaber fight, woke the director up in the middle of the night (with his pregnant wife), went to a waffle restaurant." He added he hopped into a koi pond and was caught by the hotel staff before going to Sundance. He concluded by saying they, "made a smash."
However you feel about Davidson or Kelly, these two are clearly living their best lives.
How to get help: In the U.S., call the National Suicide Prevention Lifeline at 1-800-273-8255. Or text HOME to 741-741 to connect with a trained crisis counselor at the free Crisis Text Line.