How Prince Charles and Camilla Proved They Are Closer With William and Kate Now After Harry and Meghan Stepped Down
Find out how Prince Charles and Camilla Parker Bowles have gotten even closer to Prince William and Kate Middleton following Prince Harry and Meghan Markle's royal exit.
Prince Harry and Meghan, Duchess of Sussex's royal exit has had an effect on just about every member of the royal family. One person said to be deeply hurt by the couple's decision is Prince Charles.
The Prince of Wales and Meghan had formed a "close bond" before she and Prince Harry even tied the knot. The future king reportedly gave her the nickname "Tungsten" after the strong metal because he admired her strength and toughness. Meghan had also been credited by royal experts for helping Charles and Harry form a better relationship. Now though, many are paying attention to what's happening between Charles, Camilla, and the Cambridges.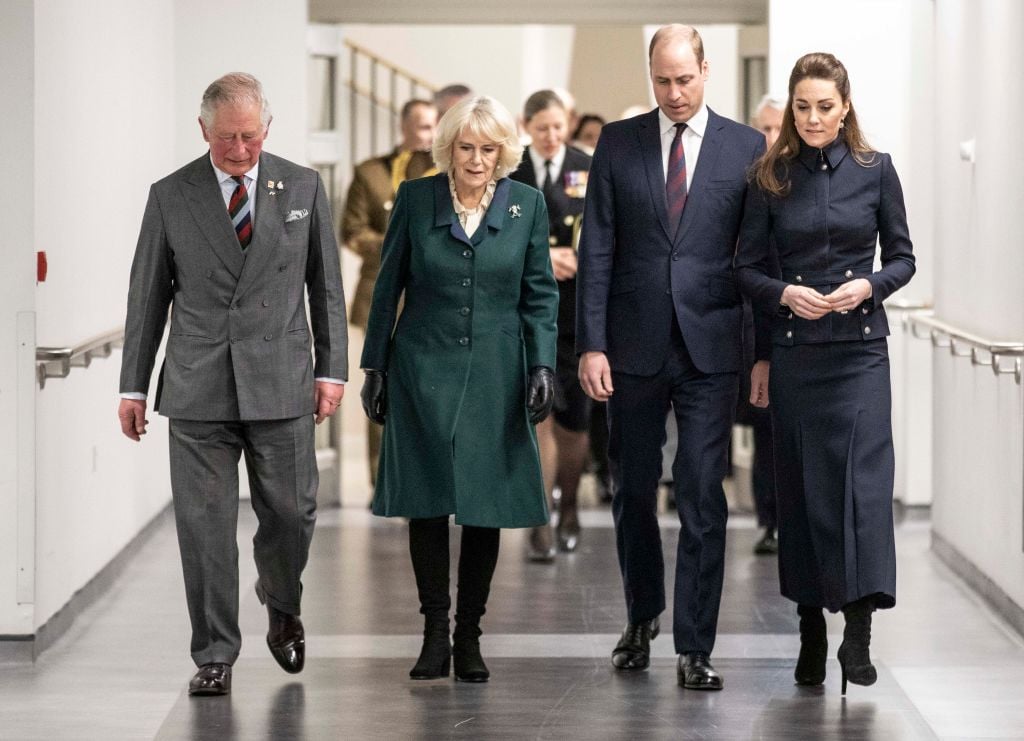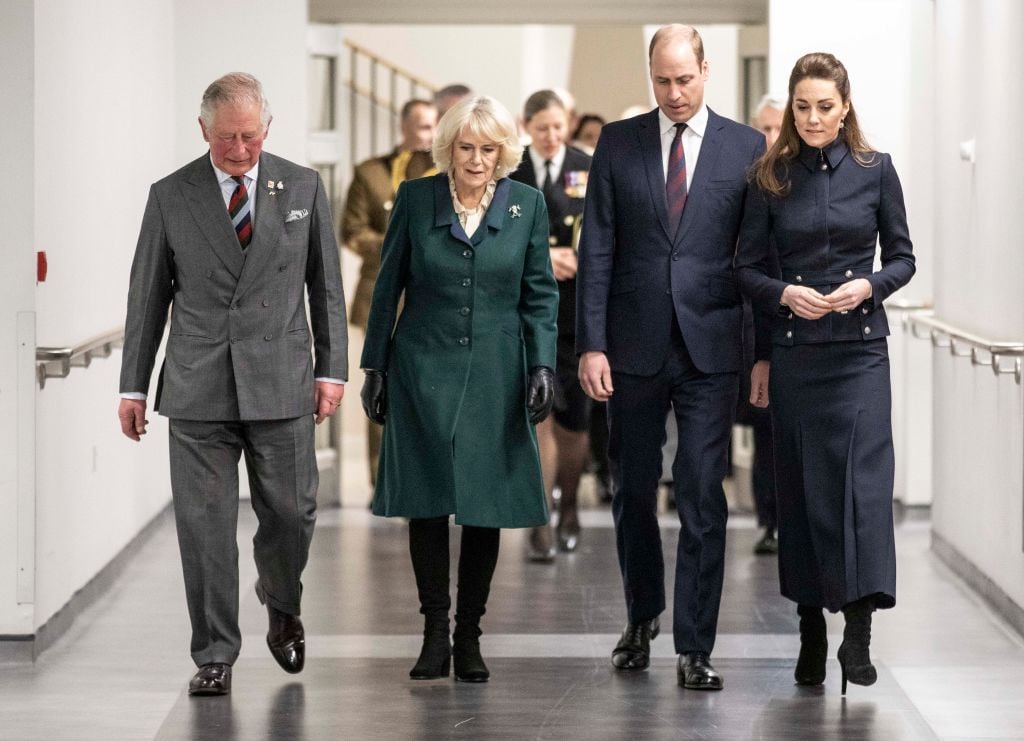 They've been having fun together
It's very rare for Charles, William, and both of their wives to make joint appearances at engagements but that's exactly what they did a month after Harry and Meghan announced they were stepping down.
The princes and duchesses visited with injured service members at The Defence Medical Rehabilitation Centre in Surrey, England, in February and royal fans everywhere took notice. The Duke of Cornwall and the Duke of Cambridge really looked to be their time together.
The father-and-son duo appeared playful and even shared a video of Charles pushing William in a wheelchair to set up his shooting from that position.
Body language experts say Kate and Charles are really 'bonding' now too
Energy reader Alison Ward analyzed photos from the royal visit and opined that the Prince of Wales appears to be bonding with his other daughter-in-law, Catherine, the Duchess of Cambridge, now in Meghan's absence.
"These pictures give a clear insight into how the family is bonding," Ward said. "These heartwarming pictures of Prince Charles and Kate show what a wonderful father figure Charles has become and how their relationship has blossomed with humor and respect. Their shared glances in the company of William and Camilla show a mutual bond."
Ward added, "The photos show Kate looking towards him for direction and for comfort and support. Kate is still learning on the job and while she is clearly doing well she can still learn from Charles who has been in his role for much longer."
Could they be the new Fab Four?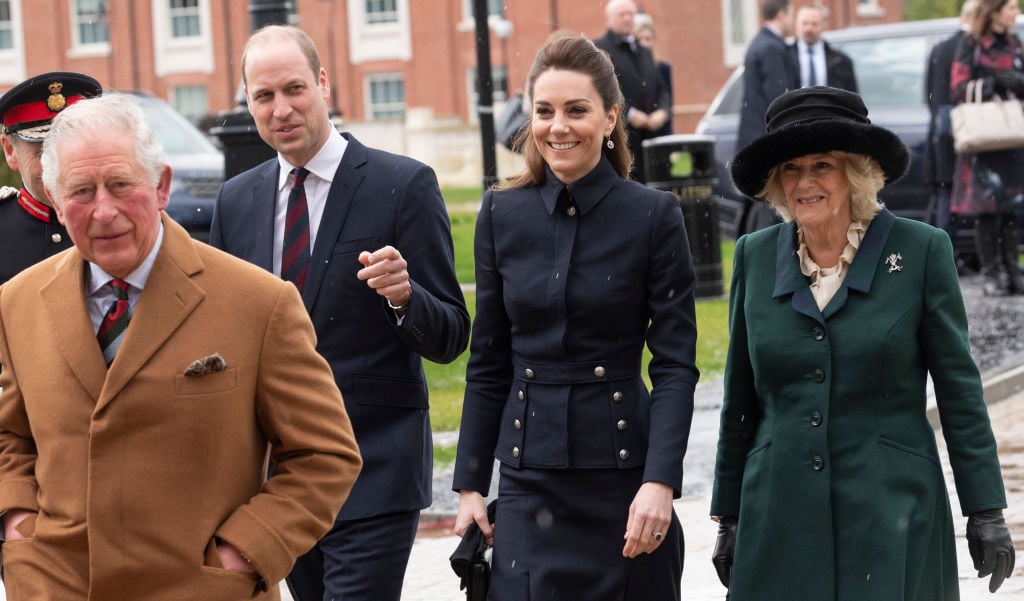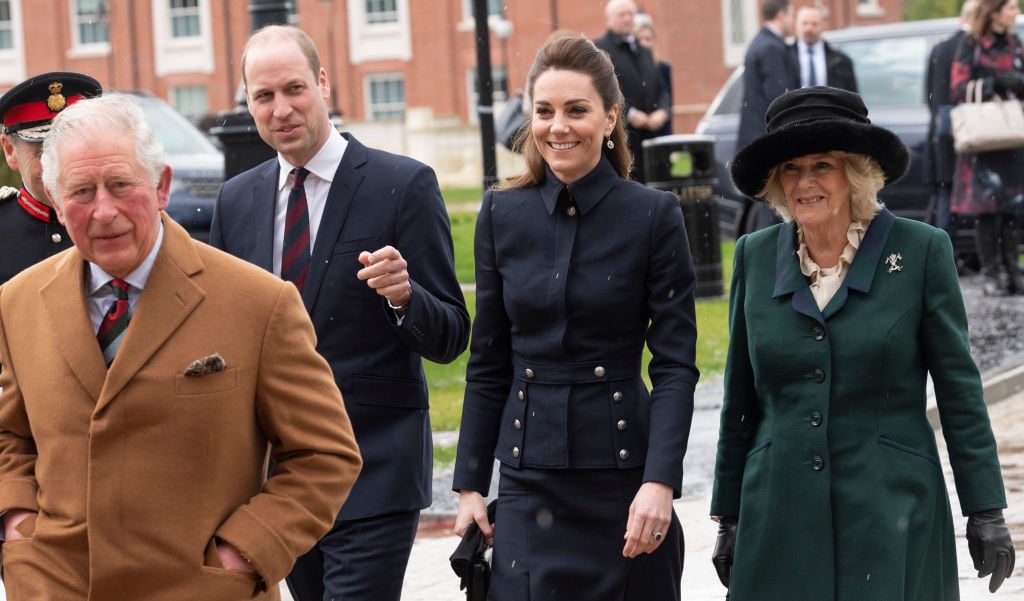 For those who think that Charles and Camilla are looking to join forces with William and Kate as the new Fab Four, that's most likely not the case.
Part of the reason William, Kate, Meghan, and Harry got the "Fab Four" nickname is because of how popular they each were and had the public so excited about the direction the young group wanted to take their initiatives. Charles and Camilla don't have anywhere near that popularity, especially not with the younger generation of Sussex and Cambridge fans.
What seems to actually be happening is that the remaining senior royals are simply coming together to support and be there for each other more now as they are living in a new monarchy that no longer includes the Sussexes.
Read more: What Prince Harry Really Whispered to Meghan Markle in Church, According to Lip-Reading Experts