How Prince George, Princess Charlotte and Prince Louis Are Keeping Busy During Lockdown
Like millions of children all over the globe, Prince George and Princess Charlotte are out of school due to the coronavirus pandemic. And just like other parents, Prince William and Catherine, Duchess of Cambridge need to find ways to keep them busy and entertained while they are at home during the lockdown.
Here's more on William and Kate's homeschooling efforts and what playtime with their eldest children and Prince Louis likely includes now.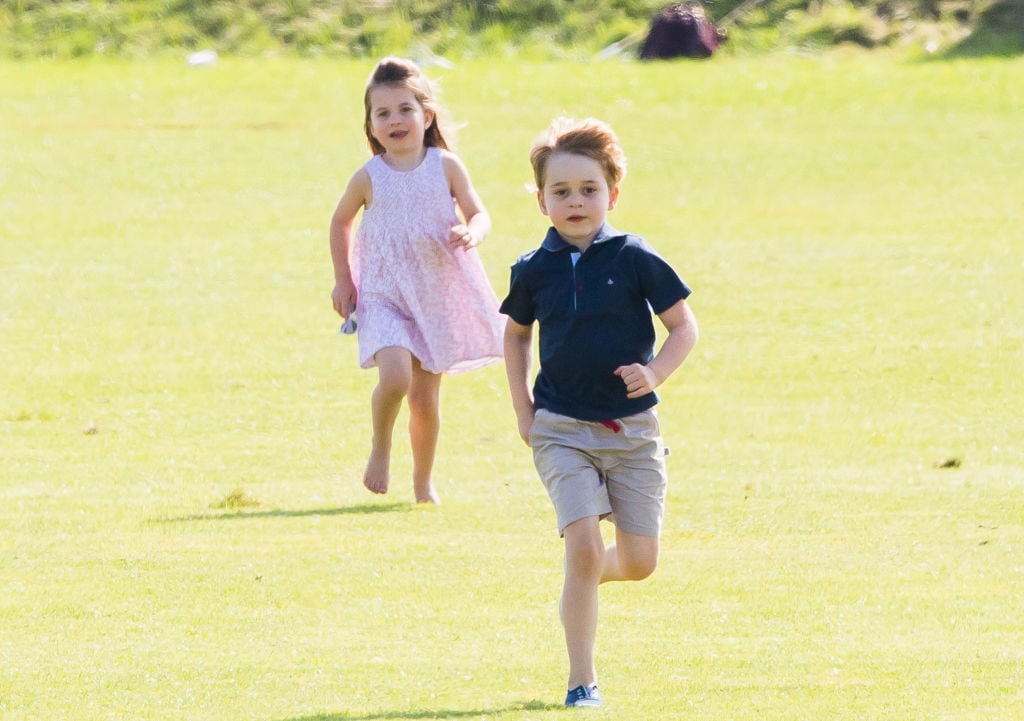 William and Kate are splitting homeschooling duties
On March 20, Thomas's Battersea school, where George and Charlotte attend, switched its classes to remote learning.
"From this date the curriculum will be taught through online learning platforms and we have asked parents to keep their children at home and to access their lessons through this system," a spokesperson from the school said in a statement. "This will ensure that children have continuity of learning when they are unable to attend school."
A source told The Sun that William and his wife started splitting some of those homeschooling duties.
According to the insider, "Kate is leading on most of the teaching. She spends time every day doing something with them. But William is also rolling up his sleeves and getting stuck in as well. They've both found the experience hugely rewarding. It has underlined to them the amazing job our teachers do."
How the royal children spent their previous school break
On the kids' previous break from school in February, the Duke of Cambridge revealed that his children were "lambing."
"We've been lambing with the children this week," he stated at the Six Nations rugby game. "Charlotte wasn't sure at first but George was straight in there. Louis loves the tractors. They love seeing the lambs and feeding [them]."
This time with the family being confined to their home George, Charlotte, and Prince Louis are likely spending as much time as possible outside on the grounds of the property. The duchess has always stressed the importance of children spending time outdoors.
"As children, we spent a lot of time outside and it's something I'm really passionate about," Kate said on Giovanna Fletcher's parenting podcast. "I think it's so great for physical and mental wellbeing and laying those foundations."
Activities Prince George, Princess Charlotte, and Prince Louis enjoy
Prince George, Princess Charlotte and Prince Louis get plenty of exercise running around with each other outside. They also reportedly like to do things like chalk drawing too.
A rep for Norland College where the Cambridge children's nanny went spoke to Hello! about how parents can aid in this activity by using "washable child-friendly chalk and drawing a hopscotch grid or numbers into different spaces on the patio. When you call the number out the child has to jump to that number as quickly as possible. This is great for numeracy skills and physical development."
An activity the young royals like to do with their mother when the weather doesn't permit them to go outside is cooking. Matthew Kleiner-Mann, chief executive of the Ivy Learning Trust, relayed a conversation he had with Kate about her eldest children learning to cook.
"She was telling us how much her children love cooking and how they cook for her. They made cheesy pasta the other day. One stirs the flour, one puts the milk and butter in. And they make salads and stuff," he told reporters.
Prince Louis will likely help out as well when he gets a little older.
Read more: Why Prince William Said Princess Diana Would Be A 'Nightmare Grandmother' To His Kids