How Princess Diana's Fractured Relationship with the Royal Family Reportedly Led to Her Land Mine Walk
Princess Diana had a publicly messy divorce with Prince Charles. Find out that reportedly led to her working with certain charities later.
Princess Diana went through a lot publicly when it came to her divorce with Prince Charles. Her relationship with the royal family wasn't the same but she continued to use her platform for good. One way she did that was by talking publicly about removing land mines.
Now her son, Prince Harry has continued her legacy by also speaking about landmine removal. He recently gave a speech about it and gave an update on one of the areas she walked on to bring awareness.
What made her decide to talk about land mines? The answer might have been her fractured relationship with the royal family and here is the reason why.
Princess Diana spoke in support of land mine removal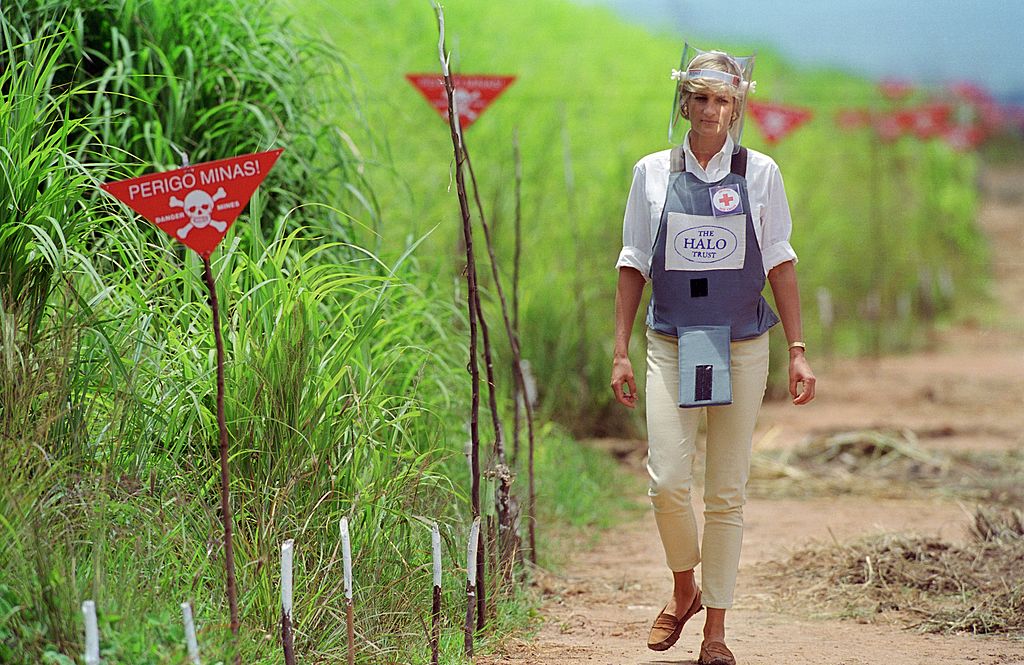 Princess Diana and Prince Charles got divorced in 1996. It became messy when it came out that he had an affair with Camilla Parker Bowles. She also talked about how the pressure of being in the limelight when she was married affected her.
Princess Diana still used her platform to speak about issues after her divorce. One of the biggest causes she spoke about was removing land mines.
She was filmed walking on a minefield in Angola in 1997. "There couldn't be a more appropriate place to begin this campaign than Angola," she told the reporters according to PRI. This is "because this nation has the highest number of amputees per population than anywhere in the world."
Her campaign continued to bring her to other countries and speak out. This was all controversial at the time because the British army still had land mines in its arsenal.
She reportedly didn't want to pick causes that conflicted with the royal family
Royal expert Carolyn Harris claimed to know why she picked certain causes after her divorce. One thing she made sure to check was what the royal family was already doing.
"Diana's work with the British Red Cross and Hazardous Areas Life Support Organization led to her advocacy for the removal of land mines," explained Harris according to The Kingston Whig Standard.
"After her divorce, Diana was looking for philanthropic initiatives that did not conflict with the causes already supported by other members of the royal family and she wanted to assist those who had been injured by land mines," revealed Harris.
They donated money to a land mine victim after her death in her honor
One of the places Princess Diana visited while speaking about this issue was Bosnia. There were still land mines left there after a war. She visited the country weeks before her death in 1997.
According to Express, the family donated money to Muhamed Suljkanovic, who lost both of his feet from stepping on a land mine shortly after her death.
"I named my newborn daughter Diana, after the princess," Suljkanovic reportedly said. "They say we have to somehow remember good people, and we remember her like that."
It sounds like Princess Diana's work has been remembered multiple ways. The royal family donated money to a land mine victim after her death. Her son is now talking about it and plans to visit Africa later this year with Meghan Markle.