How a Private Jet Lured Garth Brooks Out of Retirement
Garth Brooks once announced his retirement so he could drive his daughters to school every day. Here's how a private jet got the country singer to return to music.
Garth Brooks is one of the biggest names in country music, but the singer almost ended his legendary career prematurely. Here's how an art collector and a pirate jet lured Brooks out of retirement and got him to continue doing live shows and making music for fans. 
Garth Brooks came out of retirement for a Las Vegas residency 
Around 2001, Garth Brooks announced that he was retiring from performing and recording. The country music star, who has three children, said he wanted to focus on his family.
Although Brooks hinted that he would return to music after his youngest daughter finished high school (in 2014), he came out of retirement much earlier than that. It took a generous offer from Steve Wynn, billionaire real estate developer, art collector, and the CEO of Wynn Hotels, to bring Brooks back to his music career. 
Wynn offered Brooks a Las Vegas concert residency called Garth at Wynn, which ran from 2009-2014 at Encore Las Vegas. The two men agreed that shows would only be on weekends, allowing Brooks to continue taking care of his family during the week while performing Friday-Sunday. 
One of the key factors in negotiations was Wynn offering Brooks a private jet, allowing the singer to travel back and forth from the gig in Las Vegas to his home in Oklahoma. 
His Las Vegas residency launched Brooks' full return to music. In 2013, he released a compilation album influenced by the set list of his Las Vegas shows. In a December 2013 appearance on Good Morning America to promote the album, titled Blame It All on My Roots: Five Decades of Influences, the singer announced he would embark on a world tour in 2014.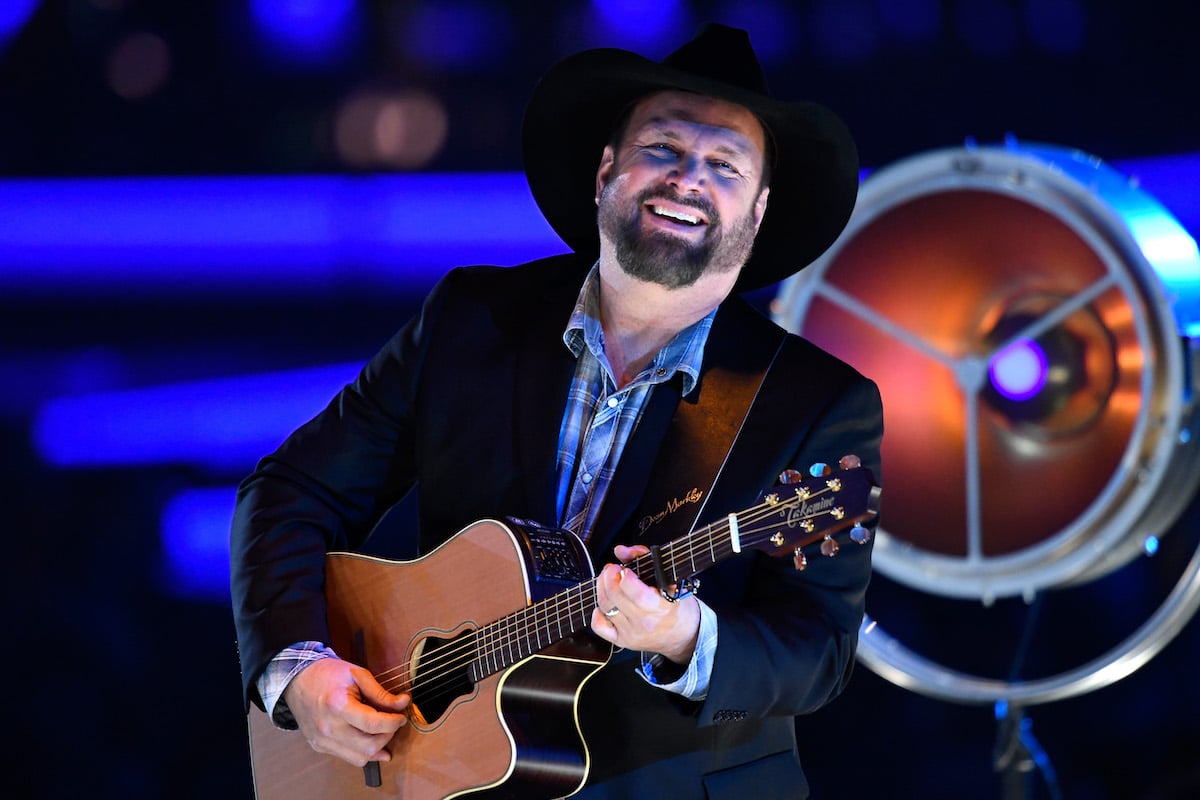 Garth Brooks' private jet is an 11-seat Challenger
When Garth Brooks retired, he famously said that he wanted to be able to drive his daughters to school every day. Thanks to Steve Wynn's offer of a private jet, Brooks was able to keep his promise to see his children off to school every day until they graduated. 
The CEO gave the country music star an 11-seat Challenger to shuttle back and forth between Las Vegas and Oklahoma. But Brooks was humble about the details of the aircraft.
"I don't know anything about jets," Brooks said with a shrug (per CNN). "It's got a cool interior, cool paint job, I don't know. But it gets me here (Vegas), and it gets me home to see my girls. And so in that case, it's fabulous."
Garth Brooks net worth: $400 million
Private jets, even the least expensive models, cost several million dollars, and that's just for the purchase price. The planes cost hundreds of thousands to millions of dollars more every year to fuel and maintain. Even with a net worth of millions, only a few of the wealthiest and most successful entertainers can afford the steep cost. Kim Kardashian, Kylie Jenner, and Taylor Swift are among the short list of celebrities who have their own private jets. 
Steve Wynn's net worth is about $3.3 billion, so coaxing Brooks out of retirement with the offer of a private jet was practically small change for the CEO. 
But now, Brooks could likely afford to buy his own aircraft if he wanted to. According to Celebrity Net Worth, the singer has an estimated net worth of $400 million.