How Regina King Made History With Her Directorial-Debut Movie, 'One Night in Miami'
Regina King, the actor known for her Emmy-winning performance Watchmen and Oscar-worthy role in If Beale Street Could Talk, has taken her skills behind the camera. The new movie she directed, One Night In Miami, recently made history at a giant film festival.
Actor Regina King directed her first movie at age 49 — and made history for Black women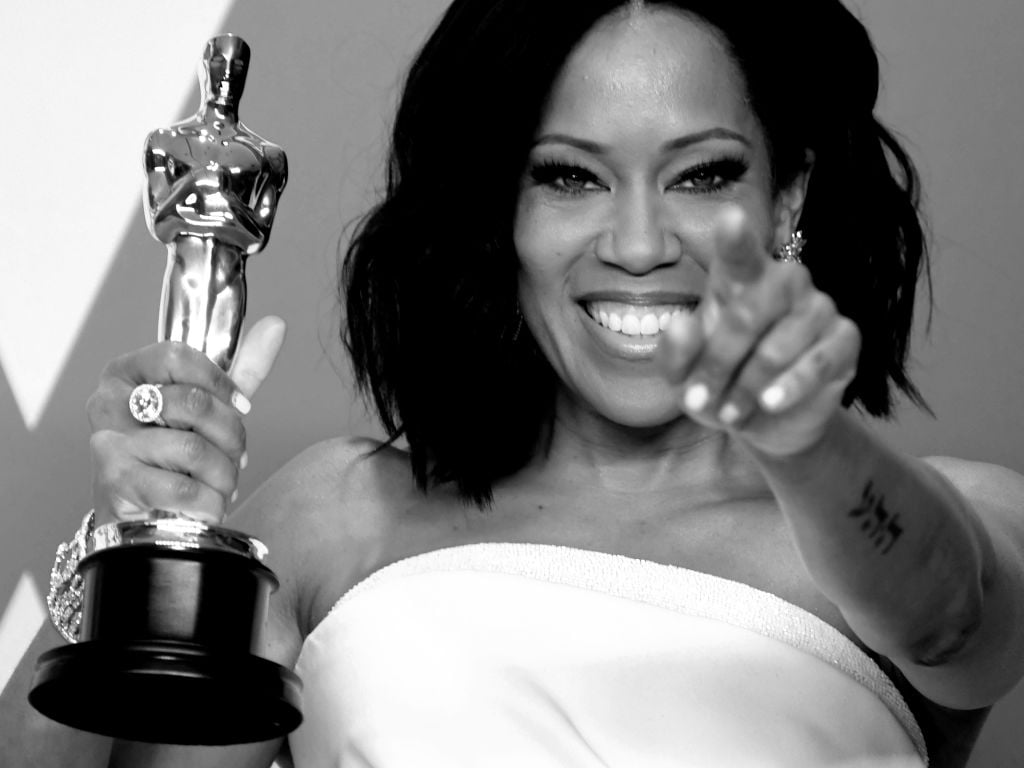 RELATED: Regina King on Her Time In Hollywood: 'I Have More Power Than I Thought I Had'
Glamour recently published an in-depth profile of King, outlining her massively successful career in Hollywood. King directed her first-ever film in 2020, titled One Night in Miami, and the movie made a huge statement in the festival circuit. At its Venice "world premiere," One Night in Miami wasn't up for any awards — but, King did set a new record by having it screened there.
"At the beginning of September, King became the first Black woman director in the 87-year history of the Venice Film Festival to have her work screened as part of the programming," Glamour reported.
King's first stab at directing a movie is based on a play by Kemp Powers. The play and the film portray a fictionalized conversation between 4 important figures in American Black history: "Cassius Clay (Muhammad Ali), Malcolm X, Sam Cooke, and Jim Brown."
The new movie 'One Night in Miami' puts King in contention for a directing Oscar in 2021
According to Variety's review of the film, "One Night in Miami is one of those dramas with a hooky, irresistible meeting-of-the-minds premise."
With these "four legends in a single room," all the film viewers have to do is "sit back and watch the verbal-philosophical fireworks fly." The critique also expands on what One Night in Miami is all about:
The movie takes place on Feb. 25, 1964, the night that Cassius Clay, at 22, won the world heavyweight championship by defeating Sonny Liston. … To celebrate his victory, he heads over to the modest, rather shabby small suite where his friend Malcolm X is staying at the Hampton House, a motel that caters to Black celebrities. There, the two are joined by the football superstar Jim Brown and the soul legend Sam Cooke.
RELATED: 'Watchmen' Star Regina King 'Can't Wait' for HBO's 'Lovecraft Country' (And Neither Can Fans)
The Variety film critic argues that King is masterful in her directing of the movie:
King … has opened up the action in the best possible way, mixing in scenes set outside the motel room, like the Liston fight and several encounters that show us the characters on their own, confronting what racism looked like in 1964.
Glamour appears to agree with Variety's take on King's directorial debut. The If Beale Street Could Talk star, they wrote, is "now considered to be a heavy favorite to make history in the Oscar race because of One Night in Miami."
Such an awarded actor as King doesn't necessarily need any more statues on her shelf — but it sounds like she may deserve them.