How 'Saturday Night Live' Has Changed Throughout the Years
Saturday Night Live premiered on NBC in 1975, and since then, the show has emerged into its own genre of comedy. Along with spawning a number of blockbuster films like The Blues Brothers and Wayne's World, SNL has produced some of the best comedy writers and actors the world has ever seen. For over four decades, the show has retained its sketch comedy and musical performance format, but it has also evolved in some ways. Read on to see how Saturday Night Live has changed throughout the years.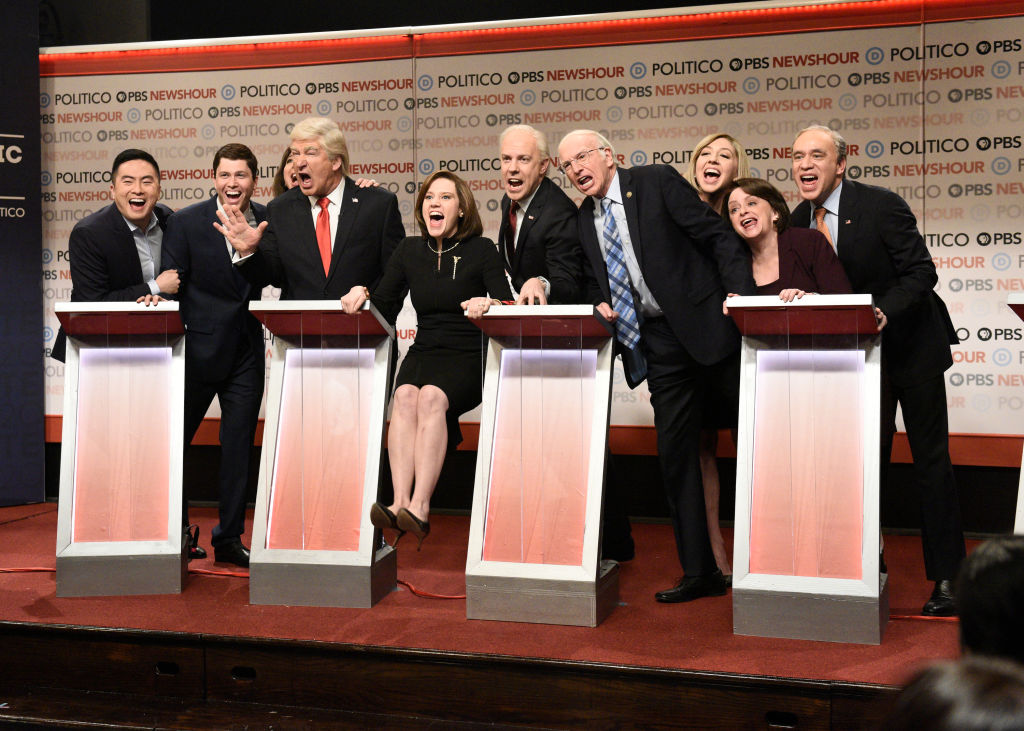 How it 'Saturday Night Live' got started 
In 1974, NBC president Herbert Schlosser wanted to fill the network's empty Saturday night slot, so he asked producers Dick Ebersol and Lorne Michaels to develop a new show. According to The Hollywood Reporter, Ebersol and Michaels came up with the idea for Saturday Night Live and assembled the comedy team of John Belushi, Dan Akroyd, Chevy Chase, Jane Curtin, and Gilda Radner for the first season.
The very first episode of Saturday Night Live aired on October 11, 1975 with comedian George Carlin as the host and Billy Preston and Janis Ian as musical guests.
How 'SNL' has changed
When it started airing in the late '70s, Saturday Night Live was produced more like a variety show, often with multiple musical guests. Eventually, the show began to focus more on its sketches and reduced the number of musical guests to one.
Unlike today, during the first few seasons of SNL, guest acts were recognized first in the opening, and series regulars were mentioned last. Now, the main cast is introduced (in alphabetical order) first and guest stars are announced just before the monologue.
That iconic 'SNL' voice
If you've been watching SNL since its early days, you know there's just something special about announcer Don Pardo's iconic voice. The TV legend opened the show for 38 of its 45 seasons. But after his death in 2014, SNL alumni Darrell Hammond stepped in to take his place.
The addition of Digital Shorts
Saturday Night Live is known for its groundbreaking musical performances. But in 2005, the show leveled up by incorporating prerecorded musical Digital Shorts in between live sketches. Some of the most popular music videos — like Lazy Sunday and Motherlover — came from cast member Andy Samberg and his Lonely Island team. The show earned a total of six Emmy nominations and one win for Outstanding Original Music and Lyrics.
How 'Saturday Night Live' stayed the same
For the most part, Saturday Night Live's format, tone, and direction have stayed the same throughout its 45 seasons. The show still starts with a cold open and the famous line, "Live from New York, it's Saturday Night!" Each episode features a guest monologue and continues on to its live sketches and performances. Every week, a popular musical guest takes the stage to perform chart-topping hits.
And since its inception in 1975, Saturday Night Live continues to take jabs at political events and politicians. From Dan Akroyd's version of Jimmy Carter to Alec Baldwin's portrayal of Donald Trump, the show is still known for its skewering presidential impersonations.
If you want to check out vintage clips of SNL to see how the show (and times) have changed, you can head to Saturday Night Live's Youtube page and take a look around.