Serena Williams Had 'This Sense' About Alexis Ohanian Sr. Being The One
Tennis legend, Serena Williams, is considered by many to be one of the greatest tennis players of all time. Playing since the age of three, she has inspired little girls around the world to reach for the stars.
The 39-year-old champion has won more Grand Slam singles titles than any other competitor, winning her 23rd title when she was two months pregnant.
The mom, entrepreneur, spokesperson, and professional athlete shows confidence in everything she does. Whether she is on the court or off, Serena Williams works hard to achieve her goals.
In 2017, the tennis sensation married Alexis Ohanian, Sr., the founder of Reddit. Serena Williams claims that shortly after they met, she had a feeling that he was the "one."
A fierce competitor
Serena Williams began playing tennis with her sister, Venus Williams, at an early age. Living in LA, her father brought them to public courts to learn the game.
In 1995, destined for greatness, the young 14-year-old turned pro. Following in her sister's footsteps, the two girls excelled at the sport, exceeding all expectations. Together, they won 14 Grand Slam doubles titles.
The Williams sisters took home the gold medal in the doubles event at the 2000 Olympic Games in Australia. Two years later, Serena Williams beat out her sister for the championship in the U.S. Open, Wimbledon, and French Open.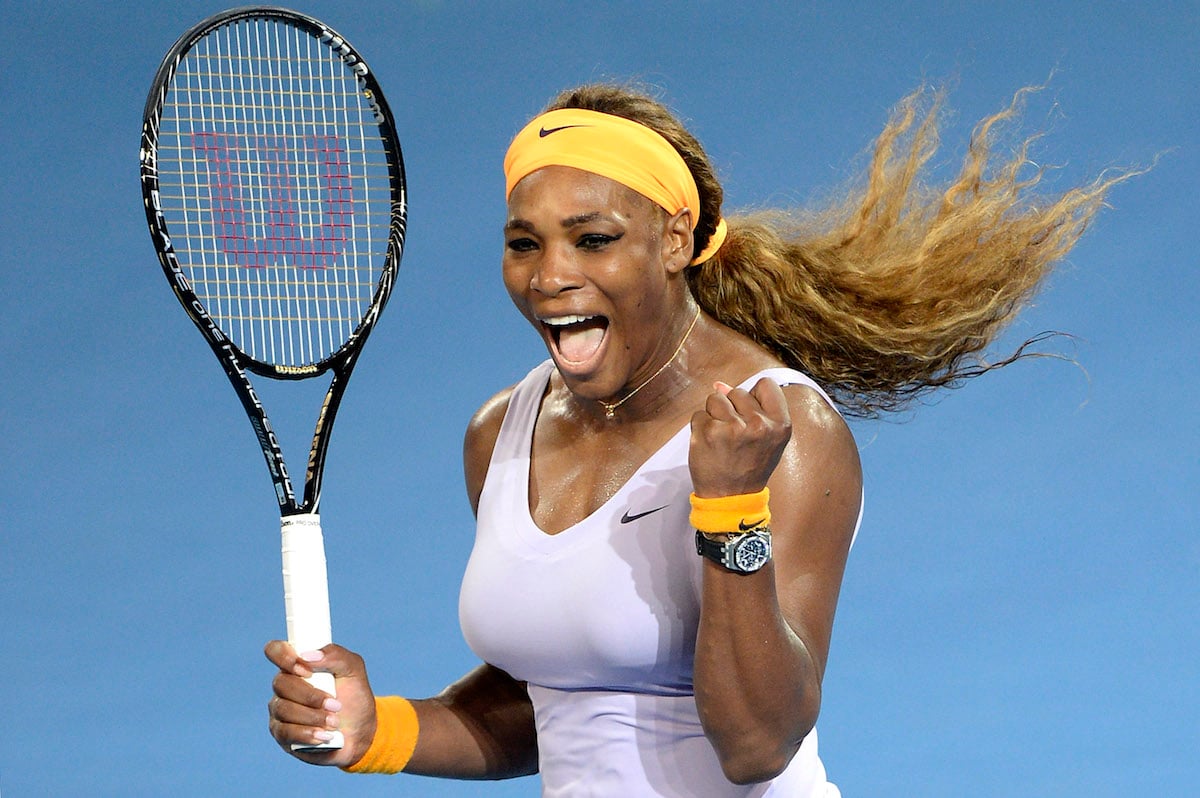 In 2008, the women won their second Olympic gold medal in Beijing. Serena Williams won the U.S. Open and the following year beat out her sister once again for the Wimbledon singles title. The highly competitive tennis star won in Wimbledon in 2016, and then broke Steffi Graf's record for the most Grand Slam singles titles.
In April 2017, Serena Williams announced her pregnancy and took the rest of the year off to tend to her daughter, Alexis Olympia. Two months after experiencing a life-changing traumatic birth, she married Ohanian.
In 2018, Serena Williams returned to the game she loved, but it wasn't until 2020 that she saw another victory. After winning the ASB Classic in New Zealand, Serena Williams joyfully lifted her hands to the sky saying "finally."
The tennis phenom had a feeling
While talking with In Style, the tennis legend opened up about her relationship with her husband. She explained, "I had this sense, like, 'I'm going to marry this guy, but I'm not ready yet, but I know I'm going to marry this guy.'"
Serena Williams became interested in her husband's business and said, "We started talking, just as friends. Just casually chatting. I was getting hot when he was talking about it all."
What they were talking about was his successful launch of the online Reddit platform. According to Celebrity Net Worth, Ohanian has an estimated net worth of $40 million.
Marrying the man of her dreams
Together since 2017, Serena Williams and Ohanian are happily married, enjoying life with their healthy 3-year-old daughter.
According to E News, the power couple shared their first date wandering the streets of Paris. The news magazine commented, "While few would think to pair a world-class athlete and a tech giant, the two simply work, Williams' more passionate nature providing the perfect complement to Ohanian's steady calm."
Before meeting Serena Williams, Ohanian never took much interest in tennis. He now is an avid supporter of the sport and is often seen in the stands, with their daughter, cheering on his multi-talented wife.
The successful business tycoon told Glamour that he supports his wife in everything she does, saying, "I try to get behind her and let her know I'm there for her and our daughter, no matter what."
It appears on all accounts that the feeling Serena Williams had when she first met her husband was accurate.