How Shania Twain and Harry Styles Became Friends
Harry Styles and Shania Twain are two music superstars with millions of fans around the world between them. When they took the stage together at Coachella in 2022, fans lost their minds as the two singers performed duets of Twain's smash hits "Man! I Feel Like a Woman!" and "You're Still the One." But their relationship dates back years before their Coachella collaboration.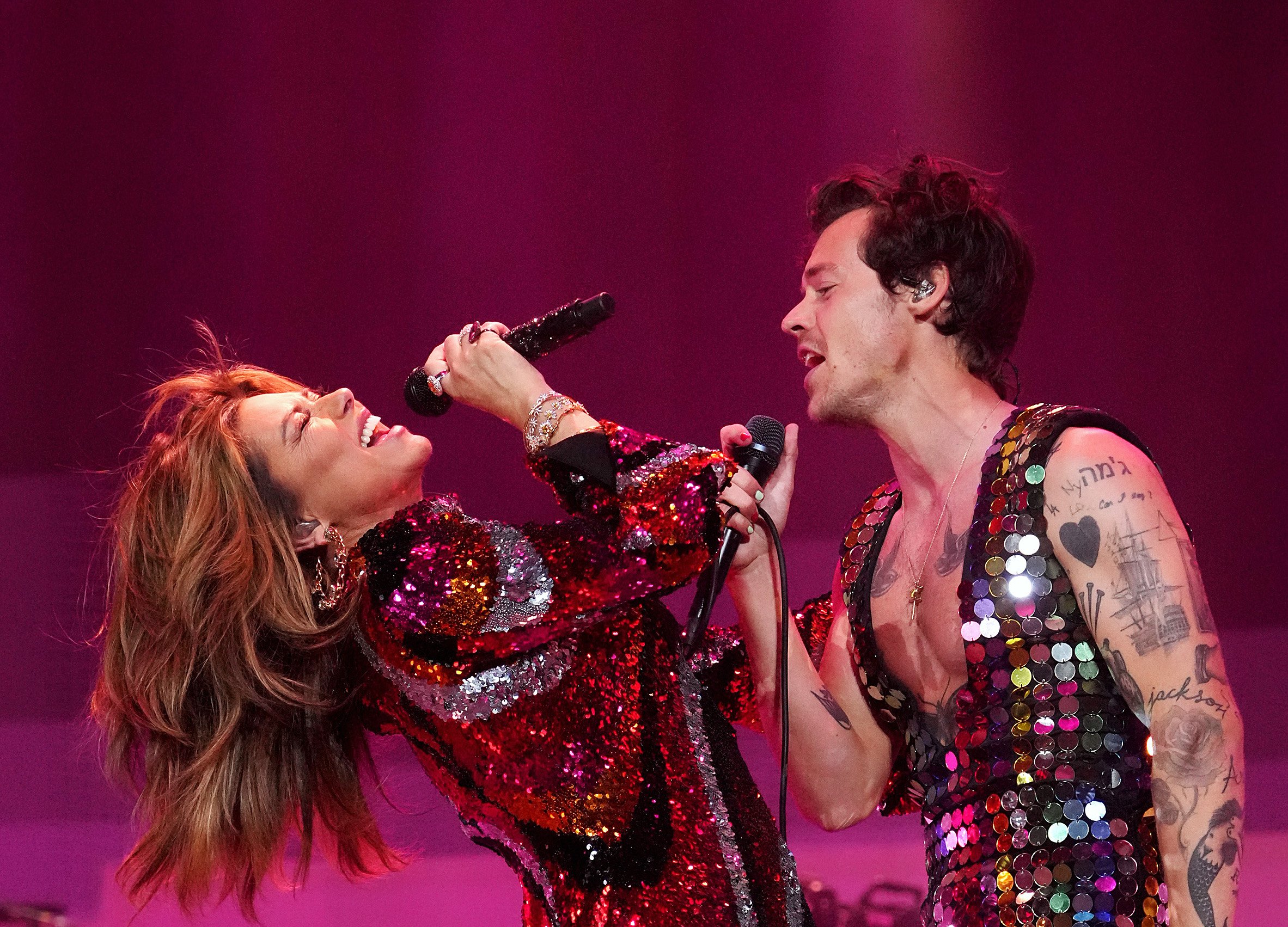 Shania Twain and Harry Styles met when Styles was in the early stages of his solo career
Twain spoke about her relationship with Styles in a January 2023 interview on The Late Show with Stephen Colbert. According to her, she first crossed paths with the "As It Was" singer when he was a newly solo musician.
"He was playing a show in New York," she recalled. "This is before he really blew up." 
"I went backstage to meet him," she continued. "We became texting friends."
Shania Twain and Harry Styles performed together at Coachella in 2022
After Twain and Styles began their friendship via text, Styles wanted to give his mother a special birthday gift, so he asked Twain to wish her a happy birthday over the phone. "'My mom was a big influence on me and why I grew up with your music,'" Twain remembered Styles saying. 
"I called her up and wished her happy birthday," she said. "Harry and I have been friends ever since."
Styles acknowledged the role Twain played in his musical and personal development after they performed together at Coachella in 2022.
She's grateful to have inspired so many artists over the years
As for how the Coachella performance came about, Twain told TODAY.com that it was a natural progression of their friendship after Styles was booked to perform at the festival.
"We stayed in touch ever since [we met] and then he invited me to the Coachella performance," she recounted. "We're just very easy together, it's like we've known each other for a very long time."
"He's one of these kids that's part of the generation that 25, 30 years ago were 4, 5, 6 years old in the audience," she added. "Now it's this full-circle moment where they are old enough now to speak for themselves and they can come and see me without the parents and express their admiration for my music and to thank me for the inspiration."
"It's very rewarding for me to still be doing this and to hear their gratitude in person."
Shania Twain is releasing her first album in 6 years in February 2023
Harry Styles dominated 2022 with his hit No. 1 single "As It Was," which set a new record for the longest-running No. 1 hit on the Billboard Hot 100 by a solo artist of all time. His third studio album, Harry's House, arrived in May, and he spent the rest of the year touring Europe, North America, and South America; in 2023, his Love On Tour will continue its worldwide run with dates in Asia and Europe.
Shania Twain, meanwhile, had a big 2022 as well. She wrapped up her second Las Vegas residency show and released her in-depth Netflix documentary Not Just a Girl. She also announced that she's releasing her sixth studio album Queen of Me on February 3, 2023, marking her first new music since her 2017 comeback album Now, and is taking the album on tour in 2023. With singles such as "Waking Up Dreaming" and "Giddy Up!", Twain is showing that she's just as capable of having fun nowadays as she was 25 years ago.