How Sterling K. Brown Really Feels About Wife Ryan Michelle Bathe's Sex Scenes In 'First Wives Club'
Sterling K. Brown and Ryan Michelle Bathe are serious #relationshipgoals. Each act in their own hit series, supporting one another from the other side. Where Brown tackles the role of Randall Pearson on NBC's hit drama, This Is Us, Bathe is turning heads on BET's First Wives Club. Brown doesn't have a lot of intimate scenes with his co-star and on-screen wife, Susan Kelichi Watson, but Bathe sure does on her show. How does Brown really feel about it?
Sterling K. Brown and Ryan Michelle Bathe have been together a long time (technically)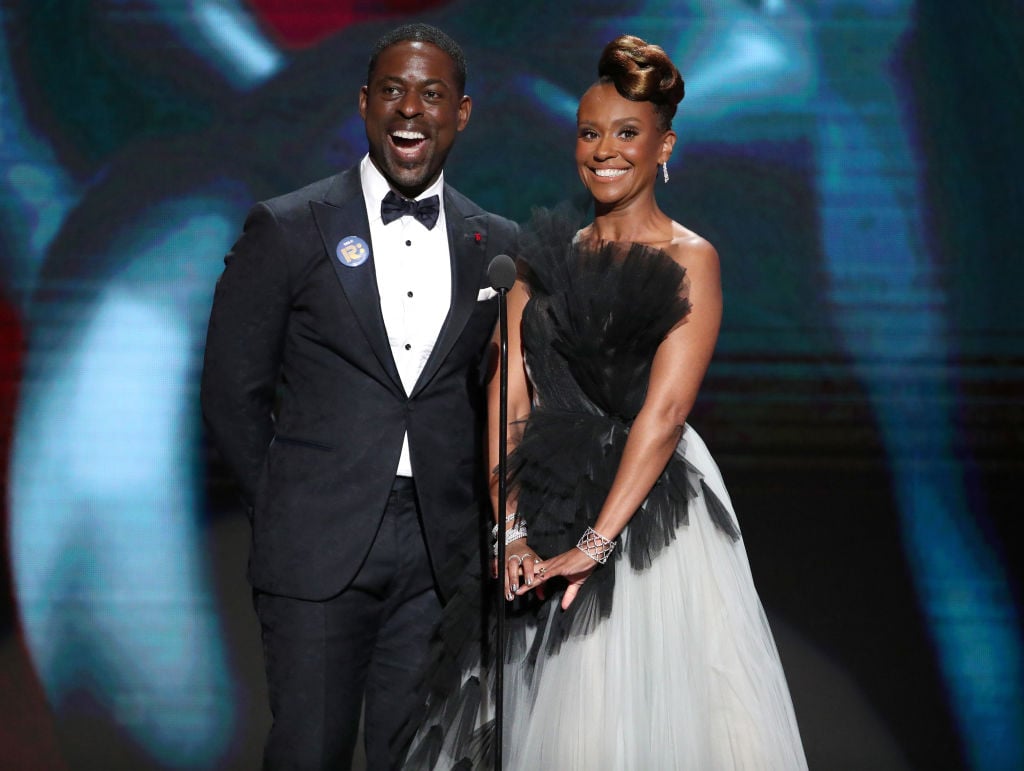 The love story behind Sterling K. Brown and Ryan Michelle Bathe's marriage goes back nearly two decades. Just like [Beth] and Randall's story began in college, so did Brown and Bathe's.
The two actors met while attending Stanford University in 1998 but it didn't end in marriage right then and there. They may have lived in the same dormitory, but eventually, they went their separate ways.
Long before Brown and Bathe worked on This Is Us together, the two broke up for three-and-a-half years before they reconnected for the final time. They married in 2007 and have two boys together.
The power duo supports each other in everything, from red carpet arrivals to award-winning speeches. Marrying someone in the same industry seems to be working for these two, even if one or the other has to deal with those cringe-worthy sex-scenes.
Bathe stars in BET's 'First Wives Club'
While Brown is off making This Is Us NBC's top-rated drama, Bathe stars in The First Wives Club. The series is based on the 1996 film of the same name, but with a few feminist twists.
As the first BET+ original series, Bathe plays Ari. She's a part of a trio of best friends who ban together while navigating their own unsatisfying marriages. With that comes a lot of fighting, but also romantic situations.
Show creator and executive producer, Tracy Oliver, also co-wrote the popular film, Girls Trip. Bathe recently opened up to Entertainment Tonight about the show's premise and her place in it.
"At the core of this one, it was just all about women and women finding their voice and their place. That's something that's timeless and something we could definitely use in 2019," she said.
"You want to see three people who really love each other and support each other and that is what the show is about."
Bathe's character struggles to find satisfaction in her marriage to David (Mark Tallman). Bathe touched on how she got into the right headspace for the uncomfortable sex scenes.
"I had to lean into the fact that this is her every day, like, this is just how it is," she said.
The first season of the series offered plenty of intimate scenes, at times embarrassing Bathe.
"I lived it the first time," she said of closing her eyes when the scenes air. "I do not need to relive it over and over again."
How does Brown feel about Bathe's sex scenes?
Ironically, even if Bathe doesn't want to watch herself on-screen, Brown formed his own opinions.
"He thought the sex scenes were great," she said. "He enjoyed it. He said he was super proud of me."
Though Bathe played it coy, she revealed how much it meant that he'd watch her in her first starring role after recurring roles in This Is Us, Empire and The Rookie.
"He's a fan of the work and coming from him, that means absolutely everything," she said.
BET+ ordered a second season of First Wives Club meaning Bathe may have more of those scenes to fulfill.