How Tall Is Mark Harmon? 'NCIS' Star Is Much Taller Thank You'd Think
Heading into its 18th season, NCIS has been a staple on CBS since it first aired in 2003. The long-running TV show centers around a team of special agents investigating criminal activity for the United States Navy and all the departments within.
Leading the team since season one is Special Agent Leroy Jethro Gibbs, played by Mark Harmon. Harmon is well-known thanks to his role on NCIS, but much of the show's younger audience doesn't know much about him other than the character of Gibbs. How tall is Harmon, even? Let's take a look.
Mark Harmon has been a TV staple since the 1970s
RELATED: Mark Harmon's Childhood Anecdote Proves the 'NCIS' Star Is the Most Loyal Friend Ever
Harmon's first credited acting role was on an episode of the TV show Ozzie's Girls in 1973. After that, Harmon found his niche in police procedural shows, appearing in Emergency!, Adam-12, Police Woman, and Police Story in the mid-1970s.
Harmon had his first starring role in the TV show Sam, in which he again starred as a police officer who worked alongside his K-9 partner named Sam. The show only lasted six episodes, but it may have been the start of Harmon's long relationship with CBS.
Harmon had a co-starring role in 240-Robert in 1979, where he played — you guessed it — a deputy with the Los Angeles County Sheriff's Department. The show only lasted one season. His biggest break came in 1983 when he landed the role of Dr. Robert Caldwell on the popular medical drama St. Elsewhere.
While his character left the show after three seasons, his stint on St. Elsewhere led Harmon to be named People magazine's second-ever Sexiest Man Alive in 1986. 
Following a successful few years in the 1980s, Harmon started branching out into film. He played the lead role in Prince of Bel-Air alongside Kirstie Alley in 1986, as well as The Deliberate Stranger, in which he portrayed serial killer Ted Bundy.
In 1988, Harmon starred in The Presidio, alongside Sean Connery and Meg Ryan, and Stealing Home with Jodie Foster. The 1990s landed Harmon in the medical drama Chicago Hope. 
'NCIS' has been Mark Harmon's home for 17 years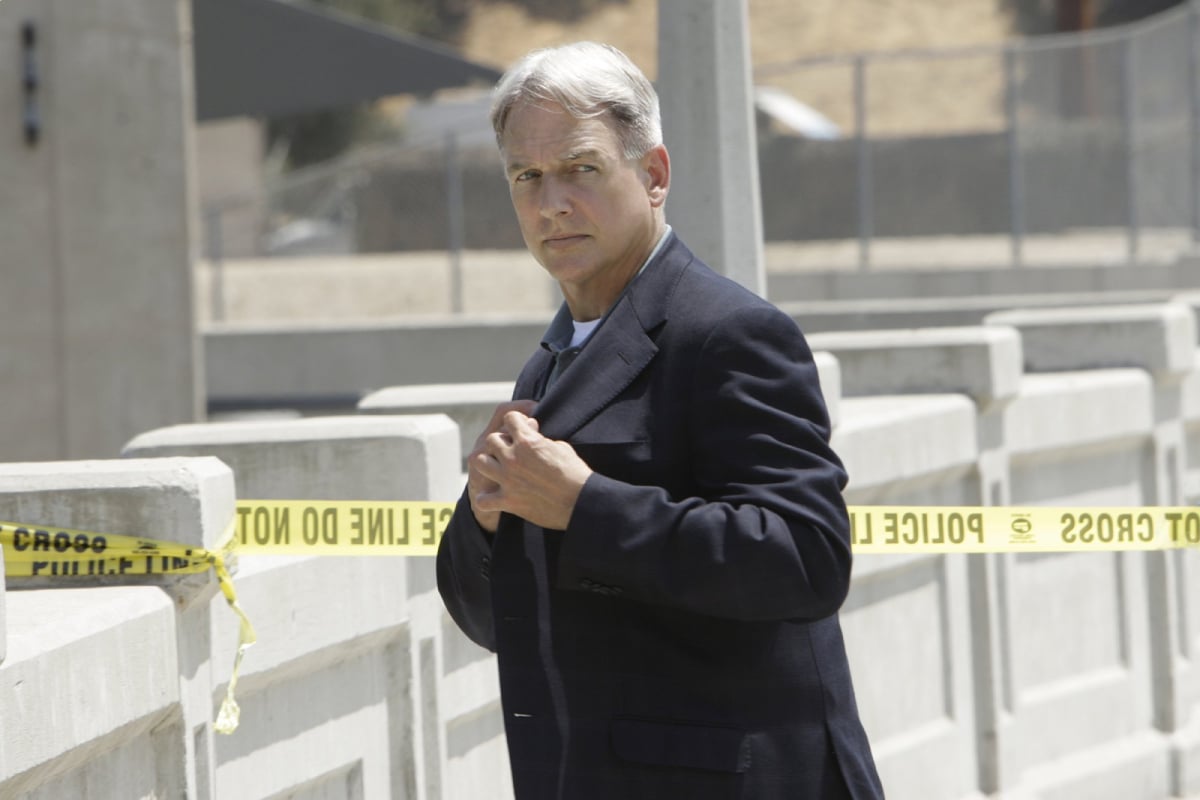 Harmon was introduced as Leroy Jethro Gibbs in a two-episode arc of JAG, which served as a backdoor pilot of NCIS, which officially started airing about six months later. While it was a spinoff of JAG, NCIS has since grown into its own legendary status.
The show has been on for an amazing 17 years, with Harmon being one of the few characters remaining from season one. It's currently the second-longest-running scripted non-animated primetime television series, being beat out only by Law & Order: SVU. 
Harmon's character, Gibbs, is a former Marine turned into an investigator and Special Agent for the Naval Criminal Investigative Service. His team, based in Washington, D.C., solves criminal cases for the Navy and Marine Corps, including those serving and their families. With a job that big, how big of a person is Mark Harmon in real life in order to tackle all of that?
How tall is Mark Harmon?
RELATED: What Is Mark Harmon's Heritage? 'NCIS' Star's Ethnicity Is a Blend
One thing that television actors often joke about is the fact that viewers have no idea how tall they really are, as they see them most often in close-up shots above the waist. For Harmon, it's obvious he has some height to him.
Harmon is 6'0″. He has been married to his wife, actress Pam Dawber of Mork & Mindy fame since 1987 and they have two children. We can't wait to see him on our screens again this fall when the 18th season of NCIS is scheduled to return.