How Tall Is Tommy Lee?
The new Hulu series 'Pam & Tommy' has renewed interest in the show's subjects, and inquiring minds want to know, how tall is Tommy Lee?
Mötley Crüe drummer Tommy Lee has been no stranger to scandal. Pam & Tommy is a new limited series on Hulu that delves into the infamous sex-tape debacle that plagued the couple in the mid-'90s. The bad-boy rocker has seen a resurgence in popularity since the series debuted in February. That's led to lots of questions about him, such as how tall is Tommy Lee? He has embraced the attention, but ex-wife Pamela Anderson has expressed annoyance at the renewed popularity.
The Mötley Crüe drummer's career highlights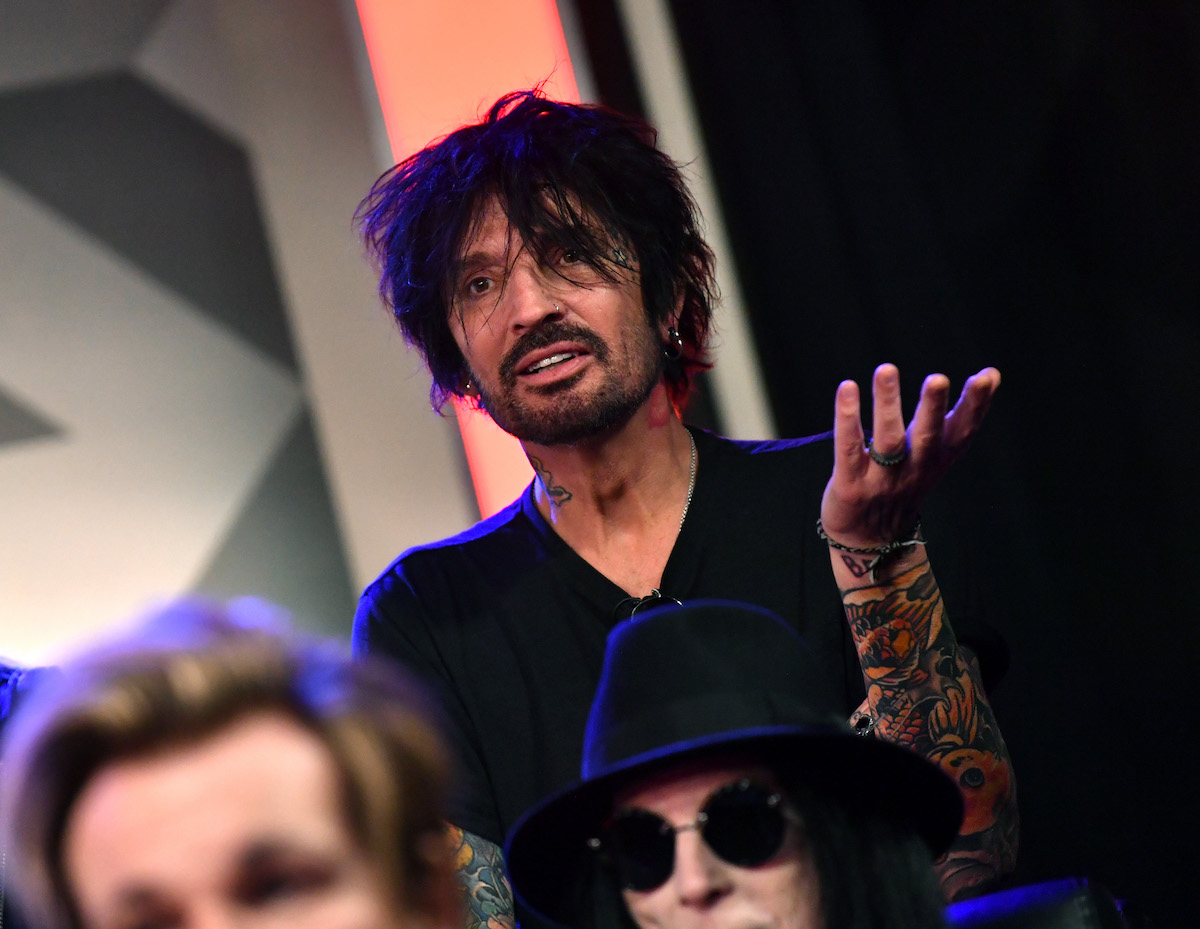 In the late '70s, Suite 19, Tommy Lee's first band, played the Sunset Strip club circuit in Los Angeles alongside other up-and-coming groups such as Van Halen and Quiet Riot. Lee met bassist Nikki Sixx through his time on the Sunset Strip. Shortly after, the two teamed up to form a new band. They soon added Mick Mars and Vince Neil to the lineup to form Mötley Crüe.
Throughout the '80s and '90s, Mötley Crüe's albums included 1983's Shout at the Devil, 1985's Theatre of Pain, 1987's Girls, Girls, Girls, and 1989's Dr. Feelgood, AllMusic reports. The bandmates' onstage and offstage antics were hallmarks of the '80s music scene. The quartet was one of the biggest-selling rock bands of the decade.
Lee took a break as Mötley Crüe's drummer in 1999 and formed the rap-metal group Methods of Mayhem. Over the years, has made guest appearances on albums by music artists such as Rob Zombie and Nine Inch Nails. 
In 2014, Lee rejoined his Crüe bandmates for the group's farewell tour. Each member signed a contract that would prevent any of them from ever touring as Mötley Crüe again unless all members were involved.
How tall is Tommy Lee?
Tommy Lee's height is 6 foot 2 inches, Celeb Heights reports. His birth name is Thomas Lee Bass, and he was born in Athens, Greece, to an American father and a Greek mother. His father moved the family back to the United States when Lee was 2 years old. He has a sister, Athena, who is also a drummer.
Lee has had four wives. He first tied the knot with model and dancer Elaine Starchuk in late 1984, but their union lasted less than three months. Next, Lee was married to his second wife, actor Heather Locklear, from 1986 to 1993. Then he and Pamela Anderson got hitched in 1995, but their marriage fizzled in 1998. However, the two remarried in 2008 and divorced again two years later. Since 2019, Lee has been married to social media celebrity Brittany Furlan.
Lee has two sons with Anderson. Their names are Brandon Thomas Lee, born June 5, 1996, and Dylan Jagger Lee, born December 29, 1997. 
What is Tommy Lee doing now?
Tommy Lee has dabbled in acting for the past several years. In 2013, he guest-starred as Professor Lee in The Goldbergs. And in October 2020, he played the Devil in a few episodes of Halloween in Hell, a musical horror podcast, alongside Machine Gun Kelly.
Lee has also eased back into the music scene. He released his third solo studio album, Andro, in 2020. 
Asked about his opinion of the new series Pam & Tommy, Lee told Entertainment Tonight:
"I feel like it was forever ago. But it's a cool story, and people need to know. It's cool. I'm stoked." 
However, ex-wife Pamela Anderson doesn't share his feelings and plans to release a documentary on Netflix. She has refused to watch Pam & Tommy and never gave her blessing for the series. Ironically, the series focuses on her life without her consent, much the same way the sex tape affected her in the '90s.
But Lee has capitalized on his brand. His bizarre behind-the-scenes behavior and tumultuous personal life have sometimes eclipsed his impressive musical talents. However, his net worth of $70 million is proof that his formula for success has worked.