Pink knows how to get the party started. The celebrity is known for her bold performance choices and skilled vocals. The world learned her name when she released the party anthem, "Get the Party Started," solidifying her future success. Pink's career has been filled with taking risks, including her personal life. Most fans remember that she proposed to her husband, Carey Hart, at one of his motocross races.
Although her loyal fans might think they know every bit about her, they might not know how tall the singer is. Here are several facts about the performer, from her height, her real name, and what she wanted to do before becoming a singer.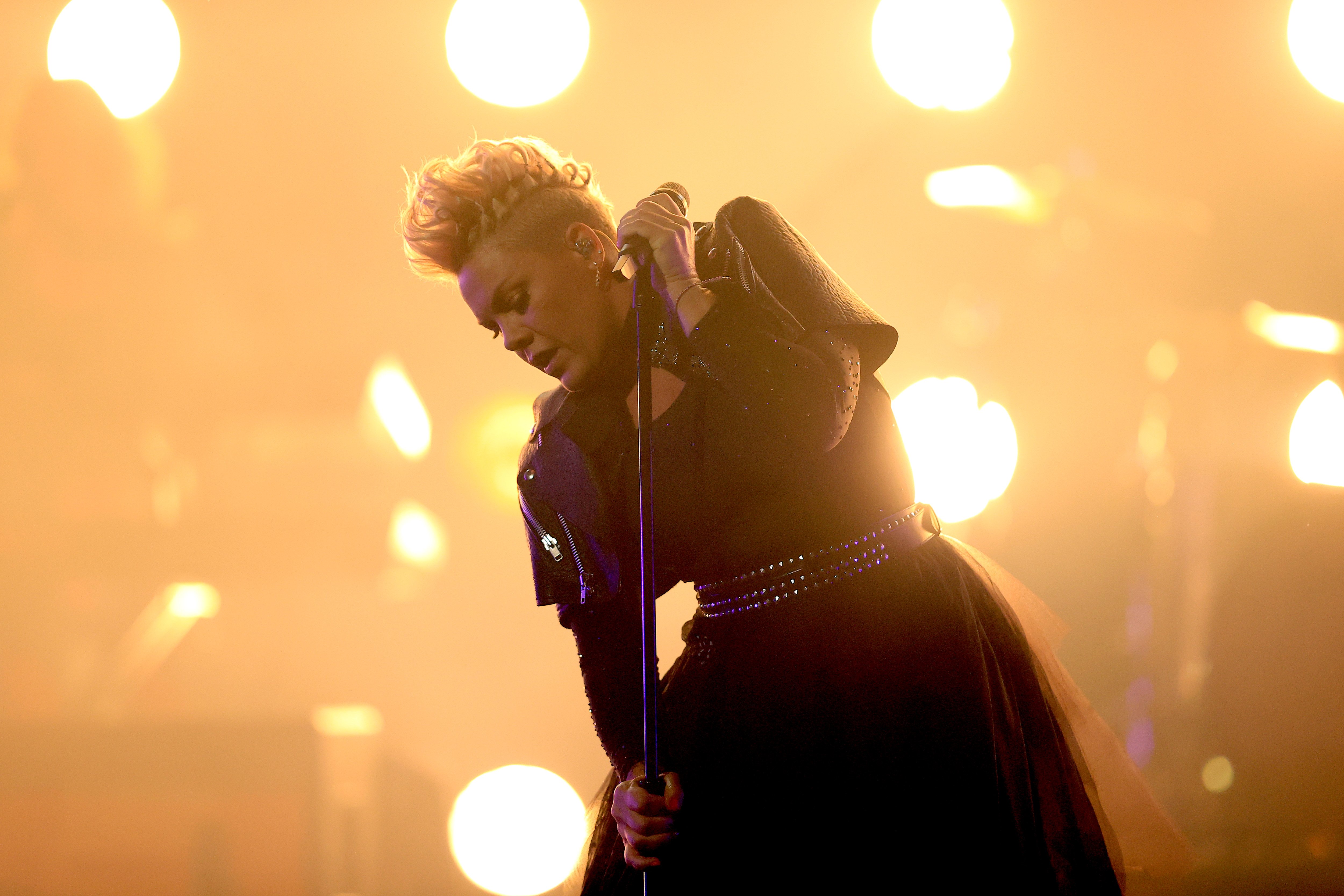 Pink chose her name from a movie
This might not come as a surprise, but "Pink" isn't Pink's real name. The artist's stage name originated from the character Mr. Pink from Quentin Tarantino's Reservoir Dogs. According to Hollywood, the "Try" singer said the name existed throughout her life.
"It's just a nickname that's been following me my whole life," the "What About Us" singer explained. "It was a mean thing at first; some kids at camp pulled my pants down, and I blushed so much, and they were like, 'Haha, look at her! She's pink!' And then the movie Reservoir Dogs came out, and Mr. Pink was the one with the smart mouth, so it just happened all over again."
Despite the cruel bullying she faced as a child, her stage name proved successful in her music career.
Pink's real name is Alicia Beth Moore.
How tall Pink really is
The "So What" singer has two children, Willow Sage and Jameson Moon Hart. Pink spoke about the weight loss goals she had after giving birth in an Instagram post. In it, she revealed her height is five-foot-three.
"Would you believe I'm 160 pounds and 5'3?" Pink wrote. "By 'regular standards,' that makes me obese. I know I'm not at my goal or anywhere near it after Baby 2, but dammit! I don't feel obese. The only thing I'm feeling is myself. Stay off that scale, ladies!"
Pink regularly promotes self-confidence to all fans. Known for her strong physique, the singer incorporates her workouts into her performances. Not only does she sing, but her dance and acrobatic skills shine onstage.
Pink was a gymnast
The "Just Like Fire" singer once revealed to CBS Sunday Morning that she was a gymnast for eight years. "I wanted to be an Olympic gymnast," Pink recalled. "That was the first sort of dream. And then I was kicked out of gymnastics at the age of 12, and I decided to be a rockstar instead."
As for her aerial performances, the singer referenced a Cher concert as the moment that led her to implement acrobatics into her concerts.
"I went to a Cher concert, and I saw all the dancers were doing these incredible silks, Pink said. "And I was like, 'Well, why isn't a singer doing that? Why hasn't a singer done this? Why do they get to have all the fun?' And so Dreya Weber was one of Cher's aerialists, and I met her and said, 'Will you teach me what you do? I wanna do that.' She's like, 'Well, OK we're gonna start at the jungle gym, and you're gonna hang upside down, and I'm gonna punch you in the stomach while you sing because that's what you're gonna ultimately feel like when you're singing and if you can do this, then I'll start teaching you acrobatics."