How Tall Is Supermodel Emily Ratajkowski?
Supermodel Emily Ratajkowski is known not only for her stunning good looks but for her show-stopping appearance in 'Blurred Lines.'
Supermodel Emily Ratajkowski is known not only for her stunning good looks but for her show-stopping appearance in Robin Thicke's "Blurred Lines" music video.
Once a cover girl for the erotica magazine Treats, the exotic-looking model transformed into an international sensation. She has appeared on countless magazine covers, starred in film and television, and made a name for herself in the entertainment industry.
Highly active on social media, Ratajkowski's career got a jump start from the success she found on Instagram. Fans fell in love with her feminist attitude and candid sharing of beautiful photos, focused on her scantily clad body.
Achieving phenomenal success, the supermodel is different from many of the girls that walk the runway. For one thing, she doesn't stand quite as tall as most of the other models in the fashion industry. But, what she lacks in height, she makes up for in beauty and charisma.
Ratajkowski's acting and modeling career
The 30-year-old model was born in London, moving to California with her family when she was five years old. At 14, an acting coach encouraged the beauty to contact Ford Models. Best Life reported the prestigious modeling agency signed her the same day, and she immediately started appearing in Kohl's and Nordstrom ads.
In 2009, Ratajkowski enrolled as a fine arts student at UCLA. She dropped out after a year to pursue a full-time modeling career. The breathtaking beauty landed a role as Adam Levine's love interest in Maroon 5's music video "Love Somebody." Shortly after that, she caught the eye of Thicke, who wanted to cast her in his award-winning music video.
The opportunity launched her career, and by 2013 Ratajkowski was a household name. Esquire called her the "Woman of the Year," and Rolling Stone listed the iCarlyactor as one of the 20 hottest sex symbols. Sports Illustrated also featured the supermodel in their 50th-anniversary swimsuit edition.
The following year, she landed a role working alongside Ben Affleck in the critically-acclaimed film Gone Girl. According to IMDB, she also starred in Entourage in 2015 and co-starred with Zac Efron in We Are Your Friends.
The I Feel Pretty star last appeared in Lying and Stealing in 2019. Taking a break during the pandemic, the actor has been focusing on her family. In March 2021, Ratajkowski gave birth to her first child, a son.
How tall is Emily Ratajkowski?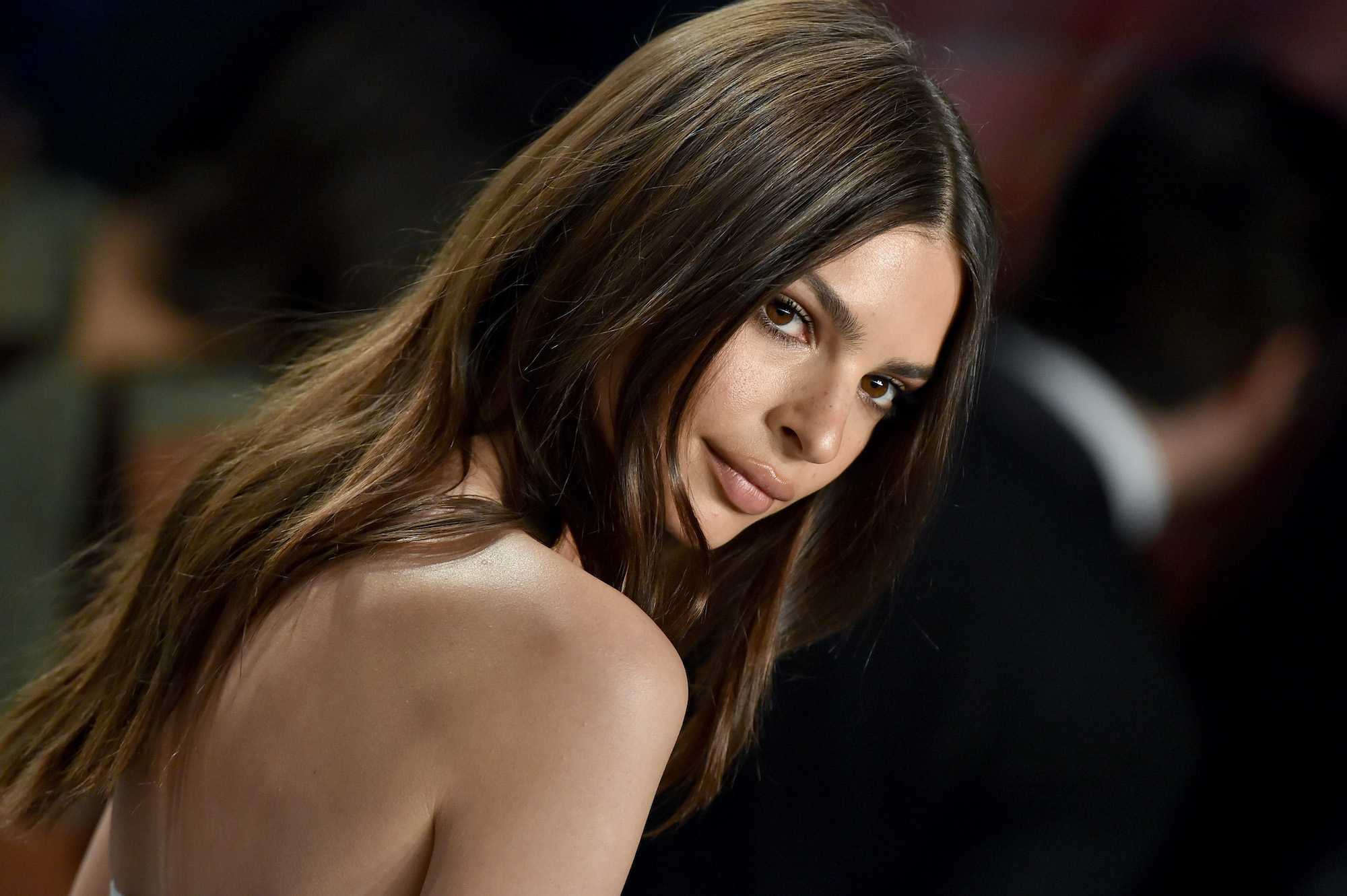 Vogue Australia reported most Victoria's Secret models are the same height as supermodel Gigi Hadid and beauty spokesperson Kendall Jenner. They are all approximately 5'10".
NFL Quarterback Tom Brady is married to supermodel Gisele Bündchen, who stands at a statuesque 5'11". America's Got Talent legendary model Heidi Klum is considered small at 5'9″.
Ratajkowski, who goes by the nickname Emrata, stands at a mere 5'7″. The Fashion Spot points out that "it's universally known that if you want to be a model, you've got to be tall." Despite the average height being closer to six feet, Ratajkowski is anything but average and has not let her shorter legs hold her back.
The brown-eyed beauty is not alone in her small stature. Hailey Baldwin, aka Mrs. Bieber, is also 5'7″. Lily-Rose Depp, the muse behind Chanel, is only 5'3″.
Gossip Gist reported Ratajkowski has a slim build, weighing 119 pounds, with body measurements of 32-24-34 inches and a bra cup size of 32C.
What is Emily Ratajkowski's net worth?
According to Celebrity Net Worth, the accomplished actor has an estimated net worth of $8 million. They refer to Ratajkowski as "one of the most recognizable models in the world."
In 2018, the new mom married film producer Sebastian Bear-McClard, who has an estimated net worth of $15 million. 
Together, they purchased a $2 million estate in Echo Park, Los Angeles, paying for the deal in cash. Hello points out, "the design is just as cool as she is."