'How the Grinch Stole Christmas': This What Inspired Dr. Seuss To Write the Book
Dr. Seuss was a beloved children's book author. 30 years after his death, his books are still classics for children worldwide. His stories like How the Grinch Stole Christmas have been imagined on the big and small-screen. The Grinch has been interpreted as an animated short, a CGI film, and of course, the live-action tale with Jim Carey in the titular role.
How the Grinch Stole Christmas is a story about The Grinch, a green cave-dweller who lives in the mountains above Whoville. The Whos are obsessed with Christmas and all of its festivities. Having grown increasingly annoyed with all of the cheer and delight, The Grinch plots to steal Christmas so that he can rage and sulk in silence. However, he discovers that Christmas isn't really about gifts or even holiday traditions.
Dr. Seuss wrote How the Grinch Stole Christmas in 1957, here's the inspiration behind him writing the book.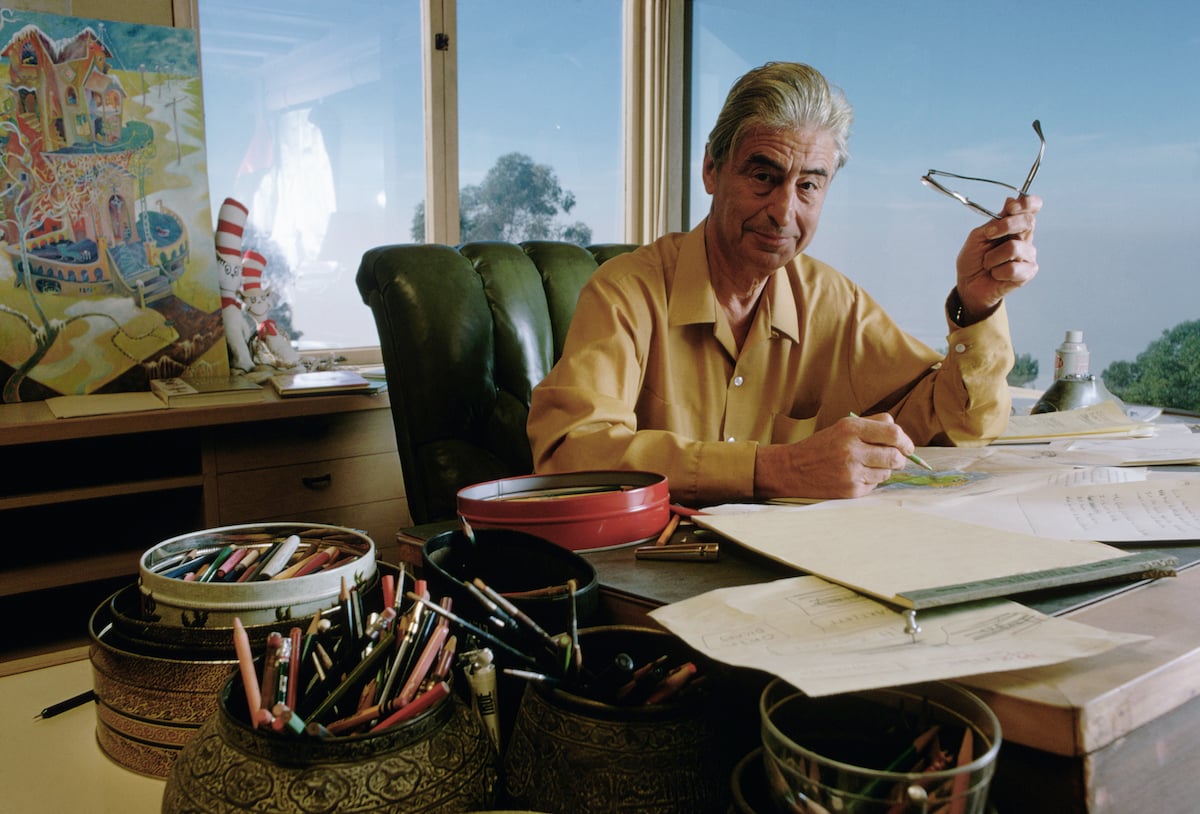 Dr. Seuss is one of the most successful children's book writers of all time
Though he was an advertising man by trade, Dr. Seuss began writing children's books as an alternative creative outlet. His books focused on young people because it was one of the only genres that did not interfere with his ad contracts.
Dr. Seuss penned his first book, And to Think That I Saw It on Mulberry Street, in 1937, and he went on to write everything from Green Eggs and Ham, The Cat in the Hat, The Lorax, One Fish Two Fish, Red Fish Blue Fish to How the Grinch Stole Christmas, among many others.
According to Celebrity Net Worth, the cartoonist and animator were so widely successful that his net worth was $75 million when he was alive. His estate,  Seussville, continues to thrive from book sales that still enter into the millions each year as well as seven-figure television and film deals.
RELATED: How the Grinch Stole Christmas': Taylor Momsen Says Filming This 1 Scene 'Was a Huge Turning Point' in Her Life
Dr. Seuss' first children's book was rejected 27 times
Dr. Seuss's entry into the publishing world was not at all easy. In fact, his book And to Think That I Saw It on Mulberry Street was rejected by publishers 27 times before it was actually published.
The book was finally published after a chance encounter on the sidewalk. After getting rejected for the 27th time, Dr. Seuss was walking along Madison Avene in New York City with plans to dump the book in the incinerator in his office. History.com reports that he ran into his old Dartmouth friend Mike McClintock who had just begun a position as editor of the Vanguard Press children's section.
The men signed a contract just a few hours later.  "If I had been going down the other side of Madison Avenue, I'd be in the dry-cleaning business today," Dr. Seuss later said via History.com.
Dr. Seuss based 'How the Grinch Stole Christmas' on himself
Dr. Seuss' How the Grinch Stole Christmas was published in 1957, and the author later said he based the titular character on himself. In a 1957 interview, he told Redbook,
I was brushing my teeth on the morning of the 26th of last December when I noted a very Grinchish countenance in the mirror. It was Seuss!… Something had gone wrong with Christmas, I realized, or more likely with me. So I wrote the story about my sour friend, the Grinch, to see if I could rediscover something about Christmas that obviously I'd lost.
Though Dr. Seuss began writing immediately, it took him three more months to figure out how the book would end.