How 'The Invisible Man' Explores a Deadly Invisible Issue
The Invisible Man isn't a complete stranger to the world of horror films. The eerie invisible villain has haunted the silver screen along with other Universal monsters, like Frankenstein and The Wolf Man. Based on the science fiction novel by H.G. Wells, The Invisible Man has received a plethora of remakes and reboots. From its original 1933 Universal monster-movie classic to its contemporary remake Hollow Man with Kevin Bacon, the story of the villainous Invisible Man has been explored time and time again. Nonetheless, director Leigh Whannell's take on a Hollywood horror classic is yet another spin on a tale we've all heard before, but in a way we've never seen that might just be more terrifying than any of the previous films. 
Rather than a basic page-to-screen adaptation of Wells' famous horror novel, Whannell takes a very contemporary approach with his reboot of The Invisible Man, granting the film a contemporary tone and centering it around a very deadly, real, and yet often invisible, issue within our society.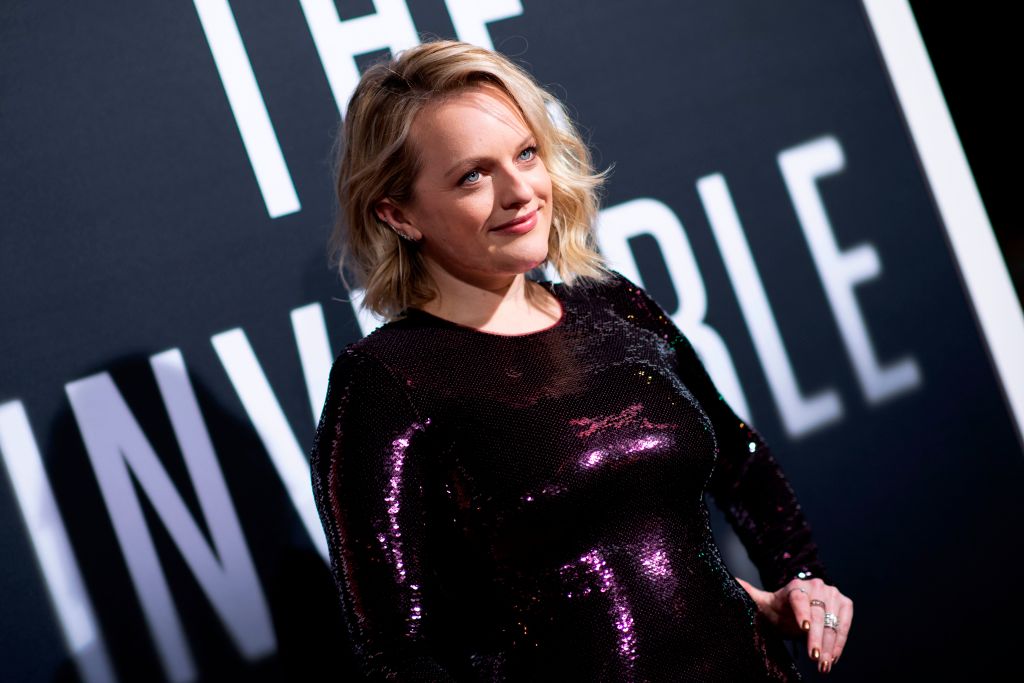 'The Invisible Man' follows a woman haunted by the "death" of her abusive boyfriend
The film follows a young woman named Cecilia Kass, played by The Handmaid's Tale's Elisabeth Moss. After barely escaping from her abusive and wealthy boyfriend Adrian Griffin, played by The Haunting of Hill House's Oliver Jackson-Cohen, Cecilia learns she still isn't entirely free. After learning that Adrian died by suicide, Cecilia soon realizes that he has found a new way to torment her from beyond the grave: by learning to become invisible through the use of cutting-edge technology. "[Adrian] said that wherever I went, he would find me, walk right up to me, and I wouldn't be able to see him," Cecilia warns her friends in the film's trailer. 
The Invisible Man refrains from showing the physical abuse on-screen, instead centering around the psychological aftermath Cecilia is forced to live with after escaping her abuser. In movies and TV shows, we've seen physical violence depicted many times before," Whannell said in an interview with Time. "But I felt I had not seen the emotional abuse and manipulation as much." In order to create a visceral look at domestic violence with a sense of realism, Whannell delved into some dark places to gain a better understanding of what it's like to survive an abusive relationship. 
Leigh Whannell drew from true stories of domestic violence when writing 'The Invisible Man'
Whannell did extensive research on the subject of domestic abuse, interviewing two domestic violence counselors from a prevention center in Los Angeles, CA. The stories he heard were so heartbreaking and unbelievable, playing a pivotal part in the formation of Cecilia's character. In one story, a woman's partner put a lock on the fridge to control when she could eat," Whannell said. "Only he had the combination to the lock. I was so shocked by that." He went on to incorporate elements of how domestic abusers attempt to control their partners into The Invisible Man. While less obvious abusive behavior, like gaslighting, is less visible than scars and bruises, the film explores the damage and fallout in a way that's absolutely chilling. 
For instance, while her ex continues to torture her, Cecilia desperately tries to clue in her friends and family as to what's going on, but none of them believe her. On one hand, isolating an individual from their family, friends, and other peers is a particularly stealthy way for abusers to rip their victims' support systems from underneath them, ensuring that victims will remain vulnerable. Isolation is one of the initial signs pointing toward an abusive relationship. By gaslighting Cecilia to the point that other people in her life are questioning her sanity, Adrian is gradually forcing Cecilia to become more vulnerable on her own. 
On the other hand, The Invisible Man explores the "he said, she said," trap where survivors of domestic and sexual violence aren't believed, or at least aren't taken seriously, a social phenomenon discussed frequently during the #MeToo movement. Cecilia is very much alone in her fight against her invisible assailant because she has fallen into a very realistic trap that many other survivors of domestic violence find themselves in: the "he said, she said" trap of doubt. "Even as women, we can be quick to judge and go, 'Why is she staying?'" said Elisabeth Moss in an interview with Time. "'If he's hitting her or emotionally abusing her or the relationship is toxic, why doesn't she get out?' And as the victim, that makes you feel like you can't talk about it, like you don't have a safe place to go." 
Even though The Invisible Man is a work of fiction, the reality of domestic violence and its horrific consequences are a very real problem that's incredibly widespread, yet so quiet and so… invisible. Domestic violence is estimated to affect 10 million people every year and yet only 900,000 to 3,000,000 cases are actually reported annually.
'The Invisible Man' received high acclaim for its terrifying new take on the horror icon 
"[The Invisible Man] does an admirable job of taking us back to a time when a horror film could actually mean something," said Owen Gleibermann in his review of the film on Variety. The Invisible Man The film was met with astounding critical acclaim at the box office during The Invisible Man's opening weekend. The film topped the box office during its opening weekend, grossing $28.9 million domestically. Overall, the film earned $122.7 million at the box office internationally.
One of the highlights of the film was the performance of Elisabeth Moss, who carried the film with her emotionally evocative performance. Moss' performance is truly the emotional core of The Invisible Man. "…while [Moss'] agony can be unnerving, it is even more shivery when her weeping stops and this horror-movie damsel in distress becomes a threat." Manohla Dargis wrote in The New York Times. Moss is no stranger to delivering raw performance after raw performance, so much so that Vulture labeled the starlet as "an empress of the onscreen breakdown."  
"Pairing Blumhouse, the unequivocal master of this horror thriller genre, with the incredible vision of Leigh Whannell led to the great success of our debut of The Invisible Man this weekend. The casting of the extraordinarily talented Elisabeth Moss elevates this film, with audiences and critics responding to her performance with great enthusiasm." said Jim Orr, President of Domestic Theatrical Distribution at Universal Pictures, "This is a great start for the new direction in Universal's Classic Monster legacy." 
The legacy of the Invisible Man will continue and transform as actress Elizabeth Banks takes the helm of an upcoming reimagining of the 1940 film The Invisible Woman. While the direction Banks plans to take this reimagining is not entirely known, for now, thanks to Whannell's direction and Moss' performance, audiences can appreciate that the The Invisible Man is more than just a retelling; it's a contemporary adaptation revealing a story of horror that isn't too far from reality. 
Read more: 'The Invisible Man' Star Elisabeth Moss Explains the Film's Shocking Ending