How The Notorious B.I.G. Offended Kandi Burruss and Her Group Members
Rappers are known for starting beef with others, typically other rappers. They also have been called out for degrading lyrics about women and The Notorious B.I.G. is no exception. In one of his famous songs, he referred to the members of Xscape, including RHOA star Kandi Burruss, as ugly.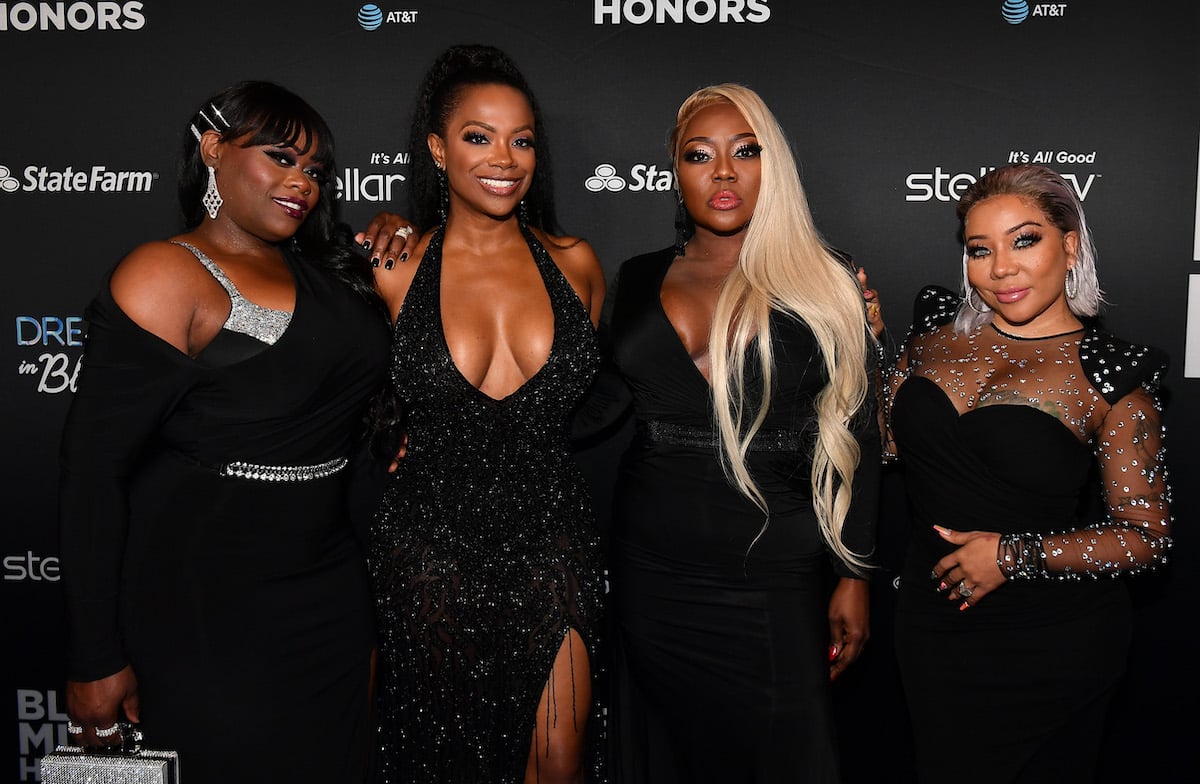 The women were not happy about Biggie's diss but he attempted to right his wrongs with the ladies on the evening of his death.
The Notorious B.I.G. called the members of Xscape ugly in a song
Though Xscape is an R&B girl group, in their early days, their image did not mirror the style of the peers. While other singers dressed in evening gowns or sexy silk dresses, Xscape opted for more urban and comfortable attire, including baggy pants and Timbaland boots.
Jermaine Dupri, the group's label owner and manager, modeled their style after his young male hip-hop duo, Kriss Kross. While their style made them more relatable to fans, a lot of men were not fans and felt they should adhere to societal standards of dress for women.
They also wore little makeup, something they were ridiculed for. One of which was by rapper, The Notorious B.I.G. aka Biggie.
Related: Biggie vs. 2Pac: Which Rap Legend Has Sold More Records?
In his 1994 promotional single "Just Playing (Dreams)," Biggie disses the group's appearance, referring to them as less than pretty. He raps in verse two of the song, "I'll put Chanté Moore pu**y in stitches / I'll f**k RuPaul before I f**k them ugly-a** Xscape bi**hes."
Both Kandi Burruss and Tiny Harris were offended by Biggie's lyrics; he later apologized
Xscape was less than pleased about Biggie's lyrics. Both Tiny and Burruss explain in separate interviews with Vlad TV that Biggie's lyrics hurt them.
Burruss said in her 2013 interview with Vlad that Biggie tried apologizing to her group members face to face during an after-party for VIBE Magazine just hours before he was shot to death. At the time, she was not interested in his apology.
"Tiny came up to me and said, 'Biggie wanna apologize to us – he's sorry,'" Burruss recalls. "I was like, 'Man, I ain't trying to talk to him, I don't give a damn.' In my mind, I felt like he dissed us – he had dogged us out. So, I didn't care to hear his apology."
Related: Jay-Z's Beef With Tupac Started Because of 'Brooklyn's Finest' Record With the Notorious B.I.G., According To Irv Gotti
Upon discovering Biggie's murder, Burruss admits she felt awful for not taking the time to speak with him.
"I felt like crap, I felt horrible," she said. "I guess that is a definite moment where you realize you tend to hold on to things that are really not that serious and then something happens to the person and you really aren't able to talk [to them]."
As Burruss explained, Tiny was more forgiving. She told Vlad TV that despite Biggie's diss, the rapper remained close friends with their manager and label owner, Jermaine Dupri.
She says Dupri tried for years before Biggie's 1997 death to have the group and him come together for a conversation before their meet up at the after-party on the fateful night.
"He basically apologized for saying that, he said that he thought we were beautiful and he was like, 'I'm an ugly muthaf**ka and I ain't have no business talking about anyone like that,'" Tiny recalls.
Tiny is happy she spoke with the late rapper and made amends before his tragic death.