'How to Get Away With Murder': Is Annalise's Ex-Lover, Eve, Returning Because She Is Really Behind Everything?
How to Get Away With Murder has only three episodes left to wrap up everything with Annalise Keating (Viola Davis). The murders over the past six seasons are stacking up — the FBI is working hard to convict Annalise of as many of them as they can. However, fans want to know who is behind the FBI takedown — could it be Eve Rothlow (Famke Janssen)?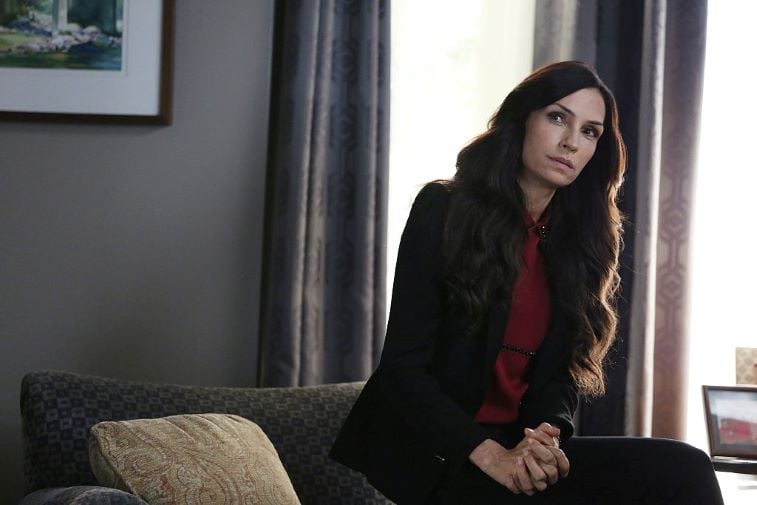 When was the last time we saw Eve return to 'How to Get Away With Murder'?
Annalise's ex-lover — Eve — returned briefly in season 5 for two episodes. Viewers found out that Eve is the one who brought an email to Frank Delfino (Charlie Weber) after Annalise's stillborn baby. It was an email from Annalise's husband, Sam Keating (Tom Verica), to his ex-wife, Vivian Maddox (Marsha Stephanie Blake). He was asking about his son, Gabriel. In the email, he also tells his ex-wife that he misses her and loves her.
Apparently, in the past, Eve brought this email to Frank so that Frank could ensure that Sam permanently deleted it. In the present-day Eve brings the email to Annalise to prove that Sam never deserved her.
"You've never understood," Annalise told Eve during episode 10 of season 5. "Even now. Your privilege lets you be gay. I'm black from the damn Bible belt. So stop trying to figure out what's gonna make me happy. You don't know what that is. I don't know what that is. But it isn't about finding a person — a man or a woman. I have to figure it out. I have to save me."
Since then, Annalise went to rehab and began to forgive herself for the things she has done. She is working on herself, while Eve is assumed to be with her wife and new baby.
Could Eve be behind everything on 'How to Get Away With Murder'?
"There are theories that Eve set this whole thing in motion from the start by making Annalise lose her baby all due to jealousy of her leaving Eve for Sam," one fan wrote on Reddit.
Although it might seem far-fetched, the various twists and turns of How to Get Away With Murder lead fans to believe anything is possible. One source even confirms that Eve returns for the last two episodes of season 6.
"Remember when Sam emailed his ex-wife after Annalise lost the baby?" another fan asked. "Why was Eve monitoring Sam's email, to begin with? He hasn't been part of their case with Wes's mom. There's no actual reason for it."
Fans continue to point out flaws in Eve's story. Others wonder why she came back in the first place last season.
Eve knows too much about what's going on in Annalise's life
Other fans wonder how she found out where Frank lived and how she kept in contact with him. They wonder why Eve had Frank keep tabs on Gabriel for so long. Why was she so involved?
"And how she tried to convince Annalise not to go to the police, to tell the truth about Rose," another fan added. "And how she didn't want to help Annalise with Nate's trial because she was unwilling to let Annalise ruin her life like she does everyone else's. And telling Annalise to stay away, threatening to scream 'bloody murder' if she refuses."
There are so many loose ends and unexplained things revolving around Eve that fans believe she might be behind everything somehow.
We will find out if this fan theory is correct when How to Get Away With Murder airs it's final episodes Thursdays at 10 p.m. EST on ABC.
Read more: 'How to Get Away With Murder': Here's a Recap of Everyone Frank Delfino Murdered