'How to Get Away With Murder': Fans Predict the Final Scene of the Series Brings Everything Full Circle
With the final season of How to Get Away With Murder rapidly drawing to a close, fans are avidly trying to guess how the series ends. One viewer thinks they have figured out the perfect ending for Annalise Keating (Viola Davis) to bring the show full circle.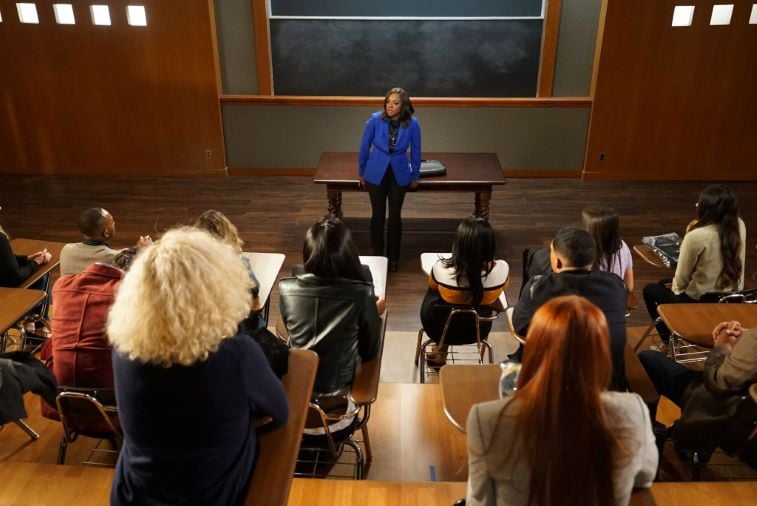 'How to Get Away With Murder' Season 6 brought Annalise back to her roots
Season 6 of How to Get Away With Murder saw Annalise go to rehab under a fake name, but let go of her guilt by performing self-forgiveness exercises. Later in the season, she changes her name again when she attempts to disappear to Mexico.
Ultimately, she decides not to go with the people who brought her to Mexico and is caught by the Mexican police. Annalise is brought back to America and faces her charges with the help of Tegan Price (Amirah Vann). They successfully get the Department of Justice to drop the death penalty in Annalise's case.
Annalise's mother — Ophelia Harkness (Cicely Tyson) — is staying with her during her house arrest and trial. Every time we see Ophelia, it brings Annalise back to her roots since her mother calls her by her given name, Anna Mae.
The last few moments of episode 12 brought another twist. Vivian Maddox (Marsha Stephanie Blake) revealed to Annalise that Hannah Keating (Marcia Gay Harden) is behind the war against Annalise.
Fans think Annalise returns to her roots in the series finale of 'How to Get Away With Murder'
"'Good Morning. I'm Professor Anna Harkness, and this is Criminal Law 100.' I can see this being the last scene of the show — Annalise walking into her class, with her new self, at another campus elsewhere. Full circle," one fan wrote on Reddit. "The whole show would be her journey from being Annalise Keating and going back to Anna Mae Harkness."
Fans think that the show will end where it began — with Annalise walking into a new law school — and reciting the very first line of the series, but with her given name.
"Her life has been complete hell since becoming a Keating," the fan continued. "I think after all is said and done, AK and the K5, as well as Bonnie and Frank, will say goodbye for good and all go their separate ways, permanently. It's the only way to truly move on."
Fans also guess that Annalise's law students end the show where she began it
"The last scene should be a montage of the Keating 5 (or whoever survives basically among them) walking and entering different classes at different places and saying that line," another fan added. "And cut to Annalise just sitting back and smiling. Or, her, too, saying that line in the end in some class somewhere and cut."
If Wes Gibbons (Alfred Enoch) returns, he might be a professor as well. Laurel Castillo (Karla Souza) might become a professor of law wherever she is hiding. Michaela Pratt (Aja Naomi King) is still adamant about becoming a lawyer and could be a professor as well. Oliver Hampton (Conrad Ricamora) and Connor Walsh (Jack Falahee) could teach a class together.
We will find out if fans are right when How to Get Away With Murder concludes on May 14, 2020.
Read more: 'How to Get Away With Murder': Who Did Annalise Keating Kill? — A Recap Of All of The Murders That Went Down Since the Series Began