'How to Get Away With Murder': Will Laurel Castillo — Karla Souza — Return in the Final Episodes?
Peter Nowalk finally told us about Laurel Castillo's return in season 6 of 'How to Get Away With Murder.'
With the ABC series, How to Get Away With Murder coming to an end, fans all want to know if Laurel Castillo (Karla Souza) is going to return. There are only three episodes left, so there's not much time. Let's take a look at what showrunner Peter Nowalk said about Laurel's potential return to the series.
[Spoiler alert: How to Get Away With Murder Season 6 spoilers ahead.]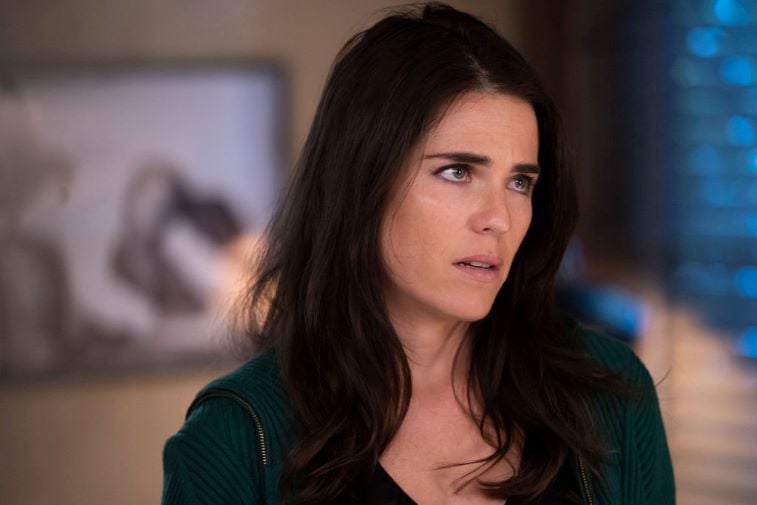 What do we know about Laurel's whereabouts going into 'HTGAW' Episode 13?
In the mid-season finale back on Nov. 21, 2019, Laurel called Michaela Pratt (Aja Naomi King). We were able to see her face and her baby, Christopher. 
"I swear I would never turn you guys in, but obviously someone else did," she told Michaela, Connor (Jack Falahee), Oliver (Conrad Ricamora), and Asher (Matt McGorry). 
She was afraid to tell the Keating Four her whereabouts in case her brother, Xavier (Gerardo Celasco), was listening. However, she did tell them who helped her to disappear. 
"It was Tegan [Amirah Vann]," she said. "I'm not the informant; I swear, OK? I love you all." 
Fans believe that Laurel and Christopher are somewhere in Mexico or South America. Everyone was happy to see her face on the show since she is no longer a series regular. 
Showrunner Peter Nowalk revealed that Laurel will return for more than one episode
In two different interviews, Nowalk told viewers that Laurel is coming back to provide closure in these last six episodes. 
"A lot of the Laurel questions will be answered," Nowalk told Hollywood Life on April 2, 2020. "Where has she been? Who was she talking to? What does she want? All of that. You'll find out how she and Wes are relating to each other right now."
Fans are happy that so many of the Laurel questions will be answered. However, they hope she is on the show in flesh and blood, not merely via a phone call. 
"We will see Laurel, I'll say for more than one episode in ways that will surprise you," Nowalk told TV Guide. "Obviously, she's a point of mystery, so she's going to be coming up a lot."
It's true! She will be back on the show in at least two episodes, and fans are ecstatic.  
Now that Xavier is dead, is it safe for Laurel to return? 
"They have to answer where she has been, and what does she want at this point?" Nowalk continued. "Who is she working for? Is she on our side? Is she on Annalise's [Viola Davis] side? Is she on Michaela and Connor's side? But it's really fun. Obviously, her family, they're very involved in this takedown of Annalise and all our people, so the Castillos will factor very heavily into our last six episodes." 
Some fans hypothesize that Laurel could be on the Castillos side since she disappeared. So, it might not be safe for her to return after all. 
"Laurel and her brother are behind all this sh*t," wrote one fan on Reddit. "No doubt working together to remove the parents and take control of the empire and fortune coming to them."
Whether she is involved, we do not know yet. However, we are about to find out in the last three episodes of How to Get Away With Murder Thursdays at 10 p.m. EST on ABC.