'How to Get Away With Murder': Who Did Annalise Keating Kill? — A Recap Of All of The Murders That Went Down Since the Series Began
With only a few episodes remaining in the final season How to Get Away With Murder, there are a lot of murders to discuss. Annalise Keating (Viola Davis) is currently on trial for murder; however, did she even kill anyone? Here's a quick recap of every murder on all six seasons of How to Get Away With Murder, and which, if any, Annalise committed.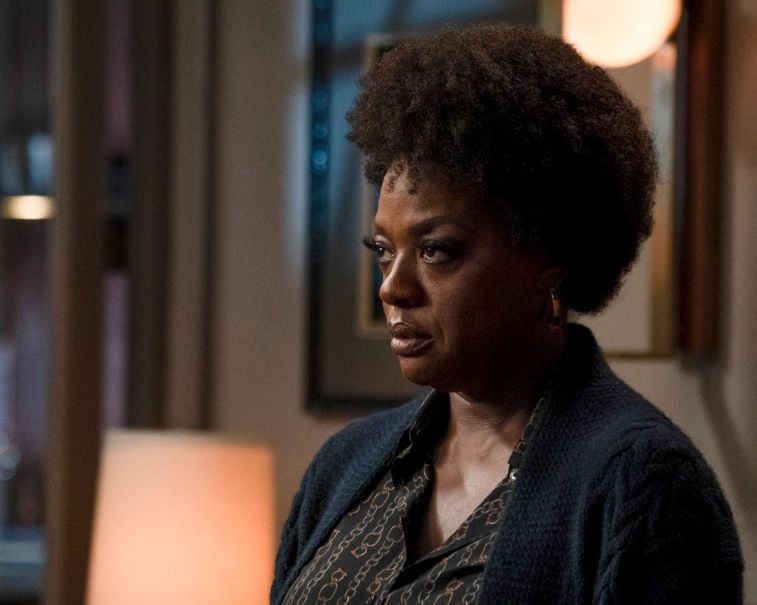 'How to Get Away with Murder' Season 1
The series began with the dead body of Annalise's husband, Sam Keating (Tom Verica). However, she did not murder him. Michaela Pratt (Aja Naomi King) pushed Sam over a banister while protecting herself and their client, Rebecca Sutter (Katie Findlay). He survived the fall, but when he tried to strangle Rebecca — Wes Gibbons (Alfred Enoch) nailed him with a statue.
However, as the season got underway, viewers found out that Frank Delfino (Charlie Weber) strangled Lila Stangard even before Sam's murder. It turns out that Annalise's husband was sleeping with her and ended up getting her pregnant. He hired Frank to murder Lila to cover everything up.
The season ended with yet another murder. Bonnie (Liza Weil) pulled a plastic bag over Rebecca's head and suffocated her to death. The Keating 4 were keeping Rebecca in Annalise's basement to find out the truth about her relationship with Lila. However, in a fit of rage — and to protect Annalise — Bonnie kills the girl.
'How to Get Away with Murder' Season 2
In season 2, we see Emily Sinclair (Sarah Burns) working to take down Annalise by putting pressure on Asher Millstone's (Matt McGorry) family. Asher's father, Judge William Millstone (John Posey), kills himself after Emily goes public with incriminating things from his past.
In a fit of rage over his dead father, Asher runs over Emily with his car. Bonnie helps to cover up the incident by tossing Emily off the roof of the Hapstall mansion.
During flashbacks, viewers find out that Wallace Mahoney (Adam Arkin) is responsible for the death of Annalise's unborn baby. However, we also see that Frank had a role in Sam Keating Jr.'s death.
When Wes goes to confront his father, Wallace, we see the two outside a hotel talking — when Wallace is shot.
'How to Get Away with Murder' Season 3
Season 3 of HTGAWM shows Annalise hiring a hitman to kill Frank. However, in typical Frank fashion, he kills the hitman. Since Annalise is still upset with Frank, he tries to make up with Bonnie. As a gift, he kills Bonnie's father to avenge her mistreatment as a child.
In a shocking turn of events, we find out that Wes is dead. He was killed by Dominick Flores (Nicholas Gonzalez) before Annalise's house burnt to the ground. Laurel Castillo's (Karla Souza) parents ordered the hit on Wes to cover up their illegal business.
However, in season 6, we found out that Wes might not be dead, which would make sense since the morgue lost his body.
'How to Get Away with Murder' Season 4
In season 4 of HTGAWM, Frank's kill count continues to rise. Halfway through the season, he captures Dominick to see what answers he can get. However, since he is a threat to Laurel, Frank kills him.
The corrupt District Attorney, Todd Denver (Benito Martinez), continues to investigate Annalise and the Keating 4. However, the team finds out that he took money from Jorge Castillo. Denver also threatens Bonnie and kidnaps Connor (Jack Falahee). However, he eventually dies at the hands of Jorge, who tampers with his car.
'How to Get Away with Murder' Season 5
Halfway through the season, Nate Lahey Sr. (Glynn Turman) is finally found not guilty due to insanity. He is about to get real treatment for his mental health when he is shot and killed by a guard. We find out later that the hit on him was coordinated by Laurel's brother, Xavier (Gerardo Celasco), and Governor Lynne Birkhead (Laura Innes).
The vast mystery surrounding season 5 is the death of D.A. Ronald Miller (John Hensley). Nate Lahey Jr. (Billy Brown) almost beats Ron to death at Connor and Asher's wedding because he believes the D.A. ordered the hit on his father. However, Bonnie is the one who ends up finishing the job for him, even though Ron is her boyfriend.
Sandrine Castillo's death is not confirmed, but it is presumed that Xavier sent her scalp to Laurel in a box. Lastly, to end the fifth season, Emmett Crawford (Timothy Hutton) is poisoned; however, it is not evident by who until later in season 6. It is still up for debate, but it seems like Gov. Birkhead also killed Crawford since she framed him for the crimes.
'How to Get Away with Murder' Season 6
In an even more shocking turn of events, Asher Millstone (Matt McGorry) is murdered in season 6 of How to Get Away with Murder. He was an FBI informant, but it turns out that Denise Pollock (Deborah Levin), the FBI agent responsible for Asher's case, is the one who murdered him.
In a side story, midway through season 6, Gabriel confesses to his mother —Vivian Maddox (Marsha Stephanie Blake), that he killed her boyfriend, Paul, years ago.
The latest development was the capture of Xavier by Frank. Although Frank tortures Xaiver to try to get information out of him, it's Nate who eventually kills the man. Before Nate snaps his neck, Xavier does reveal that he is the one who murdered Nate Sr. on orders from the governor.
'How to Get Away with Murder' Who killed who? — current murder count
Wes Gibbons (presumed dead) — 1 (killed Sam Keating)
Frank Delfino — 4 (killed Lila Stangard, Robert Winterbottom, hitman- Butchman, and Dominick Flores)
Bonnie Winterbottom — 3 (killed Rebecca Sutter, Emily Sinclair, and Ronald Miller)
Wallace Mahoney (dead) — 1 (killed Annalise's unborn baby)
Dominick Flores (dead) — 1 (killed Wes Gibbons)
Jorge Castillo — 1 (killed Todd Denver)
Xavier Castillo (dead) & Governor Birkhead — 3 (ordered hits on Nate Lahey Sr., possibly Sandrine Castillo and Emmett Crawford)
Nate Lahey — 1 (killed Xavier Castillo) (beat Ronald Miller almost to death)
Gabriel Maddox — 1 (killed his mother's boyfriend)
Although Annalise Keating helped to cover up a good majority of the murders in the series, she does not have blood on her hands. Annalise hasn't killed anyone up to this point in season 6 of How to Get Away with Murder. There are only a few episodes left until we find out her fate.
Read more: 'How to Get Away With Murder': Fans Know What Happened with Hannah and Sam Keating