'How To Get Away With Murder': Why Cicely Tyson Didn't Welcome Viola Davis the First Time They Met on Set
The series finale for How to Get Away with Murder has come and gone, but one of the show's most complex relationships is worth remembering. Viola Davis and Cicely Tyson played a close-knit mother and daughter but their first real-life meeting was strained. Here's a look at the two celebrities and their time on the project.
Cicely Tyson and Viola Davis had lustrious careers before 'How to Get Away with Murder'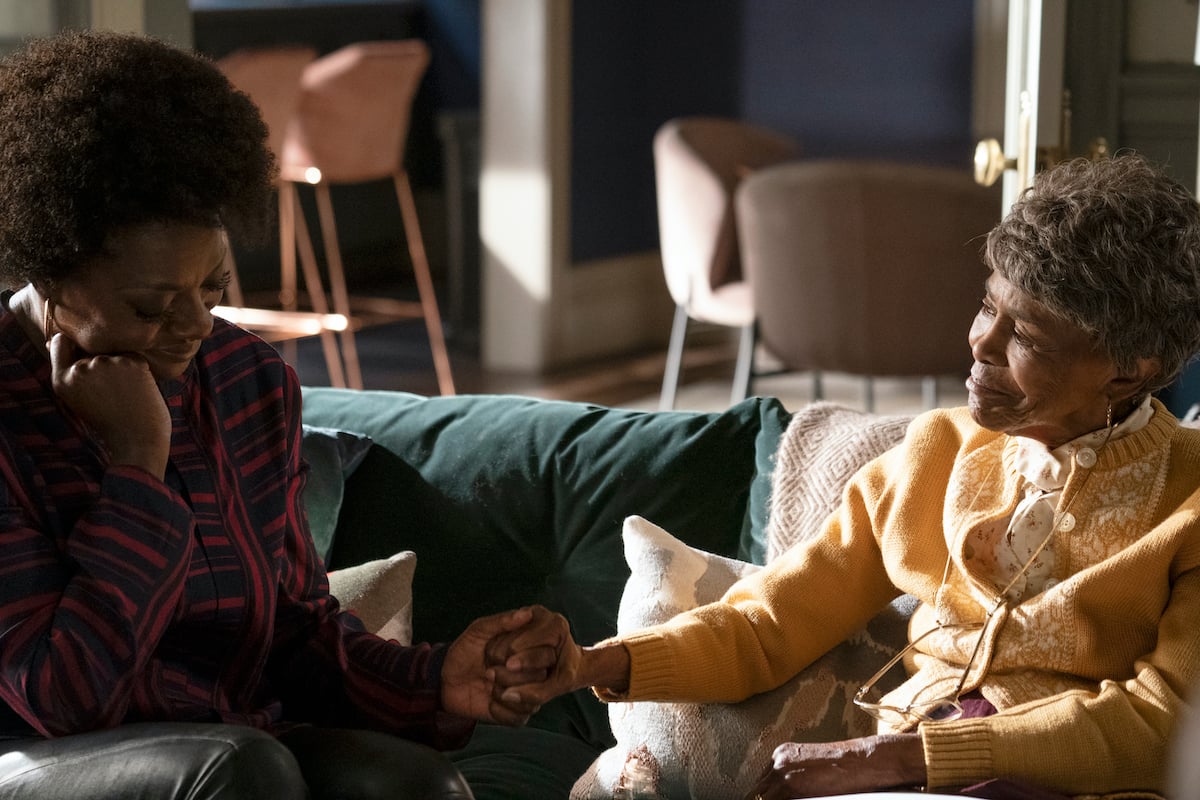 Two of Hollywood's biggest forces of nature came together on the set of HTGAWM as mother and daughter. Davis, the daughter of a civil rights activist, has been in a number of projects since 1996 but didn't hit her stride until getting the role of Nurse Lynnette Peeler in the 2000 TV series City of Angels.
From there, Davis won a Tony Award for "Best Featured Actress in a Play" for her part on Broadway's King Hedley II. The star appeared in plenty of big feature projects like Traffic and Disturbia, but it was the 2008 film, Doubt, which snagged Davis a Best Supporting Actress Oscar. A few years later, she appeared in The Help, Get On Up, and more.
However, it was playing Annalise Keating in HTGAWM that placed Davis in a category far above anything she'd ever done before.
As for Tyson — whose first role came in 1951 — she began her long career modeling after being discovered by Ebony Magazine. By the late 1950s, Tyson worked in Off-Broadway productions and eventually film roles.
Tyson's first Academy Award nomination came in 1972 for Sounder, then two years later, she won two Emmy Awards for playing a 110-year-old in The Autobiography of Miss Jane Pittman. She was also married to famous musician, Miles Davis, though it was said to be "tumultuous."
Tyson doesn't have as many acting credits in film because, according to IMDb, she's determined to only play, "strong, positive images of Black women" on the screen.
The reasoning behind Tyson's behavior when the two first met
The 90-episode series, created by Peter Nowalk and produced by Shonda Rhimes, put Davis' name on everyone's list. In 2015, she became the first Black woman to win an Emmy Award for Best Drama Actress. For six seasons, the show captivated fans with its mind-bending twists — and Tyson was apart of that.
When Davis and Tyson first met on the set of HTGAWM, they weren't exactly the best of friends, despite Davis's request for Tyson to take the role of Ophelia Harkness.
"When I walked in and I saw her standing at the door to greet me and this beautiful smile on her face, I knew if I broke that moment I would be finished," Tyson told the Los Angeles Times. Rather than embrace Davis, she said, "I totally rejected her."
Davis interjected, commenting on what she gathered by "that big wall."
"I thought to myself, 'OK. Maybe I need to get working!' I really felt like a child being reprimanded by a parent, that kind of smallness you feel, which I felt was appropriate," she said.
From there, the two went on to re-create what many other mothers and daughters have experienced, weaving through the complexities while allowing fans to see their unique bond.
Are Tyson and Davis friends in real life?
In June, Tyson was awarded the Peabody Career Achievement Award for 70 years in the entertainment industry. No one was prouder than Davis, who posted to her Instagram page. She also appeared in the tribute video for Tyson to honor her.
"You have made it possible for girls like me, even girls who are not girls of color, but especially Black girls, you've allowed us to be seen and you've allowed us to feel worthy," Davis said in the video via PureWow.Com.
As for Tyson, the feeling appears to be mutual. When asked about the series finale of HTGAWM, she told Gold Derby she doesn't like goodbyes.
"I don't like endings, so I rarely ever think about anything that I'm doing as ending," she said, adding her thought on Davis. "I will miss her deeply."