How to Get Jennifer Lopez Hair, According to Her Stylists
Jennifer Lopez has been rocking the honey-gold hair for years. The singer, actress, and dancer extraordinaire celebrated her 50th birthday this summer, but her glow transcends age. Her stylist, who just gave JLo a new bob for winter, says her look is something anyone can rock, too.
Jennifer Lopez changed her hair color 20 years ago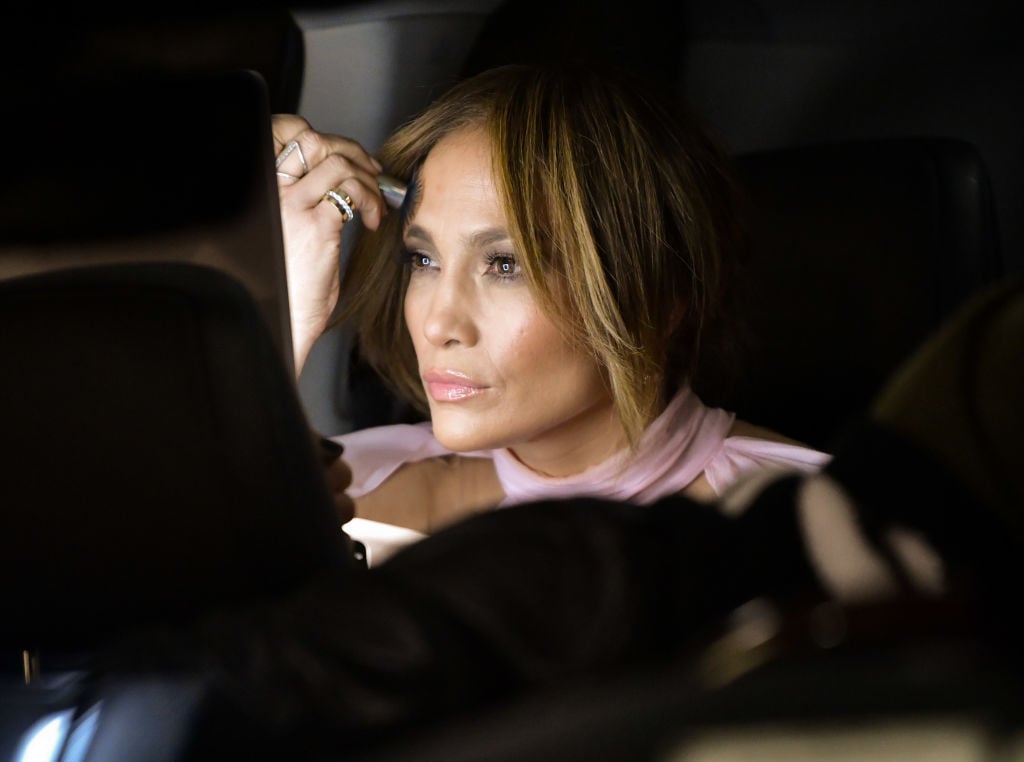 "Jenny from the block" hasn't always had those gorgeous shades of caramel. Before Lopez topped the charts with singles like "I'm Real," and "If You Had My Love," she often let her natural, dark curls free.
In 2014, Lopez's then stylist, Rita Hazan told Glamour why she loved Lopez's sunlit color refreshers.
"I felt like it was too harsh for her skin tone and her personality," she said. "I created a honey-highlighted hair color for her and people went crazy over it."
Around the time of that interview, Hazan had just given Lopez a slightly different update.
"I gave her a chocolate base with golden blond highlights and used my Ultimate Shine Blond Gloss on her," she said. "The darker base adds contrast to give her a cooler, edgier look."
Lopez sometimes relies on drugstore products to tame her mane
Some products Lopez uses, according to a previous interview with Harper's Bazaar, are L'Oréal Paris Elnett Satin Hairspray and Psssst! Dry Shampoo. Both retail for under $15 in drugstores everywhere.
Lopez told People she feels sexiest "when my hair is curly and I'm a little bit tan." She credits those curls, and her off-day styles, to her roots in the Bronx.
"Everything about growing up in the Bronx influenced me and is still with me today," she said, adding, "I'm still a ponytail, bun-on-top-of-your-head girl, which is all very Puerto Rican Bronx."
As for all those shots of Lopez's hair transformation from a sleek shoulder-length bob to waist-length waves, extensions rule. She also isn't afraid to do something drastic at the last minute.
For her appearance at the 2018 Met Gala, Lopez wanted something different.
"We cut it today, she said she wanted something different and the designer wanted something different," her stylist, Lorenzo Martin told Allure. "We wanted it to look fresh."
He added, "We just decided it [the day of the event], like an hour and a half before she left. I didn't even know, she didn't even know we were doing it either."
The secrets to obtaining Jennifer Lopez's hair
James Corbett, Clairol Color Director and owner of James Corbett Studio in New York City, said JLo's color works for most skin tones.
"It's important not to go too light with the base color," he told Oprah Magazine. "The lightness and the beautiful sandy tone of J.Lo's hair comes from the color of the highlights and how they lay upon the base color of her hair."
If you have naturally dark hair like Lopez, here's the process, according to Linda de Zeeuw, Master stylist and colorist at Rob Peetoom.
"You would have to lift up the base color so you can achieve three shades of light with permanent hair color—but if you need to go even lighter than that we're looking at a full-on lightening service. After that, you can create a beautiful new dark blonde base color in combination with highlights."
If you want to retouch your highlights, Corbett suggested Clairol Nice 'N Easy SB2 in Ultra Light Cool Blonde on a few strands.
"Remember, when trying to highlight at home, less is more," he said. "You can take this shade and carefully isolate some strands in the face frame and in other parts of the head," he said.
Start at the mid-shaft, down to the ends. "You can always add more once you get comfortable working with isolated strands as opposed to a full head application."
How to keep the color fresh
Hazan echoed some of the same techniques, touching on the color side of Lopez's look. First, she told Cosmopolitan, go slow.
"Don't expect to get the color you want in one appointment. First focus with your hairdresser on getting the right base color (a mid-tone brown), then slowly add honey highlights to your hair until it's the perfect lightness for you."
Next, glossing is important. Ask your colorist for a gloss treatment to "tone down brass." Color fades, but glossing keeps your hair looking healthier longer.
Highlight sparingly, she said. Too many "ruin the look." Use moisturizing masks weekly and don't shampoo too often. Finally, use color-safe products.
We may not all have Lopez's abs, dance skills, or work ethic, but at least we can have her hair.