How to Get Meghan Markle's Red Cape Dress Look from Her Mountbatten Festival of Music Attendance
Meghan, Duchess of Sussex, never fails to turn heads whenever fans see her. She is always dressed impeccably from head to toe and has a style that is envied throughout the entire world. Even when Meghan is dressed down, such as in skinny jeans and Prince Harry's baseball hat, she manages to look spectacular.
Now that Megxit is pretty much here, fans won't be seeing Meghan as often as they are used to. While this doesn't mean that she won't ever make an appearance, the world won't be treated to her incredible fashion sense on a regular basis.
During one of Meghan and Prince Harry's final royal duties, she stunned in an outfit that had fans trying to figure out how to recreate her look. Here is how to get Meghan's red cape dress look from her Mountbatten Festival of Music attendance.
Meghan and Prince Harry carried out their final royal appearances
Meghan and Prince Harry returned to the United Kingdom recently to carry out their final royal appearances, and it was pretty emotional. One of the engagements they had was at the Royal Albert Hall for the Mountbatten Festival of Music.
According to BBC News, they received a standing ovation as they entered and were smiling broadly as they took their seats. So, what exactly happened at the event? Well, it was a performance celebrating not only 75 years since World War II came to an end, but also 80 years since the formation of Britain's Commandos.
Meghan and Prince Harry were the guests of honor. It was also the last time Prince Harry would use his military titles, making the event a bit bittersweet for him. Luckily, Meghan was there to lend her support as they watched a performance by the Royal Marines Band Service, which benefitted the Royal Marines Charity. 
Meghan Markle's dazzling look
It was one of Meghan and Prince Harry's final engagements as senior working royals, so it was only natural that the duchess would look great. However, no one expected just how amazing her dress would actually be!
Meghan stepped out of the car in a red, floor-length gown with a cape-style at the top and matching shoes. According to Harper's Bazaar, Prince Harry looked quite handsome as he appeared in his military uniform for what would be the last time.
The couple was color-coordinated, and the bold red color of the dress left Meghan's complexion glowing. Her hair was loose, tumbling over her shoulders, and she completed the look with matching earrings and a clutch purse.
How to get Meghan Markle's red cape dress look from her Mountbatten Festival of Music attendance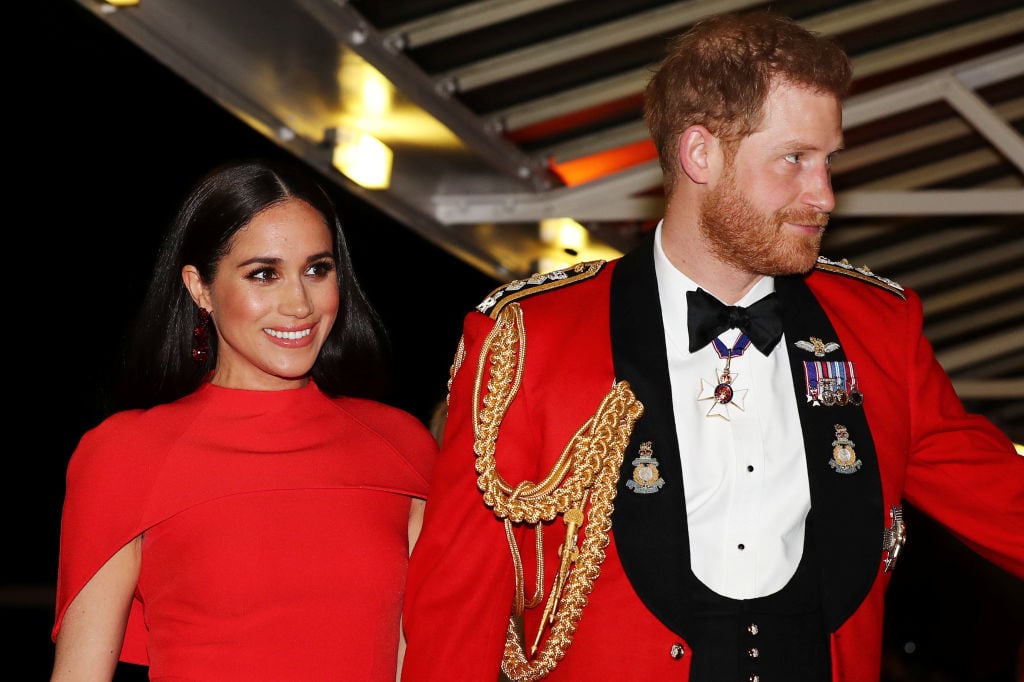 Given that Meghan looked just lovely, fans everywhere are wanting to know how to get the same look for themselves. Luckily, the dress is still available to buy, although it won't come cheaply. The Safiyaa gown retails for $1693.
So, how about the rest of the look? Meghan wore shoes by Stuart Weitzman, available to buy for $398. Her clutch was designed by Manolo Blahnik and will cost buyers $1260, although it is currently out of stock.  Meghan's earrings by Simone Rocha are sold out as well. They retail for $375.