How to Stream 'Chicago Fire' for Free
Chicago Fire, which debuted in October 2012, is currently in its eighth season. The series depicts the lives of firefighters, paramedics, and other first responders who work in Chicago's Firehouse 51. Though the show portrays real issues, it is a fictional show with a cast of actors. The actors did undergo some formal firefighting training before beginning to film the first episodes. Though some scenes are filmed at the real-life Engine 18 in Chicago, much of the show is filmed in a studio.
Dick Wolf is the producer of Chicago Fire. Wolf is also the producer of the successful crime show Law and Order. The Chicago Trilogy includes Chicago Fire, Chicago PD, and Chicago Med. Unlike Law and Order, The Chicago Trilogy contains many crossover references to the other shows.
The season eight cast includes Jesse Spencer as Matthew Casey, Taylor Kinney as Kelly Severide, Eamonn Walker as Chief Wallace Boden, David Eigenberg as Christopher Herrmann, Joe Minoso as Joe Cruz, Yuri Sardarov as Brian "Otis" Zvonecek, Christian Stolte as Randy "Mouch" McHolland, Kara Killmer as Sylvie Brett, Miranda Rae Mayo as Stella Kidd, and Annie Ilonzeh as Emily Foster.
How to watch the show normally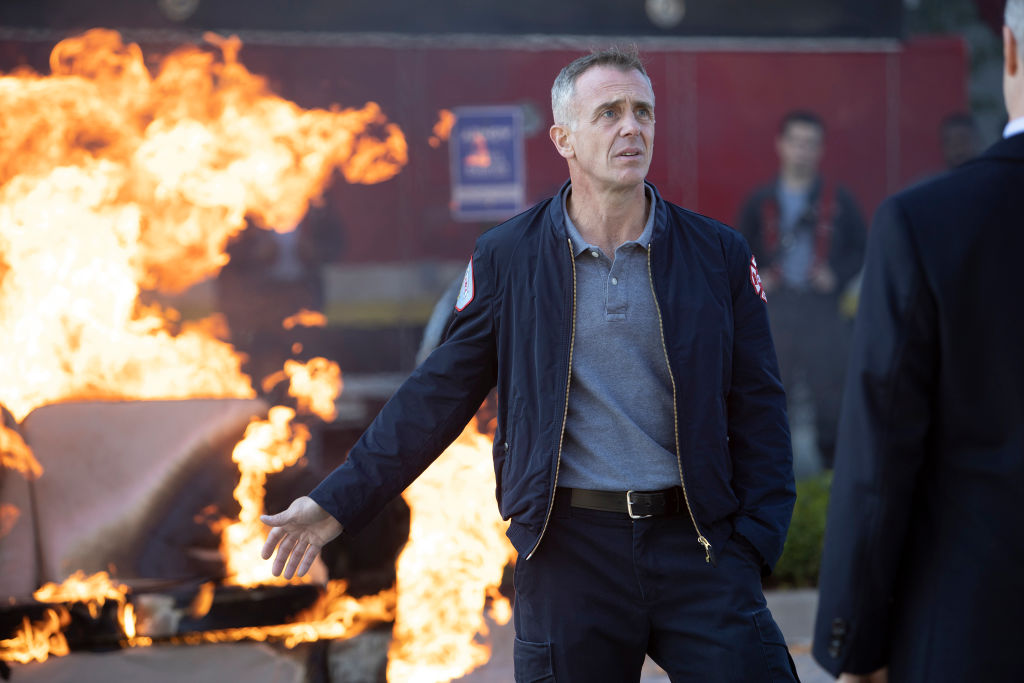 You can catch the current season of Chicago Fire on Wednesdays at 9/8c on NBC. The show is an NBC original and airs on its home network first. The current season is also available for streaming on the official Chicago Fire NBC website. The NBC website is also home to Chicago PD and Chicago Med.
Season eight is proving to be an exciting and shocking season for the popular firehouse drama. The season began with the devastating loss of a beloved character, which tugged at the heartstrings of many fans. The show is currently midway through the eighth season, and it has already proven to be a memorable stretch of episodes that has both delighted and devastated fans with surprising twists and turns.
Where is show the currently streaming?
Several subscription streaming platforms currently provide access to Chicago Fire: Hulu, YouTube TV, Sling TV, and fuboTV. YouTube also allows access to the show for $1.99 per episode. Streaming platforms provide a convenient way for old and new fans alike to binge-watch the series, catch-up on past episodes, and stream the latest episodes. Subscription services often come with the added benefit of minimal or no commercials.
Stream 'Chicago Fire' for free
The first six seasons of Chicago Fire are now available for free on IMDb TV. IMDb TV is Amazon's rendition of an ad-supported Video-On-Demand (VOD) service, which makes watching TV over the internet easy. Chicago Fire became available on IMDb TV earlier this month on December 6, 2019; it is the largest "single licensing pact" for the ad-supported platform.
It is unclear why Amazon chose to present Chicago Fire on IMDb TV instead of its paid subscription service, Amazon Prime. Amazon has likely researched the audience of Chicago Fire and feels it will do well on the ad-supported VOD service.  This is excellent news for viewers who don't want to subscribe to an additional streaming service.
Whether you are a fan of Chicago Fire or a fan of the whole Chicago Trilogy, there are plenty of ways to stream the popular show about the Windy City firefighters. Catch up on the first six seasons of the hit drama, Chicago Fire, for free by streaming it on the ad-supported VOD service IMDb TV. There are plenty of ways to watch all of the seasons of the NBC drama, Chicago Fire. Tune in to the current season on Wednesday nights at 9/8c on NBC. The eighth season will return from its winter hiatus on January 8, 2020.