How to Watch BTS's Online Concert Series 'Bang Bang Con'
BTS's Map of the Soul Tour was set to kickoff in Seoul on April 11, April 12, April 18, and April 19, but the concerts were canceled due to the coronavirus (COVID-19) outbreak. The North American leg of the band's tour was set to begin in April 2020 and continue through June 2020 but was postponed. To give fans the opportunity to experience a BTS concert this month, the group will put on a free concert series on YouTube called "Bang Bang Con."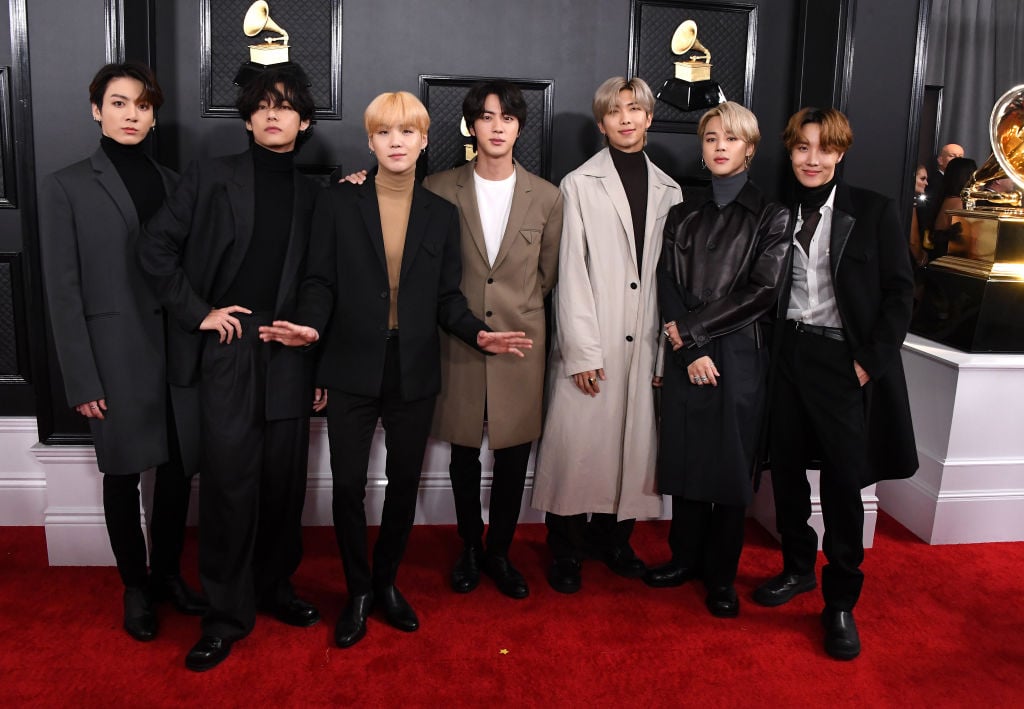 BTS's 'Bang Bang Con' will help bring positivity to ARMY
This is not the first time the BTS members have done their best to cheer up those around the world affected by the coronavirus. In March 2020, the K-pop group appeared on a special primetime episode of The Late Late Show Starring James Corden called "Homefest."
The episode encouraged viewers to help prevent the spread of the coronavirus and united people across the world through music. For the virtual special, BTS performed their 2019 hit "Boy With Luv" from South Korea. Now, BTS's upcoming virtual concert series will help give ARMY around the world the next best thing to seeing BTS live.
Everything to know about BTS's 'Bang Bang Con'
"Bang Bang Con" will take place over the course of two days online on April 18 and April 19. The concert special will be made up of eight different parts, and fans can tune into the livestream on the BANGTANTV YouTube channel.
Fans will also be able to connect their BTS Light Stick like a live BTS concert. To do so, fans can play the concerts on the Weverse Media Tab and connect their Official Light Stick through Weverse. Only Ver.3 and the MAP OF THE SOUL SPECIAL EDITION Light Sticks will be able to connect for "Bang Bang Con."
BTS's "Bang Bang Con" begins on April 18 at 12 p.m. KST with 2015 BTS LIVE: The Most Beautiful Moment in Life On Stage. The other three concerts from that day will be 2016 BTS LIVE [Most Beautiful Moment In Life On Stage: Epilogue], BTS 2014 LIVE TRILOGY: EPISODE II The Red Bullet (2014 Memories), and BTS 3rd MUSTER [ARMY.ZIP+].
The second day of concerts begin on April 19 at 12 p.m. KST. That day, fans will get to experience 2017 BTS LIVE TRILOGY EPISODE III THE WINGS TOUR IN SEOUL, 2017 BTS LIVE TRILOGY EPISODE III THE WINGS TOUR THE FINAL (2017 Memories), BTS 4th MUSTER [HAPPY EVER AFTER], and BTS WORLD TOUR 'LOVE YOURSELF' SEOUL.
Fans are excited for the concert series
The at-home concert experience will take fans through BTS's different eras, and incorporates both concert tours and Muster fan meetings. Because of this, ARMY will get to see BTS perform their earlier songs, relive BTS's acclaimed Love Yourself era, and once again witness Suga and Jimin perform "Tony Montana."
"no but the way this was structured for free, with enough content to fill an entire day so everyone in the world can see at least a part of it? cmon that's just neat #[email protected]_twt," a fan tweeted.
"I'm curious what tickets y'all be getting ? I'm hesitating between bed or couch tickets #BANGBANGCON," one fan joked.
"You guys, i got sound check tickets #BANGBANGCON," another fan joked.