How to Watch SuperM's 'Beyond LIVE' Online Concert
For fans who want the chance to see SuperM, WayV, NCT Dream, and NCT 127 in concert, the wait is almost over. SM Entertainment has partnered with Naver and will be broadcasting the groups' live concert performances to start the live concert streaming service "Beyond LIVE." SuperM will kick off the "Beyond LIVE" concert series on April 26.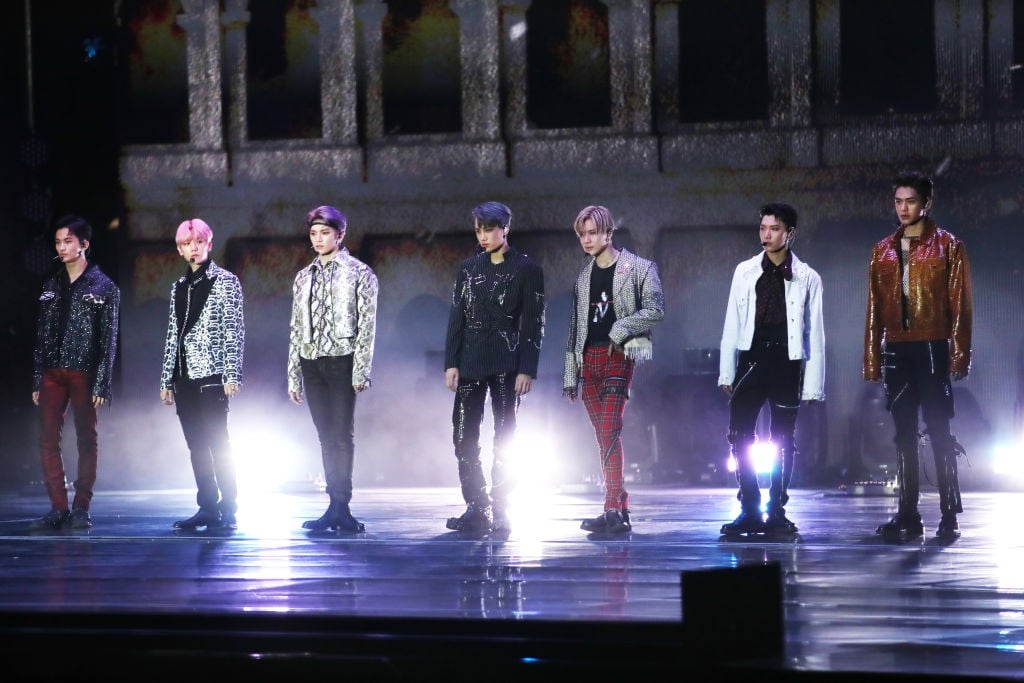 What is 'Beyond LIVE'?
"Beyond LIVE" is a new way to view live concerts virtually. The streaming service was created by SM Entertainment and Naver.
In a statement, SM Entertainment said, "Beyond Live will not only stream concerts online, but it will also provide additional digital contents. It may involve live chats between stars and fans and other digital technology to take the experience to another level."
While the concert series was started during the coronavirus (COVID-19) outbreak, it seems "Beyond LIVE" could continue as a new way for fans around the world to view K-pop concerts. So far, there are only four concerts announced for the series. SuperM will perform on April 26, WayV will perform on May 3, NCT Dream will perform on May 10, and NCT 127 will perform on May 17.
How much the concert series costs
Due to the fact "Beyond LIVE" is a broadcast of new live performances, the events do cost money to watch. K-pop fans must pay a fee just as they would to enter a venue to watch a live concert performance in person.
Virtual tickets for "Beyond LIVE" cost 1,500 V coins on V Live, which equates to about $30 USD. This is the charge per concert, so if a fan were to watch all four concerts featuring SuperM, WayV, NCT Dream, and NCT 127, it would cost around $120 USD.
For 50 V coins, fans can buy a "SuperM – Beyond the Future" sticker. There are different versions of the SuperM logo as well as stickers that represent each SuperM member. Fans can also purchase a virtual lightstick subscription. A subscription for seven days is 50 V coins, 30 days worth is 150 V coins, and a 100-year subscription costs 800 V coins.
How to watch SuperM's 'Beyond LIVE' performance
To watch SuperM's "Beyond LIVE" performance, fans can go to the VLIVE page for "SuperM – Beyond The Future (Beyond LIVE + VOD)." There, the concert can be purchased for 1,500 V coins. Once purchased, the live broadcast can be viewed simultaneously on two devices. The replay VOD can be viewed simultaneously on five devices.
SuperM's live concert begins on April 26 at 3 p.m. KST. In the U.S., it begins at 2 a.m. EST and 11 p.m. PDT. The official SuperM Twitter account posted the times the concert will go live around the world.
"'SuperM – Beyond the Future' on NAVER VLIVE Going LIVE Paris: 4/26 SUN 8AM Dubai: 4/26 SUN 10AM Brasília: 4/26 SUN 3AM Bangkok: 4/26 SUN 1PM Cape Town: 4/26 SUN 8AM Canberra: 4/26 SUN 4PM #SuperM_BeyondLIVE @superm #Beyond_the_Future #Beyond_LIVE #BeyondLIVE #NAVER #VLIVE," tweeted the SuperM account.