How to Watch the 'Friends' Reunion Special
The good news is that there's a Friends reunion coming up. The bad news is, it won't be as easy to watch as the TV show once was. 
The reunion special will air on HBO Max, the new streaming platform owned by Warner Bros. If we were to put this in Disney Terms, HBO Now is Disney+ and the Friends reunion show will be The Mandalorian, the show "everybody wants to see," even if they don't want to spring for the service.
The reunion special is expected to drop in May when the service launches.
How to get HBO MAX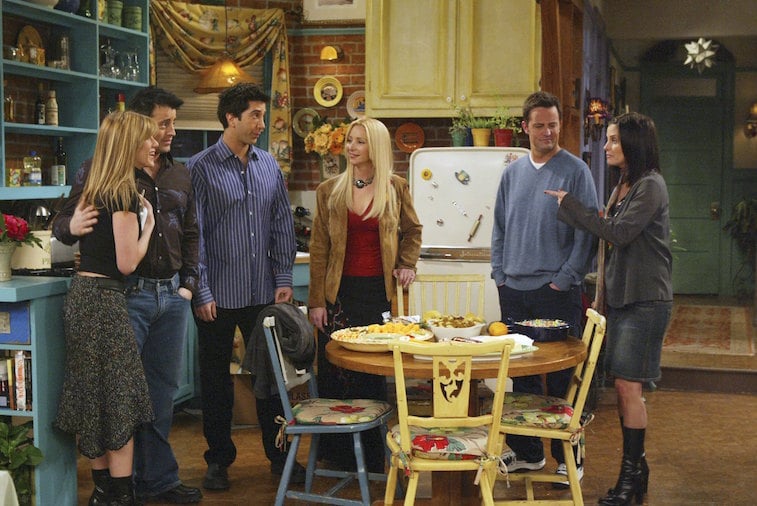 CNET has a primer to work through this new section of the streaming landscape. If you already have HBO, you have a leg up. You get HBO Max for free, and you can watch all the Friends you want and then some, because all the episodes will be on the new streamer. That's why it left Netflix – Warners, not unreasonably, wanted it for their own platform.
If you don't already have HBO or HBO Now, you'll need to sign up for HBO Max. Be advised that it's one of the more expensive streamers out there, in that it will cost $15 a month, which is a little more than the standard plan for Netflix, and certainly more than Disney+.
Since Friends remains must-see TV for a lot of people, even after 25 years, fans will likely shell out the bucks. 
You can't sign up just for HBO Max, yet, but if you go to the HBO site and sign up for HBO Now. Please note that you have to be billed directly by HBO to get HBO Max for free. The offer does not apply to third-party providers such as Amazon channels.
What will the 'Friends' reunion consist of?
The reunion show will not be a new episode of Friends after all these years, nor will this be some kind of remake or reboot. Although the reunion will be shot at the same Warner Bros. soundstage that the series was, this will be an unscripted show, meaning it will probably be more retrospective than revival. The cast will lounge around the old set while clips play, most likely. 
The Hollywood Reporter calls the event a "one-off," but the good news is that all six Friends will be back, with Jennifer Aniston, David Schwimmer, Courteney Cox, Matthew Perry, Lisa Kudrow and Matt LeBlanc each being paid $2.5 to $3 million. At its peak, the show was paying the cast members $1 million per episode.
Kevin Reilly, chief content officer at HBO Max said, "I became aware of Friends when it was in the very early stages of development and then had the opportunity to work on the series many years later and have delighted in seeing it catch on with viewers generation after generation. It taps into an era when friends — and audiences — gathered together in real time and we think this reunion special will capture that spirit, uniting original and new fans."
What else is on HBO Max?
Friends and its reunion show will surely lure many people to HBO Max, but the key question is, will those subscribers hang around once they've exhausted the Friends content?
If Warner's experience is anything like Disney's, the answer will be yes. Many people speculated that once people were done checking out The Mandalorian, they would leave Disney+ in droves. 
But that didn't happen. Attracted by Disney's deep bench of content, many subscribers decided to stick around. And HBO has plenty deep wells of its own to draw from. This includes the entirety of Game of Thrones and new episodes of Sesame Street.
But if fans want more than just what HBO already gave them, HBO Max will have that too, including Warner's library of classic films like Casablanca and contemporary hits like Wonder Woman. And they'll have some entirely new product too, like a new Gossip Girl. Unlike the Friends reunion, that one will be an actual reboot.