How Tyler, the Creator Felt About Jaden Smith Publicly Calling Him His 'Boyfriend'
Jaden Smith's rumored boyfriend, Tyler, the Creator, had his thoughts about their relationship going public. 
Smith has often shared his admiration for Tyler. The rappers have been close friends for several years and have even collaborated on music together. However, fans might be wondering if Tyler was utterly comfortable with Smith's multiple reveals.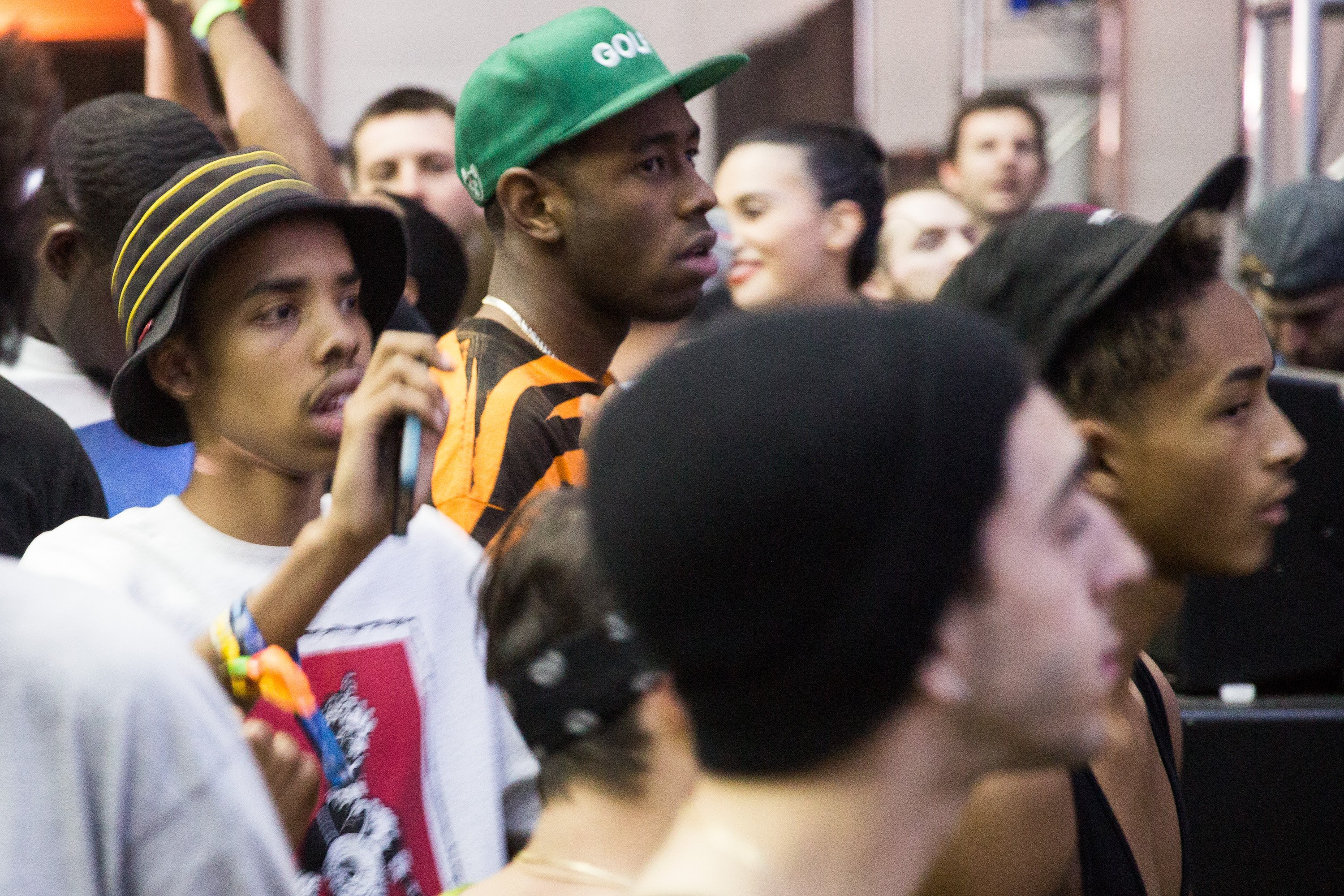 Tyler, the Creator, reacted to Jaden Smith referring to him as his 'boyfriend' via Twitter
As someone who grew up in the spotlight, Smith has had his fair share of romantic rumors. Smith and Kylie Jenner reportedly dated in high school, and Smith frolicked around town with Sarah Snyder and Odessa Adlon. However, he rarely spoke about some regions of his personal life publicly. 
Smith's desire not to open up about his romantic life seemingly changed in November 2018. While Smith was on stage performing several of his songs at Camp Flog Gnaw, he opened up about Tyler's feelings. The actor praised Tyler for his artistic contributions and claimed the two were more than friends. 
"I just want to say, Tyler, the Creator is the best friend in the world, and I love him so f–king much," Smith said. "Tyler doesn't want to say, but Tyler's my motherf–king boyfriend, and he's been my motherf–king boyfriend my whole f–king life," he continued to say. "Tyler, the Creator is my f–king boyfriend. It's true."
After his reveal, Smith tagged Tyler on Twitter and told him that their secret was out. Tyler laughed off Smith's remarks in reply to his tweet. 
"Hahaha you a crazy n***a man," Tyler wrote. 
Jaden Smith called Tyler, the Creator his 'boyfriend' on more than one occasion
Following his Camp Flog Gnaw performance, Smith reiterated his comments during an interview with Apple Beats 1 Radio. Smith shared that he wasn't joking about being in a relationship with Tyler. 
"I recently said that Tyler, the Creator, is my boyfriend, and that's true," Smith confirmed. "So, just so you know."
After Smith and Tyler kept their fans wondering if they were trolling their fans, Smith made another statement about his rumored beau. In January 2020, Smith joined Tyler in celebrating the "Earfquake" rapper's Grammy win. Tyler took home a Grammy for Best Rap Album for his project, Igor. Smith used Twitter once again to express how he felt about Tyler and the fact that he's now a Grammy award-winning rapper. 
"My Boyfriend Just Won A Grammy," Smith wrote. 
Both Jaden Smith and Tyler, the Creator have reportedly dated Kendall Jenner
Although neither Smith nor Tyler has officially said they're in a relationship, neither of them are strangers to being involved in romantic rumors. Smith and Jenner grew up together in Calabasas, but Page Six reported that there might be something more between them in 2015. In addition to them taking multiple photos together, Jenner joined Smith at a "secret" performance by Smith in Brooklyn. 
While Smith and Jenner eventually squashed their romantic rumors and remain friends, the Keeping Up With the Kardashians star also reportedly dated Tyler in 2016. After photos surfaced of the two hanging out at the Grove in LA, rumors swirled that Tyler was Jenner's new leading man. The stories caused a Twitter exchange between Tyler and Jenner, which seemingly confirmed they are just friends. 
"@f*cktyler apparently we're dating," Jenner tweeted to Tyler. 
"Not possible, we're both gay," Tyler replied to Jenner.