Howie Mandel, Naomi Campbell, and More Celebrities Taking Extra Precaution Against Coronavirus Outbreak
Among those precautionary citizens are a few A-list celebrities, who aren't messing around when it comes to protecting themselves from getting sick.
With more than 1000 confirmed cases of COVID-19 in the United States alone, people all across the nation are doing everything they can to ensure that they don't contract this virus.
From avoiding heavily populated areas to wearing surgical masks while out in public, many individuals are taking this outbreak very seriously.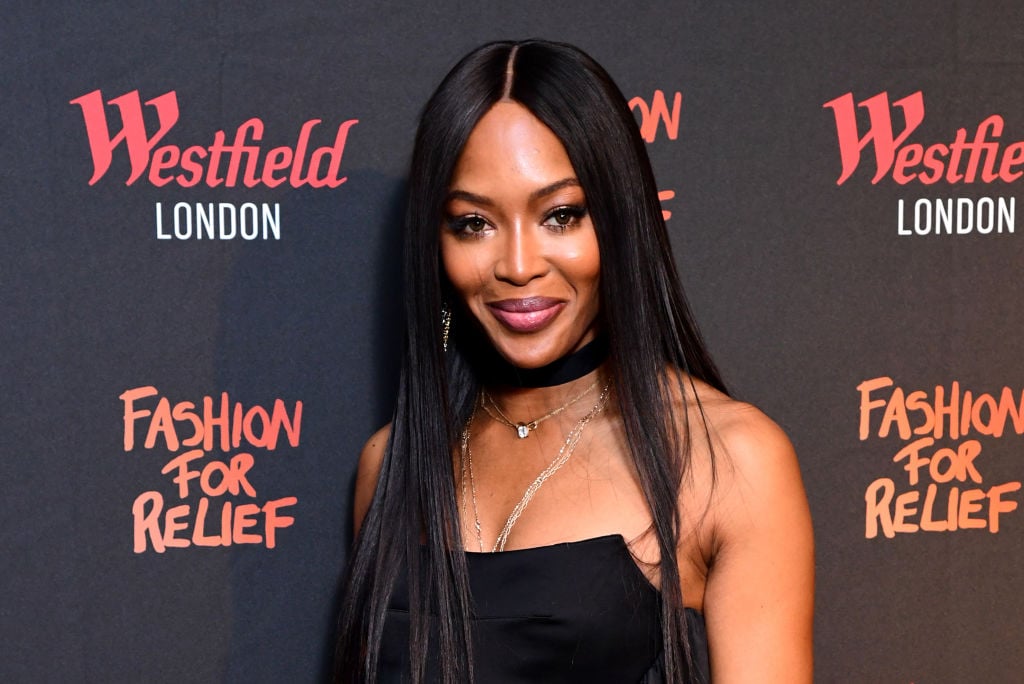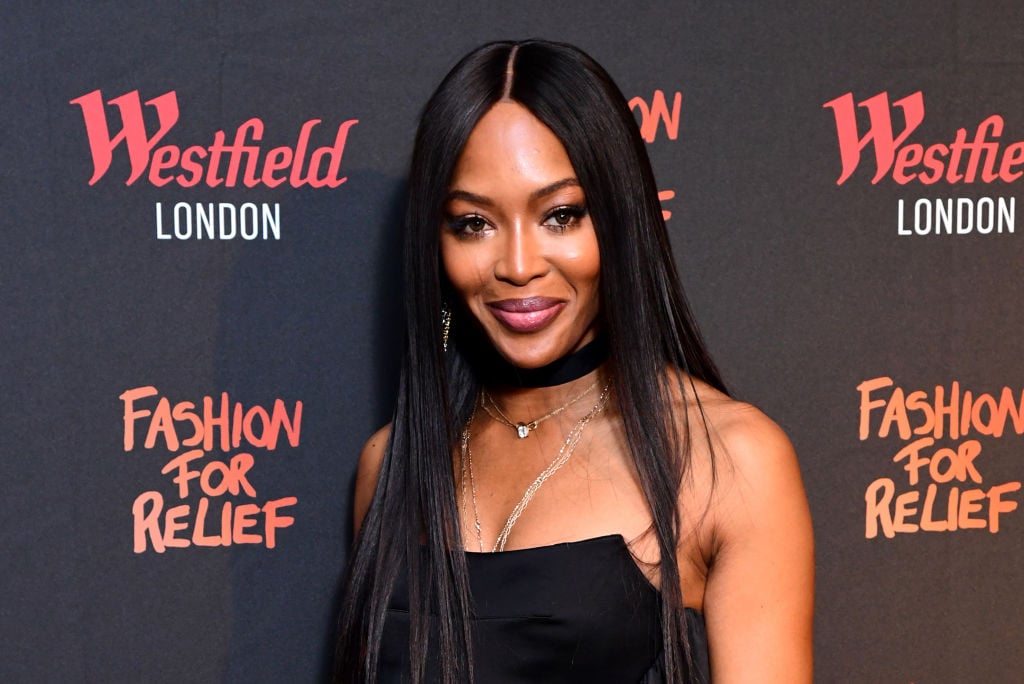 Among those precautionary citizens are a few A-list celebrities who aren't messing around when it comes to protecting themselves from getting sick.
Naomi Campbell
Since Naomi Campbell's job as a model requires her to travel quite often, she is currently taking the necessary precautions to make sure that she does not contract this fast-spreading virus while on the go.
On Mar. 10, the supermodel shared several photos on Instagram of herself at the Los Angeles International Airport, donning her unique traveling style.
Campbell could be seen wearing a hazmat suit complete with a face mask, safety goggles, and purple gloves, as she made her way to her awaiting plane.
In one snapshot, the model gives followers an up-close look at her getup with the caption, "Safety First NEXT LEVEL. Thank you @lindaevangelista. Full video coming on my YouTube soon…"
Though Campbell is making sure she doesn't come down with the coronavirus, this isn't the first time she's taken extra precautions while traveling on a plane.
In 2019, the supermodel went viral when she posted a YouTube video detailing how she cleans and disinfects her seat once she boards an airplane.
In the video, Campbell is seen wiping down the television display, armrests, tray table as well as the seatbelt using disposable plastic gloves and sanitizing wipes she carries in her travel bag. She even pulled out her own seat cover that gets "hand washed at every hotel" and placed it over her chair as she was finalizing her pre-flight routine.
"Clean anything you touch. Anything you could possibly touch," Campbell says in the video. "This is what I do on every plane I get on. I do not care what people think of me. It's my health and it makes me feel better."
Howie Mandel
Another celebrity who is taking this coronavirus outbreak very seriously is comedian Howie Mandel.
As he was arriving on the set of America's Got Talent on Mar. 10, the talent show competition judge was spotted wearing a hazmat suit along with a gas mask and orange gloves.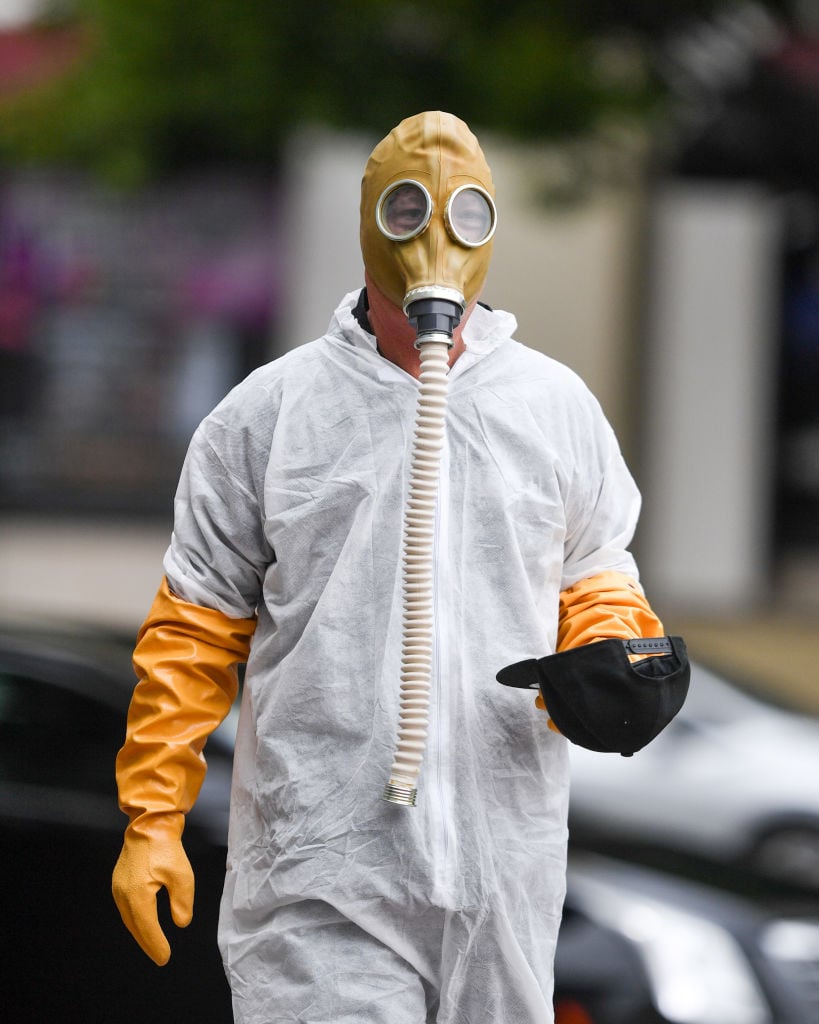 Since Mandel is a known germaphobe, he's been taking major precautions against the coronavirus as it continues to spread through the United States.
Though he's made a few jokes about this ongoing epidemic, the comedian clearly isn't taking any chances while out in public.
Katie Couric
While wearing a hazmat suit is one way to ensure that you don't contract the coronavirus, Katie Couric is taking it a step further by putting herself under "quarantine."
On Mar. 9, the highly accredited journalist took to Twitter to reveal that she recently came in contact with her friend Rick Cotton, who tested positive for coronavirus.
Though she hasn't started to experience symptoms, Couric is taking the necessary steps to ensure that she continues to remain in good health.
One way she is doing this is by "working from home" for the time being.
"Just talked to a @CDCgov official who said I'm very low risk given the duration and nature of contact," she tweeted. "I will be working from home to be safe and make sure if I'm not feeling well I will go to the doctor. Will keep you posted."
Many celebrities aren't taking any chances while flying
While Campbell, Mandel, and Couric are taking extra precautions to ensure they do not contract this virus, other celebrities are also trying their best to protect themselves — but aren't going to extreme lengths.
Like many people around the world, several A-listers have been sporting face masks while in public areas — especially aboard airplanes.
Celebrities such as Gwyneth Paltrow, Kate Hudson, Bella Hadid, Selena Gomez, and Brody Jenner have posted photos of themselves with face masks on to social media and paired the snapshots with captions about the coronavirus.
Although healthcare officials say it's pointless for healthy people to wear face masks, these celebs aren't taking any chances with this growing epidemic.