HoYeon Jung Did Not 'Collapse' in Front of Lee Jung-jae After SAG Award Win
Squid Game continues to make history as leading actors HoYeon Jung and Lee Jung-jae won Female and Male Actors in a Drama Series at the 2022 SAG Awards. The 2021 Korean drama has broken ground as the first to be recognized globally by Hollywood. It is also Jung's first role as a new actor. Her co-stars and fans stood proud as she received her SAG Award. A behind-the-scenes video shows Jung "collapsing" from emotion, but fans believe she is bowing out of respect to Lee.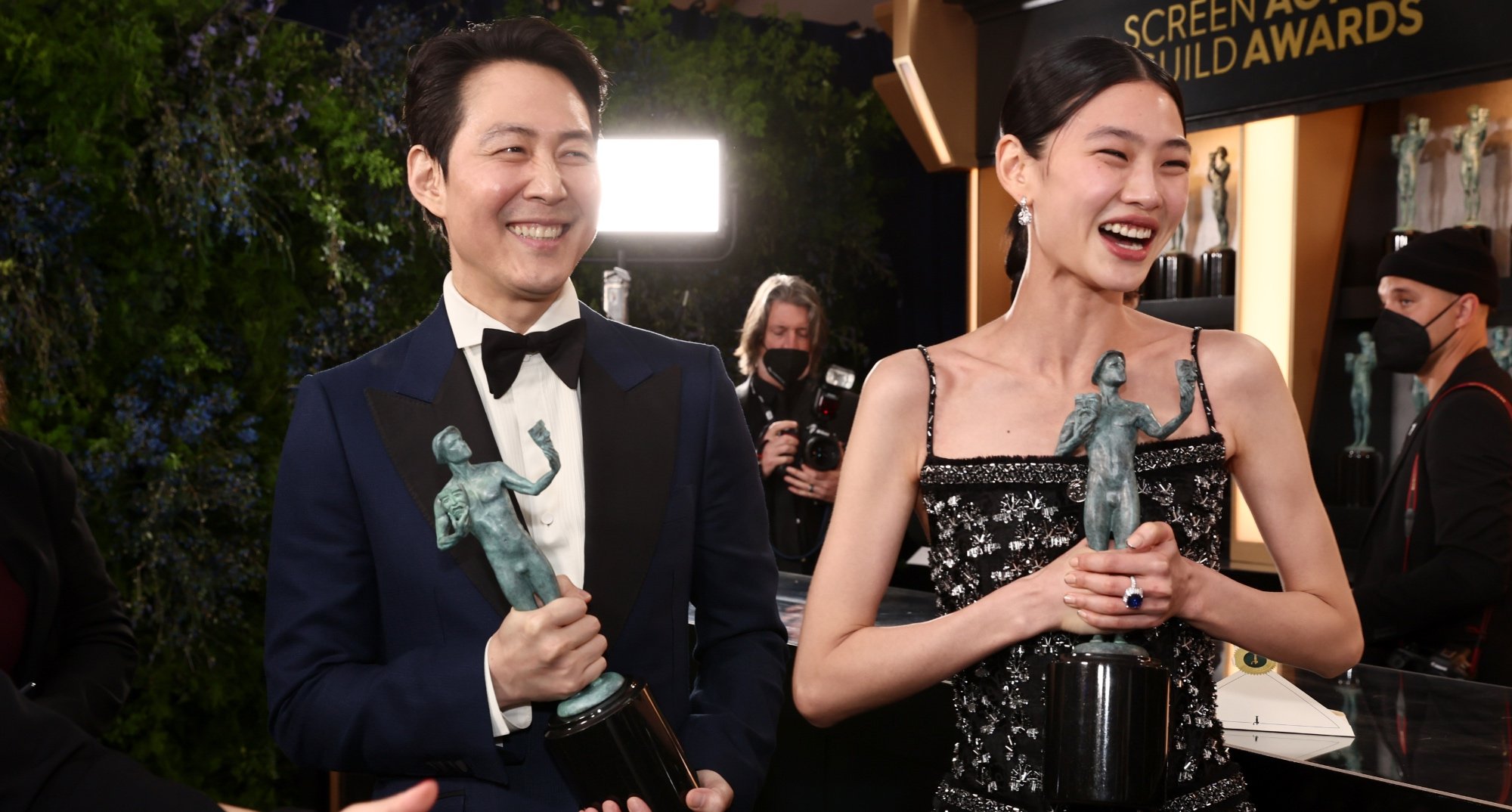 HoYeon Jung received SAG Award for her role in 'Squid Game'
Squid Game was nominated in four categories at the 2022 SAG Awards. Lee and Jung were nominated for best female and male actor in a drama series. Some of the K-drama cast was in attendance including Anupam Tripathi, Kim Joo-ryoung, and Park Hae-soo. They were in attendance as Squid Game was nominated for Ensemble in a Drama Series and Stunt Ensemble in a TV Series.
Jung was nominated with Jennifer Aniston, Elisabeth Moss, Sarah Snook, and Reese Witherspoon. The South Korean model and actor took home the win. Her co-stars and fans watched as Jung was overcome with emotion during her speech. In a behind-the-scenes video posted on Twitter by Ramin Setoodeh, Jung is seen "collapsing" in front of Lee. But fans believe Jung was doing something else.
HoYeon Jung was bowing to Lee Jung-jae out of respect at the SAG Awards
RELATED: 'Squid Game' Season 2: Lee Jung-jae Has an Interesting Idea to Bring Back Characters
In Setoodeh's Twitter post, he describes Jung as "collapsing" after receiving a congratulatory hug from Tripathi at the SAG Awards. Anyone who watches the video would think the same, but fans explain that is not what is likely happening. According to fans on Twitter, Jung is bowing to Lee.
The video shows Jung dropping to her knees in front of Lee and bowing her head as he approaches to congratulate her. South Koreans and fans aware of Korean culture are right to assume Jung is bowing out of respect to Lee. In Korean culture, bowing is the equivalent of shaking hands and showing respect to elders.
According to The Korea Times, "Respect for age and seniority is still a huge part of Korean culture and influences how one bows to others." How a person bows also indicate the message they are giving across. When paying respect to elders or giving deep thanks, "the person will kneel and bow so deeply that his forehead touches the floor. "
Jung is still a newcomer to the acting industry, and Lee is a veteran being one of South Korea's most recognized actors. With the global fame Squid Game has received since its premiere, Jung's SAG Award win was a momentous moment in her career, and she wanted to respect Lee as her senior.
The South Korean actor paid homage to South Korea
RELATED: 'Squid Game' Wi Ha-joon was Unable to Attend SAG Awards Due to Schedule Conflicts
Squid Game is the first K-drama in history to receive global success. While K-dramas are not new to TV, they were still making their way out of a niche fan base. K-drama, K-content, K-Pop, and Korean culture have become a global interest, and Jung wanted to represent her country with pride.
At the 2022 SAG Awards, Jung's dress and hairstyle represented years of Korean history. Louis Vuitton custom-made her black and silver dress to represent Korean embroidery. The accessory in Jung's braided hair has sentimental value. Louis Vuitton designed a daenggi using the same dress fabric. Korean women often use the accessory when wearing braids dating back to years of history.
RELATED: 'Squid Game': HoYeon Jung's Mindset About Aspiring for Hollywood Has Changed Since K-Drama Success