Hugh Jackman Finally Reveals Scarlett Johansson Is to Blame for His Feud With Ryan Reynolds
Hugh Jackman and Ryan Reynolds have had a hialrious feud for years, and now we know Scarlett Johansson is to blame.
Hugh Jackman is setting the record straight on his feud with Ryan Reynolds. The two have fake fought on social media for years, often competing with each other whenever they come out with something new. Although their hilarious feud isn't going away, Jackman revealed that Scarlett Johansson may be to blame for their ongoing squabble — and it all started on their first (and only) joint project.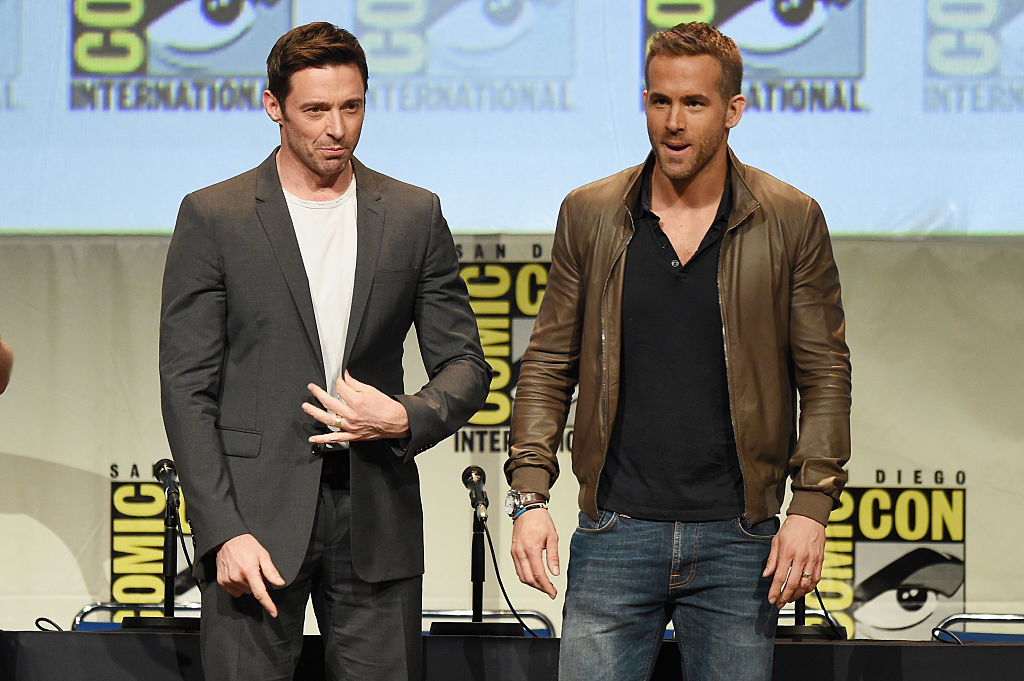 Inside Hugh Jackman's feud with Reynolds
Jackman and Reynolds have exchanged jabs on social media for so long fans are not sure when their feud started. From making fun of movies to joking about awards, the two have bashed each other on social media so many times it is hard to keep track.
Some of the highlights of their feud include the time when Reynolds impersonated Jackman in his full Deadpool makeup after the actor had been named the Sexiest Man Alive.
And Hugh Jackman hilariously trolled Reynolds on his birthday once by sharing a photo of them hugging on the set of Deadpool. In the caption, Jackman wrote, "Because I'm told that I AM THE NICEST GUY and you're NOT. @VancityReynolds … I will let you hug me. Just this once. On your birthday."
Jackman and Reynolds have called a few truces over the course of their feud, but they never last long. Although Reynolds has been trying to get Jackman to cameo in a Deadpool movie as Wolverine, the only film they have worked on together was X-Men Origins: Wolverine, which was over 10 years ago.
Jackman opens up about the feud
While Jackman's feud with Reynolds is not stopping anytime soon, he recently opened up about when it all started. According to We Got This Covered, Jackman revealed that their long-running beef started on the set of Wolverine.
Hugh Jackman explained how he was very good friends with Johansson when she was married to Reynolds. Every day on set, the actor would warn Reynolds to be on his "best behavior" or he would report back to Johansson.
"I met him back on Wolverine, and I used to tease him because I was very close friends with Scarlett Johansson, and Scarlett had just married Ryan, so when he came on the set I was like, 'Hey, you better be on your best behavior here, pal, because I'm watching,'" Jackman shared.
The Wolverine star added that Ryan Reynolds would rib him right back. Their feud escalated following Deadpool, and Hugh Jackman noted that Reynolds is constantly, "trying to manipulate" him on social media.
Johansson and Reynolds tied the knot in 2008 and got a divorce three years later. The actress, who is set to star in her first solo Marvel film, Black Widow, has not commented on her ex-husband's feud, but it would be interesting to see which side she would take.
Ryan Reynolds and Hugh Jackman call a truce
While Reynolds and Jackman have not made amends, the two recently called a one-day truce. Putting their differences aside, the actors shared a video to promote the All In Challenge, which is helping give food to people impacted by the coronavirus pandemic.
Reynolds and Jackman shared a hilarious video of themselves on social media, which began with credits that were a callback to Wolverine. The opening credits also included a quick line that assured fans the video was "tolerated" by the pair's wife, Deborra Lee Furness and Blake Lively.
"For one day and one day only, we've agreed to agree to not disagree," Reynolds stated in the clip. "And only a pandemic could make that happen."
The Deadpool star went on to joke about how the two families have been feuded for decades before poking fun at Jackman's coffee brand. Hugh Jackman returned the favor by joking about Reynold's venture into the gin industry.
Although they put aside their feud to make the clip, the video was filled with disagreements as the two constantly rolled their eyes at each other. There is no telling where their feud will go next, but there is no doubt that fans would love to see them team up on the big screens.
As part of their challenge, Ryan Reynolds and Hugh Jackman will fly to the house of one lucky winner and help their children sell lemonade.