'I Am Jazz': Jazz Jennings Feels 'Disappointed' And 'Defeated' After Her Drag Performance
Jazz Jennings of TLC's 'I Am Jazz' knew her drag show fundraiser would be difficult, but she didn't know just how anxious she would get before her own performance. After performing in drag herself, Jazz admitted she was 'disappointed' and felt 'defeated' by how she'd done.
Jazz Jennings of TLC's I Am Jazz has always been forthcoming about her mental health symptoms, including ongoing anxiety, panic attacks, and depression.
After the 19-year-old trans rights activist planned a drag show fundraiser for her friend Noelle's upcoming gender confirmation surgery, her anxiety symptoms began to act up. Jazz worried that she wouldn't be able to pull off an event that could meet the $25,000 goal, $15,000 of which would go directly to Noelle's surgery.
On the Mar. 3 episode of I Am Jazz, "Dragilicious," Jazz's anxiety culminated in a performance that she called 'disappointing.' When Jazz took the stage to perform in drag, not all went as she'd hoped.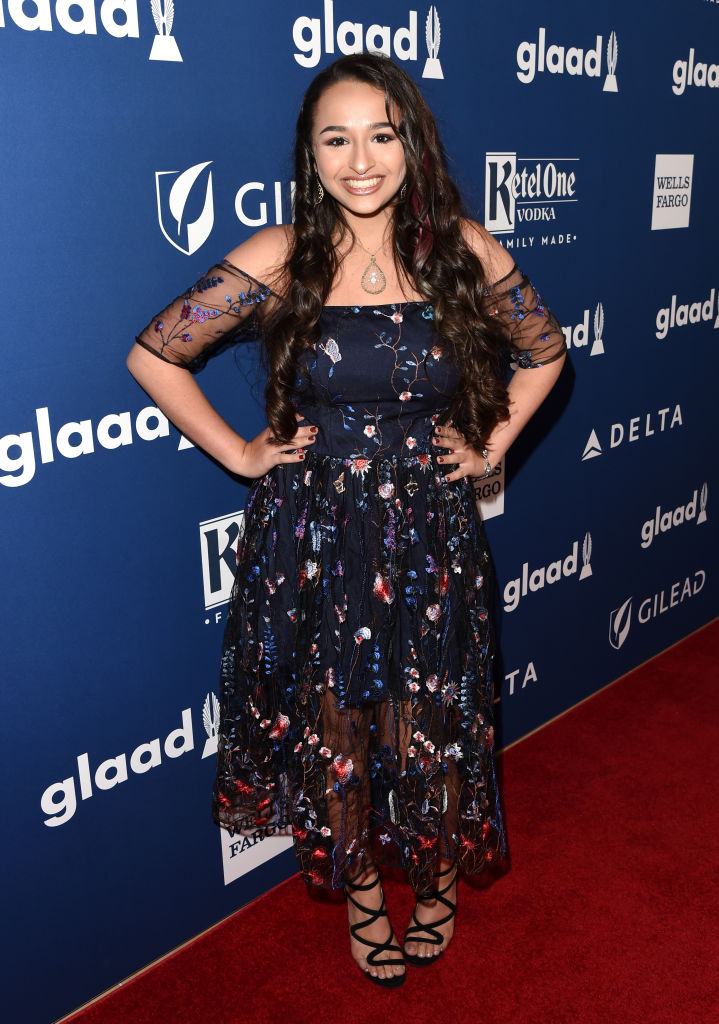 Jazz was stressed out as her performance approached
As the upcoming drag show fundraiser approached, Jazz grew increasingly anxious. Although she'd initially planned to perform an original song with her friend, singer/songwriter Michaela Paige, Jazz backed out of the performance at the last minute. Still, she donned a glam drag getup for a lip sync performance, and the I Am Jazz star didn't feel ready to greet the crowd.
"The show is starting soon, and even though not performing the song lifted some of the burden, I'm still feeling nervous about strutting on the runway because I don't feel fully prepared," Jazz admitted as she wrestled with her nerves before the curtains opened. "I'm trying to contain my emotions."
The 'I Am Jazz' star's bracelets fell off while she entertained the crowd
The show's host, well-known drag queen Nicole Halliwell, introduced Jazz just before she hit the stage. "We have coerced Jazz into full drag," Halliwell joked as Jazz waited backstage, breathing deeply and visibly nervous. "And tonight, she is donning an iconic gown and the name 'Sparkles.'"
Jazz's drag performance started out well, and she had fun entertaining the crowd. "Jazz is slaying. Is that the word?" Jazz's dad, Greg Jennings, joked to TLC producers.
But the young activist's act suddenly went south due to a costume malfunction.
"As I'm performing, a bracelet that I had Michaela help wrap around my arm completely just falls off on both arms," the I Am Jazz star explained as her jewelry came apart on stage. "I'm pretty much panicking inside, but I can't let the audience know that, so I'm just telling myself, 'I gotta get through this. I gotta get through this.'"
Jazz looked stricken as she told one audience member in a frenzy, "I don't know what to do with this, I don't want to hurt anyone!"
The trans rights advocate tried to keep the show going and make light of the problem, but things just got worse from there. "I'm trying to save it all by whipping them around, but I started hitting people in the face and getting more and more in my head," Jazz admitted.
The young activist said she felt 'defeated' by her 'chaotic' performance
After the end of the performance, Jazz headed backstage in despair. "I just had such high hopes and expectations for it to be perfect, really, but it just felt so chaotic," she told I Am Jazz producers.
"Well, that went bad!" Jazz exclaimed backstage, slipping outside in a panic and on the verge of tears. "Never again. I'm done."
The 19-year-old told producers she was heartbroken by how things had gone. "I really don't want to cry because I know that this is not about me, this is about Noelle," Jazz said. "And yet, I'm still feeling defeated and disappointed with myself."