'I Am Jazz': Jazz Jennings Says Her Parents Are 'Headstrong' About Her College Career
19-year-old trans rights activist Jazz Jennings of TLC's I Am Jazz has always been close with her family, including her older sister, twin brothers, and supportive parents, Greg and Jeanette Jennings.
The Jennings family has seen the Florida teen and activist through years of her journey in discovering and validating her identity as a trans woman. They've also supported her through mental health issues, like anxiety and depression.
But on the Feb. 11 episode of I Am Jazz Season 6, "Born This Way," Jazz and her family didn't exactly see eye to eye about one major issue: college. Jazz was accepted to her two top choices, Harvard University and Pomona College. While Jazz's parents insisted she head to Harvard, Jazz was torn, leaving them at an impasse as she struggled to find the right path.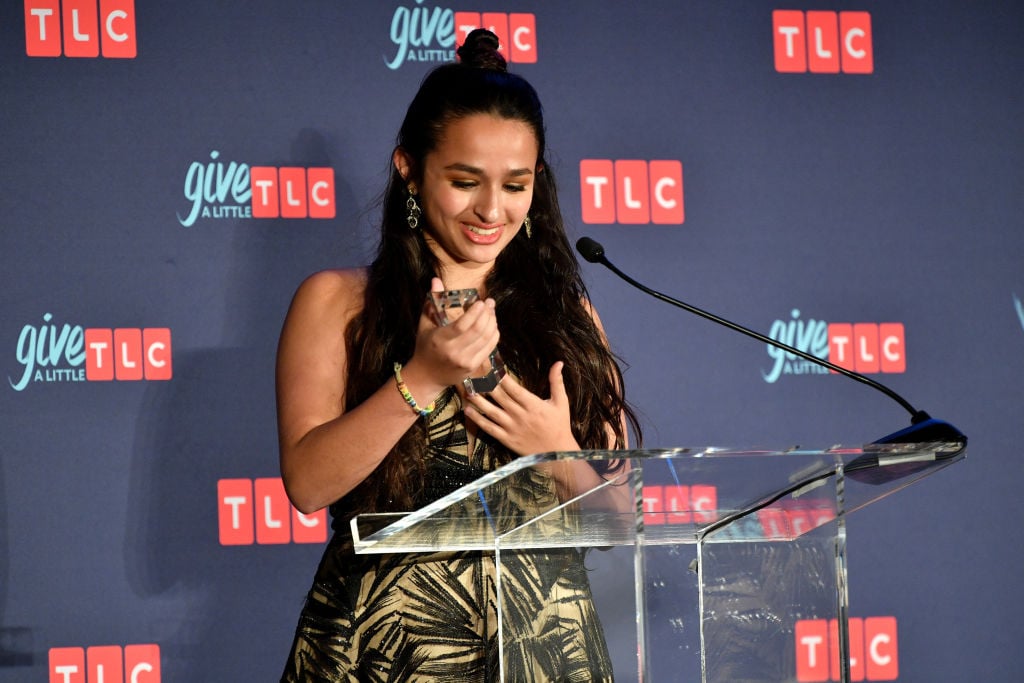 Jazz said her parents were 'headstrong' about her Harvard acceptance
When Jazz received a welcome packet in the mail from Harvard, she was less thrilled than many other teens might have been.
"Opening the packet, I could just feel my parents' excitement," the I Am Jazz star told producers. "But it's also pretty stressful because my parents are very headstrong about me going to Harvard."
Jazz's parents explained that they usually want their youngest daughter to make their own decisions, but to them, this was a no-brainer.
"Every time I think about the fact that Jazz got into Harvard, I'm just so proud," Jeanette gushed. "I mean, she got into Harvard. How many parents can say that?"
But Greg said his excitement was tempered somewhat by Jazz's hesitation about school. The young activist wasn't sure yet about Harvard and was even leaning slightly towards Pomona due to a gut feeling, in addition to the potential academic pressure of an Ivy League school.
"I have to admit, I'm a little cautious about who I talk to about it, because I have to explain that she's still deciding between a couple of schools," Greg told producers. "I do think we feel pretty strongly that Harvard is the right decision, to the extent that a storm could be brewing."
Jazz's grandparents and sister agreed she should go to Harvard over Pomona
While Jazz claimed her "heart" was telling her to go to Pomona, while her "head" was saying to accept Harvard's offer, the rest of the Jennings family didn't think any discussion was necessary.
"Harvard is Harvard. That's a no-brainer," Jazz's grandfather Jack told Jeanette. "There's only one Harvard."
Jazz's grandmother, Jacky, thought she might come around and join the Harvard class of 2023 in the end. "Sounds like she really is trying to sort through where maybe her heart is taking her," she said.
Jeanette started to break down in tears as she confessed she didn't understand Jazz's hesitation about attending such an impressive school. "My logical brain is telling me, how do you say no to this opportunity?" she asked.
The I Am Jazz mom of four told TLC producers she hoped Jazz would listen to her wisdom as a parent about her college options. "I've always let Jazz run her course," she said. "But she doesn't know everything. She's 18."
Jazz's older sister Ari Jennings agreed with the rest of the family. In a heart-to-heart with Jazz, she warned her against making a decision she might regret in the end.
"When I applied, I just had this crazy feeling in my stomach, in my gut," Jazz explained of Pomona, saying she found it hard to go against her intuition.
"I don't think this is just a gut decision though," Ari advised, adding that she hoped her younger sister wasn't making her choice based on a desire to "go against the norm" or step outside the box.
The 'I Am Jazz' star's parents warned her that this might be a once-in-a-lifetime opportunity
In a one-on-one conversation with Jazz, Greg and Jeanette made no bones about the fact that they hoped their youngest child would choose Harvard over Pomona.
"You may not have another chance to go to Harvard," Jazz's dad warned, worried that she might have "regrets" if she chose Pomona based only on her intuition.
While Jazz admitted she was still leaning towards Pomona, the I Am Jazz star ultimately agreed to visit Harvard first with an open mind. "You guys raised me," she told her parents. "I want to respect you guys as parents, and I don't want to disappoint you."