'I Am Jazz': Jazz's Friend Has an Emotional Argument Over Top Surgery With Her Grandma
Ever since trans rights advocate Jazz Jennings began her own journey to transition and gender confirmation surgery, she has reached out to others in the same boat to offer them support and encouragement.
Most recently, on TLC's I Am Jazz Season 6, Jazz has tried to help her close friends JoJo and Noelle with their transitions. The young activist planned a drag show fundraiser to pay for Noelle's bottom surgery. She also met with JoJo's skeptical grandmother, Nora, to help her work through her hesitation about her granddaughter's upcoming top surgery.
On the Feb. 25 episode of I Am Jazz, "Communication Breakdown," Nora headed to a breast consultation with JoJo, Jazz, and JoJo's mom, Heather. But things didn't go as planned, leaving JoJo heartbroken and angry.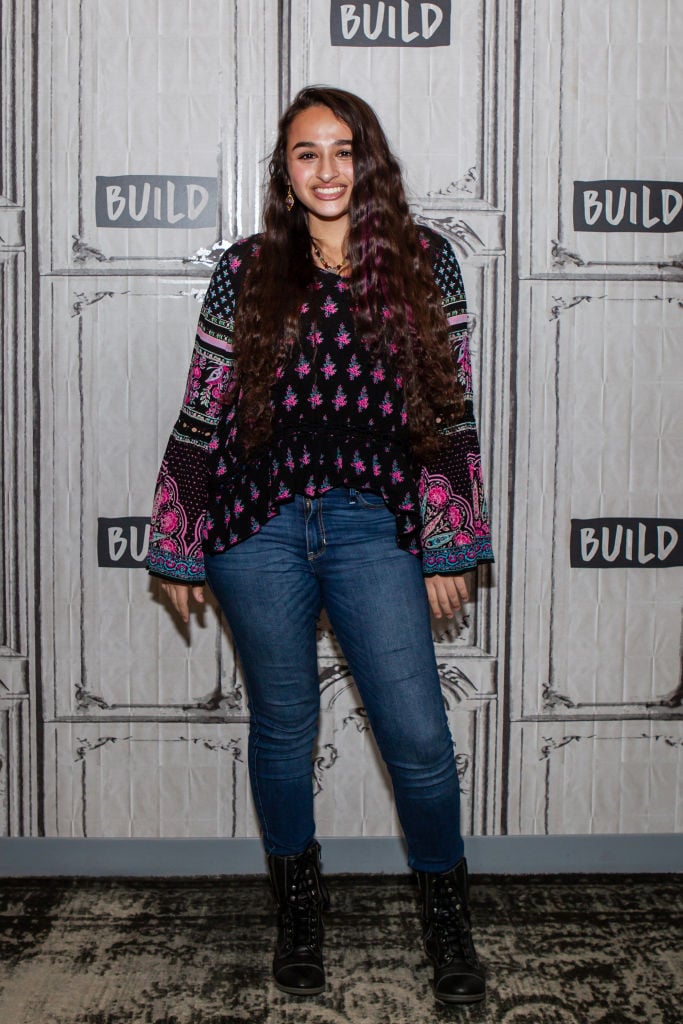 JoJo's grandma agreed to attend her breast consultation
After Jazz and her mom, Jeanette Jennings, met with JoJo's family, the 15-year-old said her grandma seemed much more open to the idea of top surgery. But when Jazz accompanied her friend to a top surgery consultation with Dr. Russell Sassani, it became clear that Nora wasn't quite as ready to deal with the discussion as JoJo might have thought.
Jazz told TLC producers, "It's awesome that Nora is willing to be a part of these next steps in JoJo's transition. However, I can tell that Nora is not as fully on board as I initially thought."
"The very first step is for her to get some deep counseling," Nora told Dr. Sassani as she explained that she didn't think JoJo should decide on top surgery before she turned 18.
When Jazz and Nora stepped outside during JoJo's physical exam, the I Am Jazz star tried to talk with her friend's grandma about her concerns. "So you're still feeling a little fearful about this all?" she asked.
"It's just a lot," Nora confessed.
"I still think this is a good step for her, though," Jazz declared. "It makes her feel better about herself."
But Nora said she was worried her granddaughter's surgery would just be the beginning of a much longer, and more complicated, journey. "She's going to feel better about herself, but then once this newness goes away, then it's going to be focused on the bottom surgery," she argued. Instead, JoJo's grandma thought she should try to "love her body" first.
The doctor told Jazz's friend she was a good candidate for top surgery
To what appeared to be Nora's dismay, Dr. Sassani announced that JoJo was a good candidate for gender confirmation surgery. The plastic surgeon thought the teen would be able to get the surgery before she turned 18 due to her diagnosis of gender dysphoria.
JoJo was thrilled with the news. "It's something that is really needed for me to help me feel whole about myself," she gushed.
But Nora wasn't happy. She hoped that, like Jazz, JoJo would develop naturally over time. "Here is my concern," she said. "Jazz, you waited, and you grew, so the same thing could happen to her."
To JoJo's grandma's disappointment, Dr. Sassani explained that wasn't likely after two years on estrogen, adding it was "safe to say" JoJo's breast development wouldn't progress without intervention at this point.
JoJo's mom and grandmother argued after the surgery consultation
JoJo and Heather were pleased with the consultation, hoping it would bring some relief and improve the teen's self-esteem. "I trust him," JoJo said of Dr. Sassani. "He made me feel really good about it."
Nora continued to push back, insisting JoJo should wait a few more years to make such a big medical decision. "I just feel that she's too young," she said. "I just feel that that's an adult decision that you're making." Later, she told JoJo, "Sometimes it's not all just about you."
"I have to wake up every day feeling awful about my body," JoJo told her grandma as Jazz looked on. "It's making me feel really upset."
Meanwhile, JoJo said her grandma was being "selfish" and thinking only of her own feelings. "Grandma has completely backtracked," she lamented. "She's being a little selfish. This isn't her transition. This isn't her life. This is my life."
Jazz speculated that Nora's hesitation might be about more than the surgery itself. "I really do think that Nora is finally having to come to terms with the fact that JoJo is trans," she told I Am Jazz producers.
Meanwhile, JoJo's mom fiercely defended her daughter's right to have top surgery. "It'll give her some kind of peace," she told her skeptical mom.
Heather explained to TLC producers that she didn't think Nora understood "everything trans people go through" in terms of gender dysphoria. "Mom doesn't always see what JoJo goes through," Heather claimed. "JoJo struggles."
Jazz tried to comfort her friend as JoJo broke down in tears over her confrontation with her grandma. "I am so fed up in how she feels," JoJo declared through her tears. "It's really starting to upset me and anger me…I can't live like this anymore."