'I Am Jazz': Jazz's Friends Worry That She's Reached a 'Breaking Point'
Jazz Jennings has been an LGBT rights advocate for many years. But recently, she has also started to discuss mental health issues as well.
The 19-year-old trans rights activist has been open about her ongoing mental health challenges, particularly with anxiety and depression. As she prepared to head off to college and live on her own for the first time, Jazz began to experience panic attacks and more severe mental health symptoms than ever before.
On the Mar. 17 episode of TLC's I Am Jazz, "Somewhere Over the Rainbow," Jazz's parents sent her on a spiritual retreat as a gift, in hopes that it would help her ease her symptoms of anxiety and develop better coping and self-soothing mechanisms. Jazz's best friends, Kaci and Jay, accompanied her on the retreat at the Bagua Center in Miami, Florida.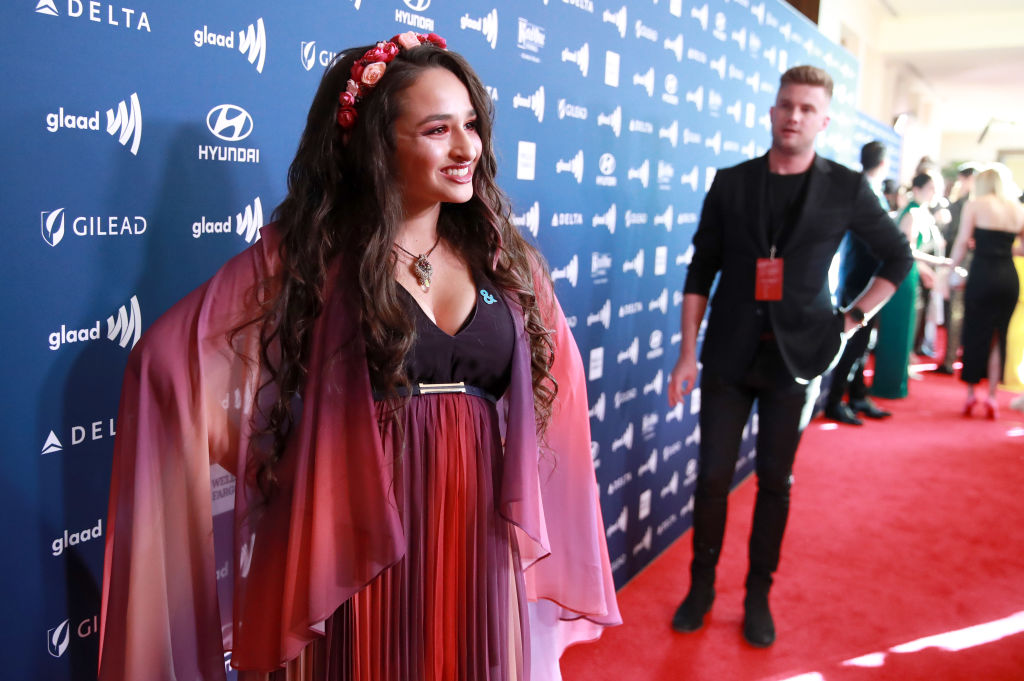 Jazz's parents sent her on a spiritual retreat in hopes that it would ease her anxiety
On the latest episode of I Am Jazz, Jazz's parents, Greg and Jeanette Jennings, reflected on their youngest daughter's recent anxiety and depression. They hoped their gift of a spiritual retreat would help her learn to calm herself in stressful moments, especially as she prepared for college.
"Jazz is having a tough time lately," Jeanette confessed. "She thinks that she can do this on her own. That spiritually, she's got this."

"Everybody's gotta kind of fight their own demons," Jazz's dad acknowledged. But Greg added that he and Jeanette wanted to help their daughter with her mental health as much as they possibly could.

"We know that sending Jazz to a spiritual retreat isn't the end-all, be-all," Greg explained. "It's not a fixer, it's a helper."
Jazz and her two friends reflected on her emotional journey over the years
On their way to the retreat, Jazz and her best friends reflected on their journey together over the years. Kaci and Jay revealed that, although they knew Jazz had been through a lot over the years, her anxiety and depression symptoms seemed worse than ever in recent months.
"I've known Jazz a long time, so I've seen her go through pretty much her worst times," Kaci said. "This is probably the worst I've ever seen her anxiety really get to her."
As the I Am Jazz star and her two best friends went through Reiki, meditation, and emotional catharsis exercises with the spiritual retreat leaders, Jazz opened up about her recent struggles and panic attacks.
"I kind of have internal struggles, and I just feel like it takes over me at times," she admitted. "So often, in my anxiety and depression, I get caught up in my own head." Jazz worried that college would be impossible for her if she didn't start to get more control over her emotional well-being.

Jazz added that her perfectionism and fear of failure sometimes became debilitating. The young activist said her fears even "contaminated" her "on an emotional level."
Jazz's friends said she had reached a 'breaking point' with her mental health
Jazz's friends, like her parents, admitted they sometimes worried that Jazz wasn't ready just yet to live on her own due to her mental health symptoms.
"Jazz has gone through so much in her life," Kaci explained. "I think she's reached a breaking point, and she just needs some peace."
Jay, too, was concerned that Jazz might self-sabotage or continue to wrestle with her inner demons once she was at Harvard. "My main concern moving forward about Jazz," she confessed, "is that sometimes the only person that defeats herself is herself."
After an energetic healing session with one of the spiritual retreat leaders, Jazz admitted to the practitioner, "It's hard for me to calm my mind." She worried that it would take "years" for her to release all the negativity that she was holding on to.
But the Reiki practitioner told Jazz that wasn't necessarily the case. "Your mind is strong," she told the I Am Jazz star, advising her to "use that energy, that powerful mind," to let go and surrender instead of holding onto the pain of the past.
"Hearing that it's not gonna take me years to release all that negative thinking is a relief," Jazz said. Still, the trans rights activist knew that she had a long way to go in terms of taking control of her own well-being.
"I feel like the spiritual journey I've been on has been both beautiful and ugly at the same time," the 19-year-old confessed. "It's hard for me to admit that I'm scared of not being good enough. I just want to let go of any mistake that I've made that I'm still attaching to."