'I Am Jazz': Why Was Jazz Jennings Feuding With Her Friend, Songwriter Michaela Paige?
When Jazz Jennings of TLC's I Am Jazz planned a drag show fundraiser for her friend Noelle, who needed to raise at least $15,000 to pay out of pocket for her upcoming bottom surgery, she hoped she could perform an original song at the event.
But Jazz's former musical collaborator, singer/songwriter Michaela Paige from NBC's The Voice Season 3, was no longer in the picture. About a year earlier, Jazz and Michaela fell out and hadn't even spoken since.
On the Mar. 3 episode of I Am Jazz, "Dragilicious," Jazz approached Michaela to ask about the potential of collaborating on a song again…and about the possibility of repairing their friendship after their argument.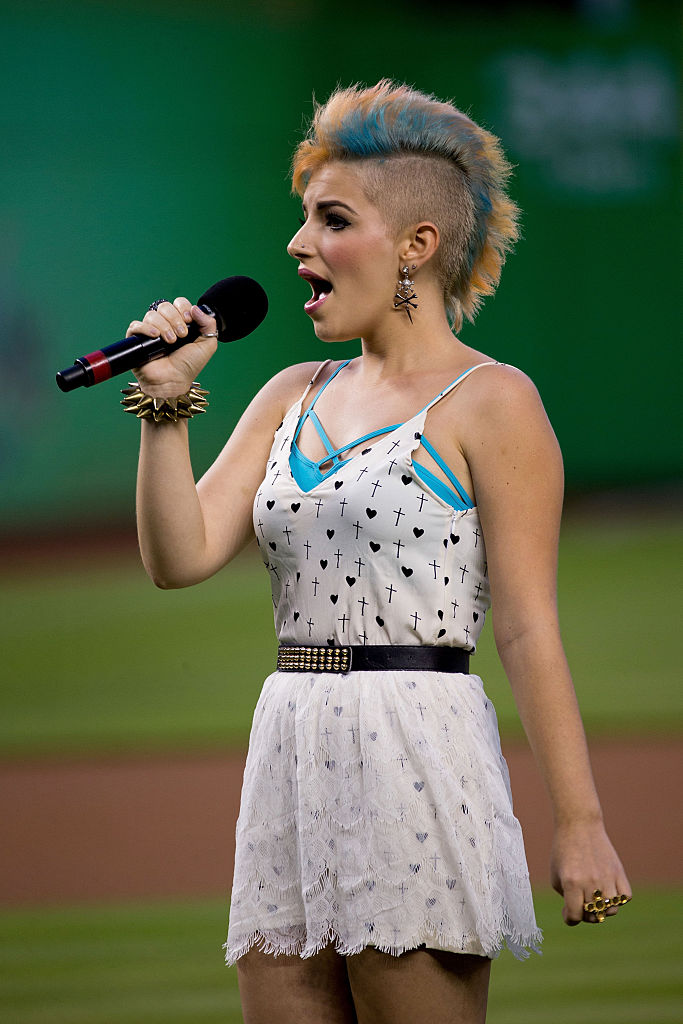 Jazz explained that she wanted to reconnect with Michaela after their argument
Jazz told producers that she and Michaela wrote an original song together once, when they were close friends. But when it came time to record and release the song, something went wrong, and their friendship fell apart.
"Michaela and I wrote a song together, and we were planning on recording it, but we disagreed over the songwriting credits," Jazz explained. "After that, we really never had a conversation again. I didn't handle the situation in the past the way I would have wanted to."
Now, the I Am Jazz star explained, she wanted to write a new song with Michaela and hoped to repair their friendship along the way. "After everything that happened with our last song," she told her friends, "I don't want her to feel like I'm using her or anything."
After Jazz finished her gender confirmation surgery, she explained that she wanted to turn over a new leaf and push forward in her personal development.
In particular, she said, she wanted to heal her past wrongs and lost relationships. "I really just want to reconnect with her and make things right," Jazz said of her former friend, "because I feel like we really haven't amends…I feel like that's one relationship where I do have regrets."
The songwriter was open to Jazz's apology
Michaela was surprisingly open to Jazz's explanation and to rebuilding their friendship. "When I got the text from Jazz that she wanted to sit down and talk, I was shocked," Michaela said. "I have questions about why everything just fell apart."
Jazz took it upon herself to bring up the argument and her role in it. "I came in with the lyrics [for our song], and then we worked on it together…and it didn't end up working out," the I Am Jazz star began. "At the time, I was so in the mindset that, 'This is my song, I wrote this song.'"
The activist explained that she wasn't aware at the time of why songwriting credits mattered so much and how they worked, leading her to act selfishly. "I really didn't have an understanding of how songwriting credits work, and I feel like you should have gotten a bigger percentage than I was willing to give," Jazz told Michaela. "And I just feel like I was being greedy. And I just want to apologize."
To Jazz's surprise, Michaela accepted her apology and expressed her forgiveness. "So when it came to all of that, I was upset, but I have no hard feelings," she told Jazz. "I'm so glad you reached out to me."
The 'I Am Jazz' star said she was trying to grow and develop as a person
Jazz told her friend that she was starting to "come into her truth" after her gender confirmation surgery, and assess herself and her life with more honesty. That included taking more accountability and ownership of her mistakes.
"I feel a great sense of relief," the I Am Jazz star said of her reconciliation with Michaela, "because it's hard for me to admit my mistakes."
Michaela, too, noticed a huge change in Jazz since her latest steps in her transition. "Jazz taking ownership of her part in our friendship, but also admitting her ignorance about what really goes into writing a song, shows how much she's grown and matured," the songwriter told TLC producers.