'I Dream of Jeannie': Barbara Eden Revealed How Larry Hagman Made Sammy Davis Jr. 'Incandescent With Rage'
The sitcom I Dream of Jeannie put stars Barbara Eden and Larry Hagman on the Hollywood map. Playing Jeannie and Major Tony Nelson on the 60s comedy, the two became a favorite of viewers with their unique genie-rescued-by-astronaut storyline.
In Eden's 2012 memoir, she shared her fondness for Hagman as well as his off-camera antics, which often included insulting the show's guest stars.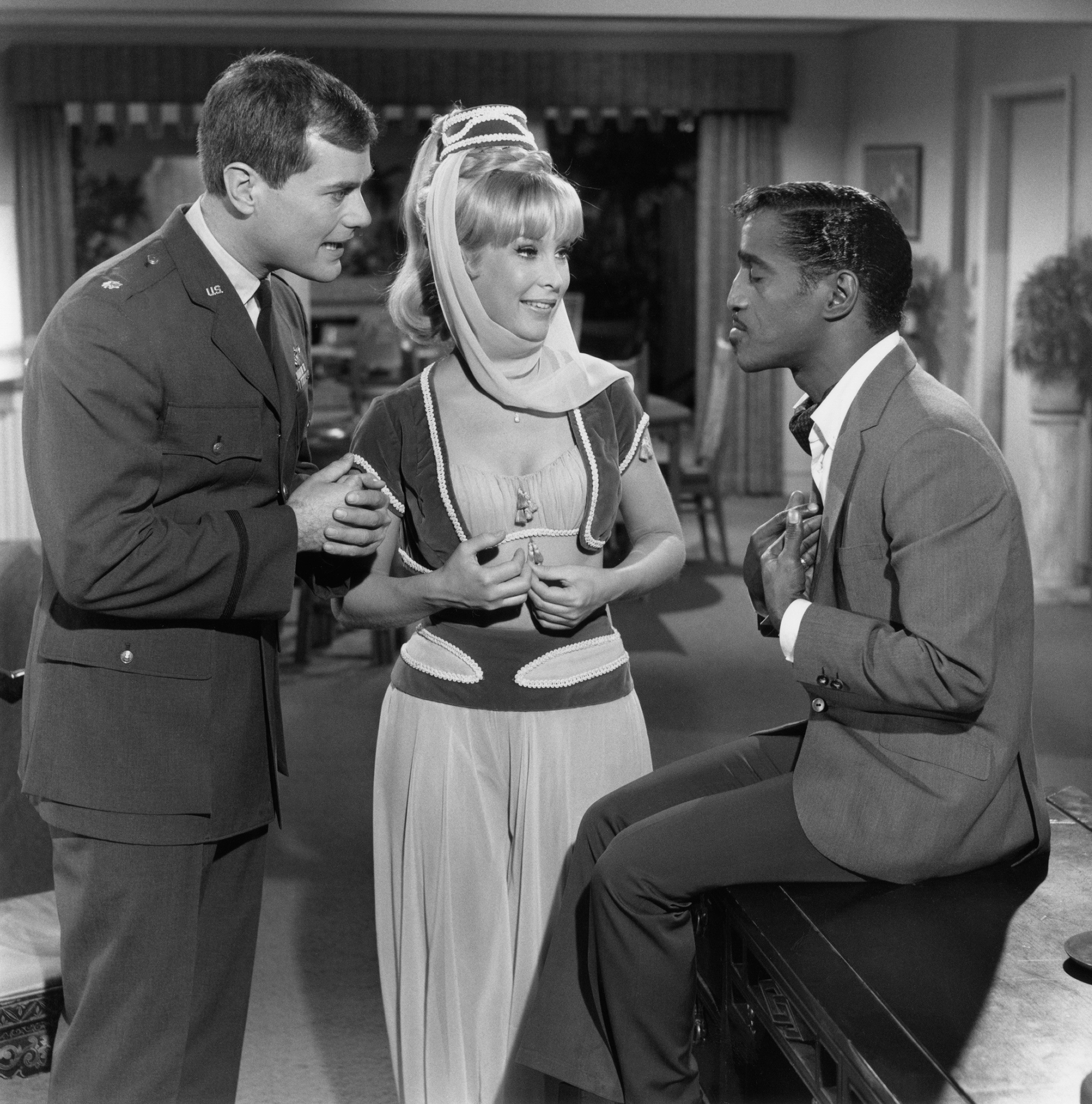 Larry Hagman wanted the spotlight
In Eden's book Jeannie Out of the Bottle, she described how Hagman's quest for fame would often make him act out when the show brought on big-named guest stars.
"People on the set felt that in Larry's mind, when it came to I Dream of Jeannie, he was the cock of the walk," Eden explained. "He definitely didn't want another rooster in his territory. He wanted to be the only leading man on the set, and to trumpet that the I Dream of Jeannie set was his domain and only his."
Show creator and executive producer Sidney Sheldon started to avoid having outside actors on the show for fear of Hagman's behavior.
"The problem was Larry Hagman," Sheldon revealed in his book The Other Side of Me. "I planned to use more guest stars, but Larry was always antagonistic toward them. He would be sullen and ignore them, and spend time sulking in his dressing room."
Sammy Davis Jr. appeared in season 2
Toward the end of the show's second season, the legendary Sammy Davis Jr. took on a guest role in the episode "The Greatest Entertainer in the World." With Davis' status as a superstar, Eden knew Hagman would rebel for fear of being upstaged.
"Sammy was bright and funny, and we laughed a lot together," Eden remarked. "But when Larry strolled onto the set, you could immediately tell that Sammy was in for big trouble. Larry started by ordering Sammy around and telling him where to stand. Sammy, his own man in every sense of the term, was far from amused by Larry's overbearing manner."
Eden went on to share how Hagman pushed his petulant behavior out of bounds, prompting Davis to walk off in anger.
"It came time to shoot Sammy's most important scene, which required Larry to feed him his lines from off camera," Eden recalled. "Larry expressed his feelings about him in no uncertain terms by opening his mouth and letting loose a long, thick string of drool. … Sammy took it as a personal insult, which, of course, it was intended to be."
Larry Hagman was ushered off set
Davis was furious at Hagman's boorish demeanor, walking off during the scene.
"Quite understandably, [Davis] was incandescent with rage," Edent wrote. "He slammed off the set and shouted, 'If I ever have to see that —- again, I'll kill him.' Sammy was a big star, probably the biggest star who would ever guest on I Dream of Jeannie."
Davis took some time to cool off while the production staff decided to take a change of course.
"After a hurried, whispered conference, the director, Claudio Guzman, hustled Larry off the set and had someone other than Larry read Sammy his lines."
Though Davis completed the episode, he was perplexed on how a professional like Eden could deal with Hagman on a daily basis.
"Afterword, Sammy took me aside and asked, 'How in the hell do you work with this guy, Barbara?'" Eden recalled. "'He's a total a*shole.'"
Eden added, "Sammy's words, not mine."