'I Dream of Jeannie': Barbara Eden Revealed Why Larry Hagman 'Flatly Refused to Talk to Me'
Barbara Eden and Larry Hagman starred in the comedy I Dream of Jeannie from 1965 to 1970. Portraying a 2000-year-old beautiful genie (named Jeannie, of course) who falls in love with her rescuer, Major Tony Nelson (Hagman), the will-they-or-won't-they storyline kept viewers hooked.
Hagman's often erratic behavior on set became legendary during his time on the show. At one point, Hagman apparently even cut off communication with his co-star.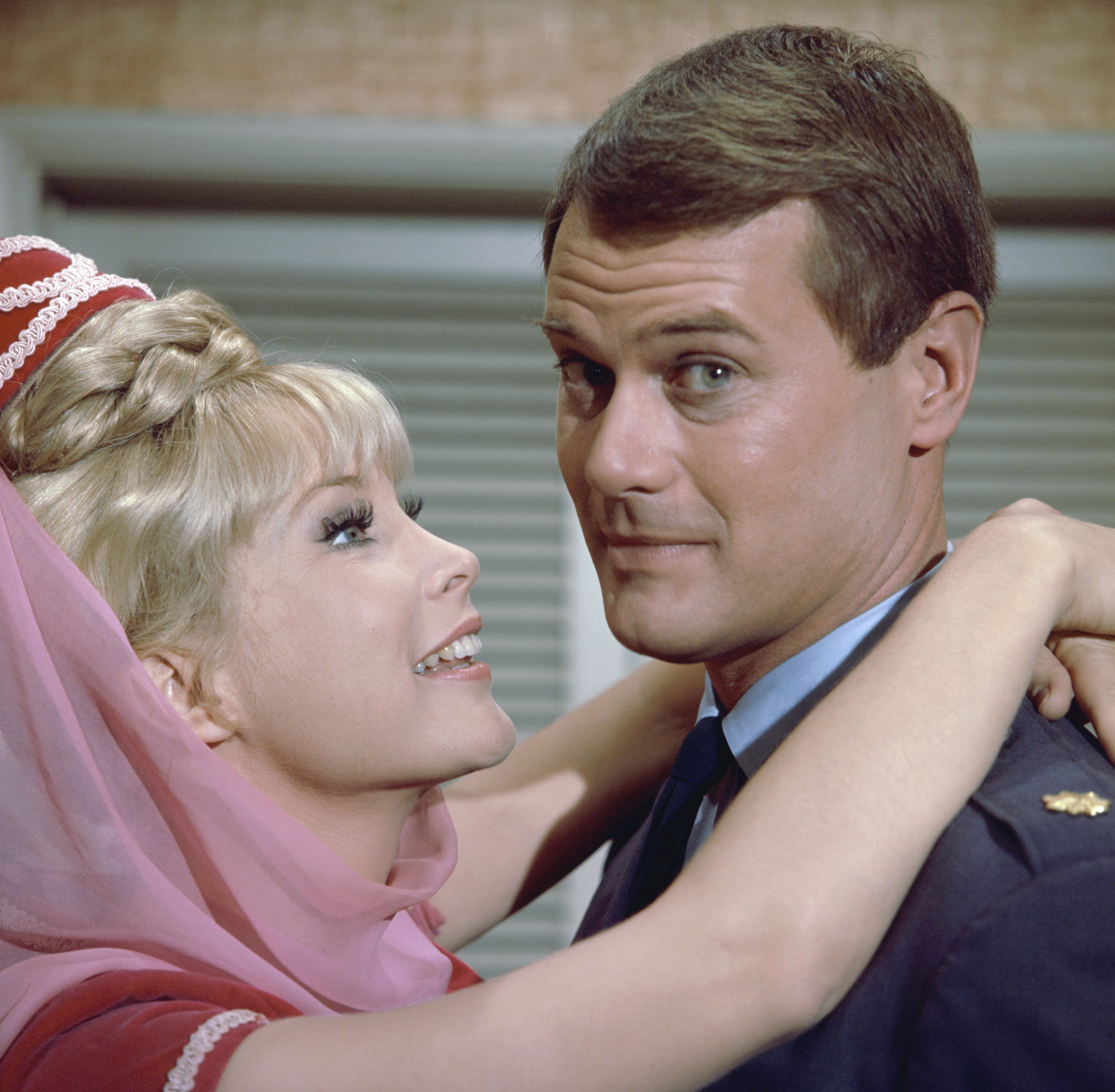 Larry Hagman was unpredictable during 'I Dream of Jeannie'
As the son of Broadway star Mary Martin, Hagman set his sights on stardom early on and saw the sitcom as the venue to get there. Eden attributed his fervent ambition as a major contributing factor to his antics on set.
"When he got the part of Captain Nelson in the pilot, he swung into action to exercise as much control over the show as he could," Eden wrote in her 2012 book Jeannie Out of the Bottle. "Larry was set on I Dream of Jeannie making him a star. … That hope would fuel his actions right from the start of filming the pilot."
While she had a fondness for her co-star, Eden admitted his volatile temperament became overbearing.
"I liked and respected Larry as an actor," Eden shared. "But his shifting moods and off-camera theatrics (arriving for work in a gorilla suit, for one) grew wearying."
Major Tony Nelson and Jeannie tie the knot
With Major Nelson as the object of Jeannie's affection for several seasons, the continued storyline of her unreciprocated romantic feelings kept ratings high and viewers guessing. Yet in the show's fifth season, producers decided to have them head to the altar, much to the chagrin of Eden and Hagman.
"We were united in our reaction – sheer disgust – because we both knew that the wedding heralded the end of the show," Eden explained. "After all, I Dream of Jeannie's abiding theme was Jeannie's unrequited love for Major Nelson, his belief that she was just a figment of his imagination, and her stubborn insistence that she was real."
The two actors sensed the change of plot would result in cancellation of the sitcom.
"Marrying her to Major Nelson derailed the plot and the series as a whole," Eden remarked. "Larry and I knew it."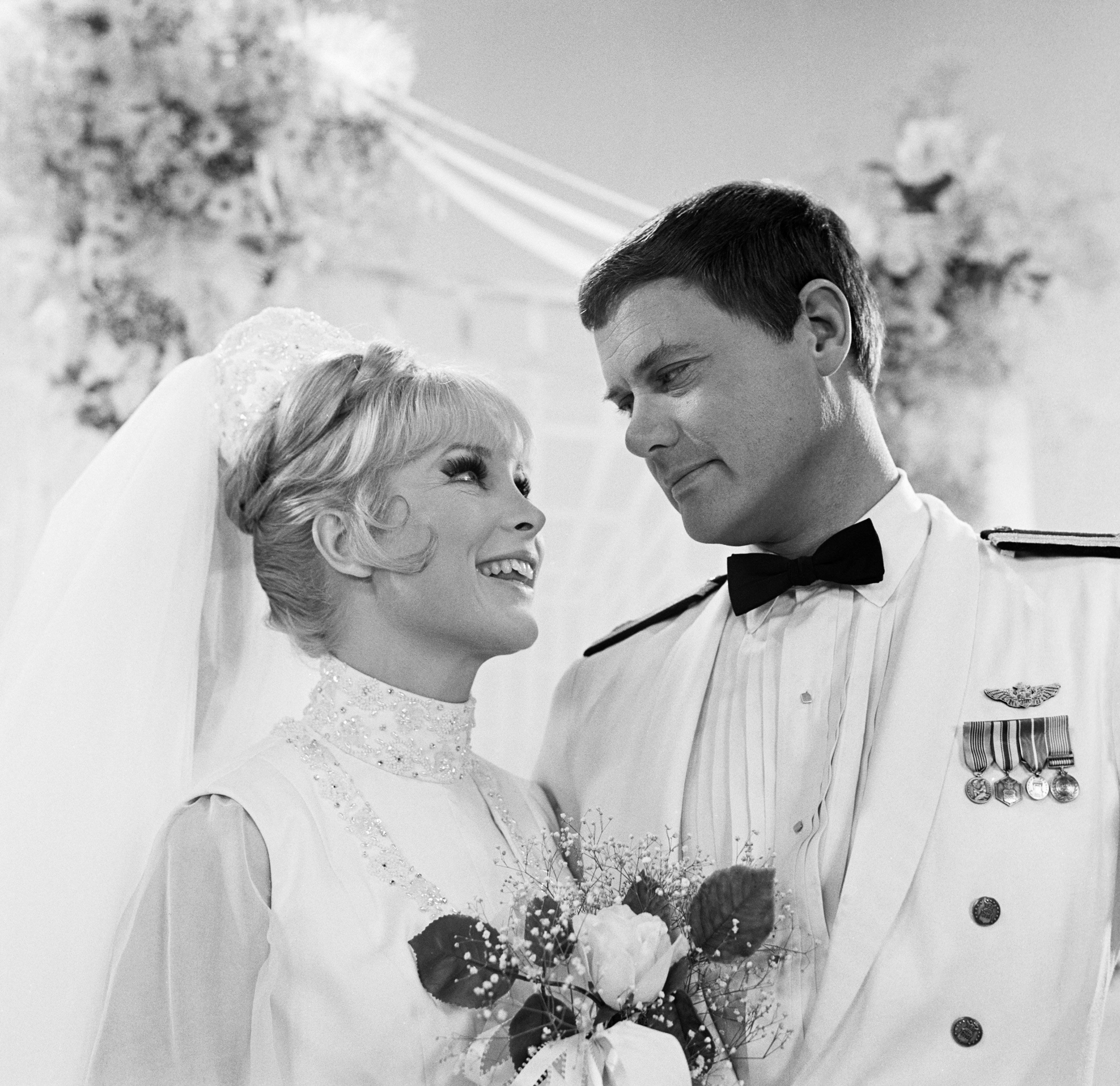 Barbara Eden gets the silent treatment
Turns out Eden and Hagman were spot on with their prediction. The marriage of Jeannie and Major Nelson didn't provide enough tantalizing material for viewers, and the series was cancelled after season 5. Both actors predicted the end was coming.
"After the wedding episode, we filmed 15 more episodes," Eden commented. "But we knew it was just a matter of time before the show shuttered to a halt. … Larry, perhaps more than me, anticipated the impending demise of I Dream of Jeannie with a great deal of trepidation."
Hagman handled his distress of the series going off the air by sequestering himself away from everyone. He also stopped speaking to Eden.
"He now spent most of his time hiding in his trailer," Eden wrote of Hagman during season 5. "He flatly refused to talk to me or anyone else. Not the most congenial way in which to co-star in a comedy series."
Eden was saddened at the loss of her now iconic role, though she relished her time on the show.
"I felt just as if I had lost my family," Eden wrote of the show's cancellation, with a reference to Hagman, "albeit one with a wild, delinquent terror of a brother. I adored being Jeannie. She was a part of my life for five years. Making I Dream of Jeannie was one of the most joyful experiences of my life."