'I Dream of Jeannie': Barbara Eden Said Visitors Were Banned From the Set After This 'Startling' Behavior From Larry Hagman
The sitcom I Dream of Jeannie introduced viewers to the love story between a 2000-year-old genie found in a bottle by a U.S. astronaut. Barbara Eden became legendary for the role of Jeannie with her blinking magic powers and stunning appearance in pink silk harem pants. Larry Hagman's character, Major Tony Nelson, nailed his character as the warm-hearted object of Jeannie's affection.
While Eden was always fond of Hagman, she shared that the actor had moments of conduct on the set that were a big departure from his on-screen persona.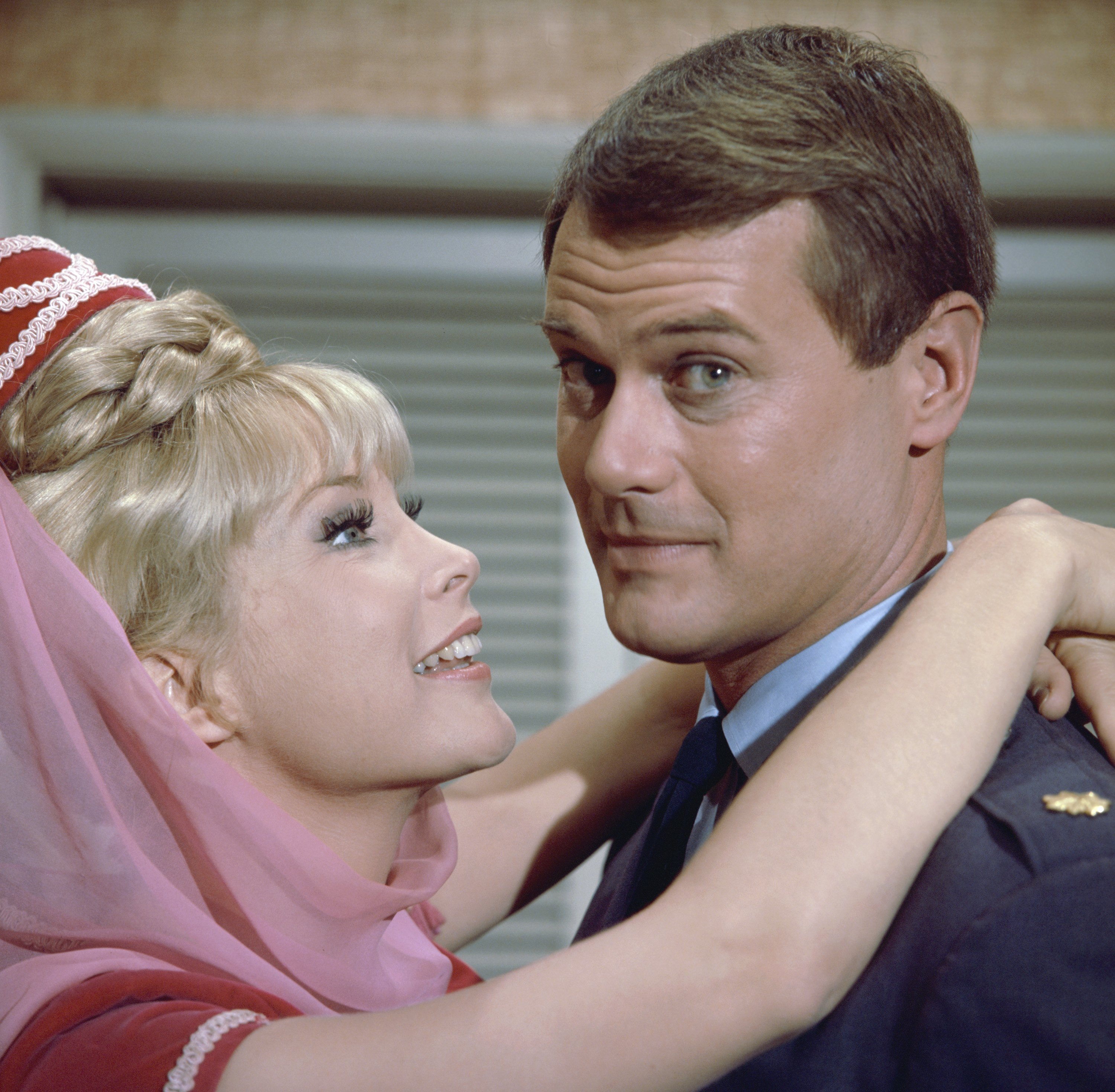 Barbara Eden gives details about 'I Dream of Jeannie' 'out of the bottle'
In her 2012 memoir, Jeannie Out of the Bottle, Eden provided an inside view of the iconic TV show that ran from 1965 to 1970. She reflected on her time with her main co-star, clearly stating how highly she thought of Hagman.
"I want to make it crystal clear that I think Larry Hagman is a terrific actor and I'd work with him again any day," Eden wrote. "Not just because of his talent but because he is a warm and kind human being."
Eden revealed that Hagman engaged in some vices that would affect his time on the set, though it did not lessen her affection for him.
"Larry himself has made no secret about the fact that he was taking drugs and drinking too much through many of the I Dream of Jeannie years," Eden shared. "And that he has regrets about how that impacted him. And I, of all people, know that I can't afford to be judgmental about the lure of drugs and the dreadful repercussions of taking them."
Larry Hagman shouldn't have been near 'The Flying Nun' set
Eden recalled an incident with Hagman that she considered "one of my more startling memories of Larry." Filming the show on the sound stage next to The Flying Nun, Eden explained how a group of nuns came to visit the set of the Sally Field sitcom. The elderly women were then invited to see the I Dream of Jeannie set as well.
"So here they are, about 10 of them," Eden described. "Sweet, gentle, and demure in their black-and-white habits, their hands folded, their eyes bright with anticipation at the thought of visiting another Hollywood set and meeting all of us."
Seeing the religious cluster of women triggered something in Hagman, where his behavior took a very erratic turn.
"Larry takes one look at the nuns, grabs an axe … and swings it around his head so ferociously that he could easily have killed someone," Eden remembered. "As he swings it, he lets out a torrent that includes every single foul swear word I've ever heard, and some I haven't — right in the stunned nuns' faces."
'I Dream of Jeannie' creator wanted Hagman to get help
As Eden concluded the sordid story, she revealed that Hagman had to be removed from the sound stage.
"He starts hacking at the cables frantically until someone grabs the axe, frog- marches Larry off the set, then escorts the shaken nuns out of the building," Eden wrote. "It's hardly surprising that no visitors were ever allowed on the I Dream of Jeannie set again."
The disturbing incident prompted show creator and executive producer Sidney Sheldon to recommend Hagman seek help, though it wasn't the miracle cure.
"After Sidney Sheldon suggested that Larry see a therapist and he agreed, the therapist was frequently on the set during filming of I Dream of Jeannie, in case he was needed," Eden remarked. "But even he didn't seem able to put the brakes on Larry. Consequently, Larry's dramatics escalated."
Even with all his antics, Hagman holds a special place in Eden's heart. "Working with Larry was still a walk in the park in comparison to many other things that happened to me throughout the years," she commented.
Hagman died in November 2012 from complications of throat cancer.